Whether you're planning a birthday, special event, or just need an excuse to make any day special, you'll want this party hat DIY!
Making hats for a birthday party is a fun way to customize them or let your kiddo be a part of the crafting process with you. They can use the craft skills they're learning like cutting and gluing paper to help. You can even help them make a mini version for stuffed animals or favorite toys!
To make this project, you'll need basic supplies like cardstock, poster board, glue, and scissors. You can customize your party hat with ribbons, tissue paper, a pom pom, or a variety of other fun additions.
Looking for more ideas? That's amazing! We love that you're inspired to help kiddos be creative and that's our whole goal. Try out these other projects: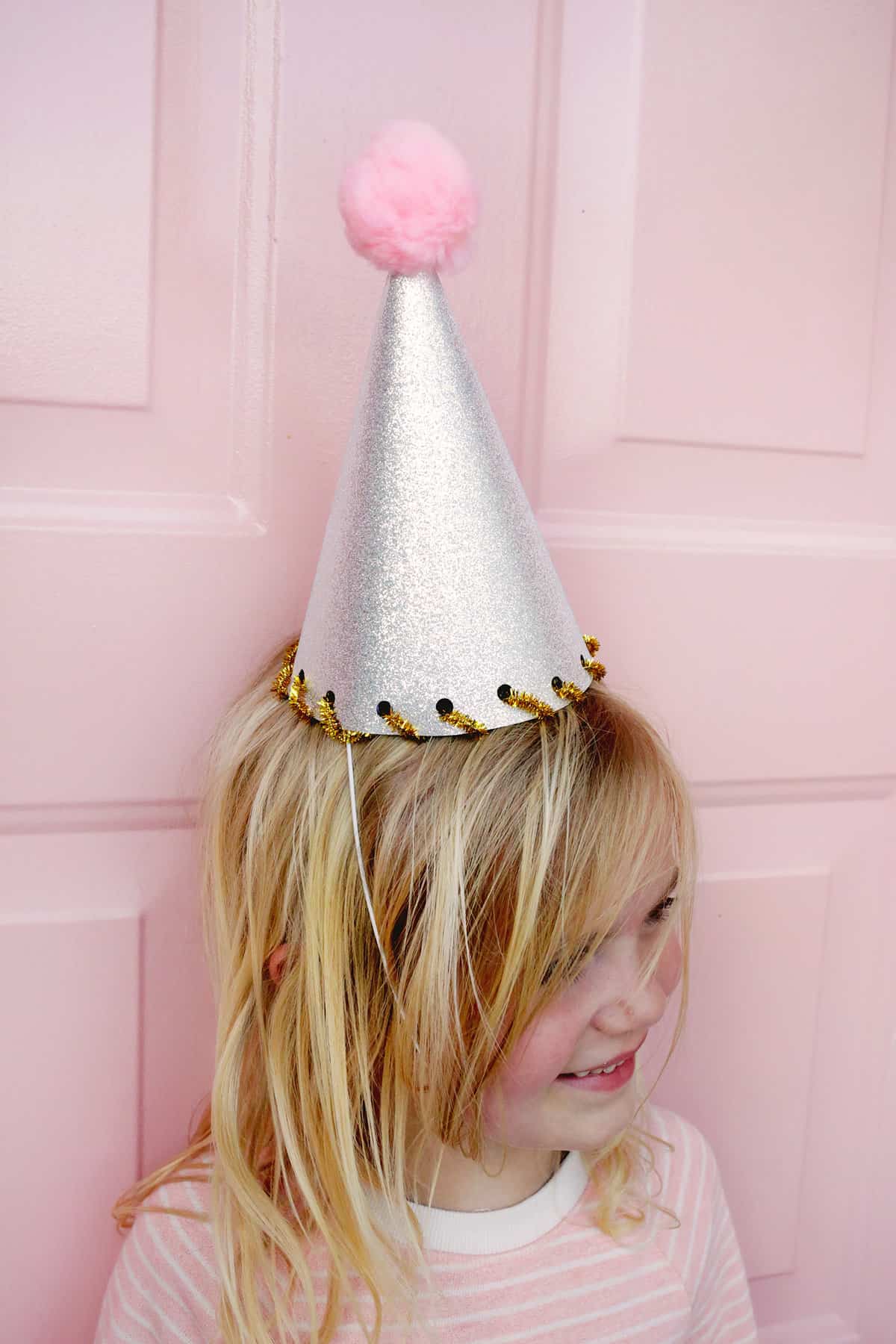 Why Kids Love Helping with this Craft:
Kids can help make their own party hats or versions for their friends, making it a fun activity.
They'll be excited for a party and will think it's very grownup that they get to help!
If you make a mini version, they can even host their own themed party for favorite dolls, toys or stuffed animals.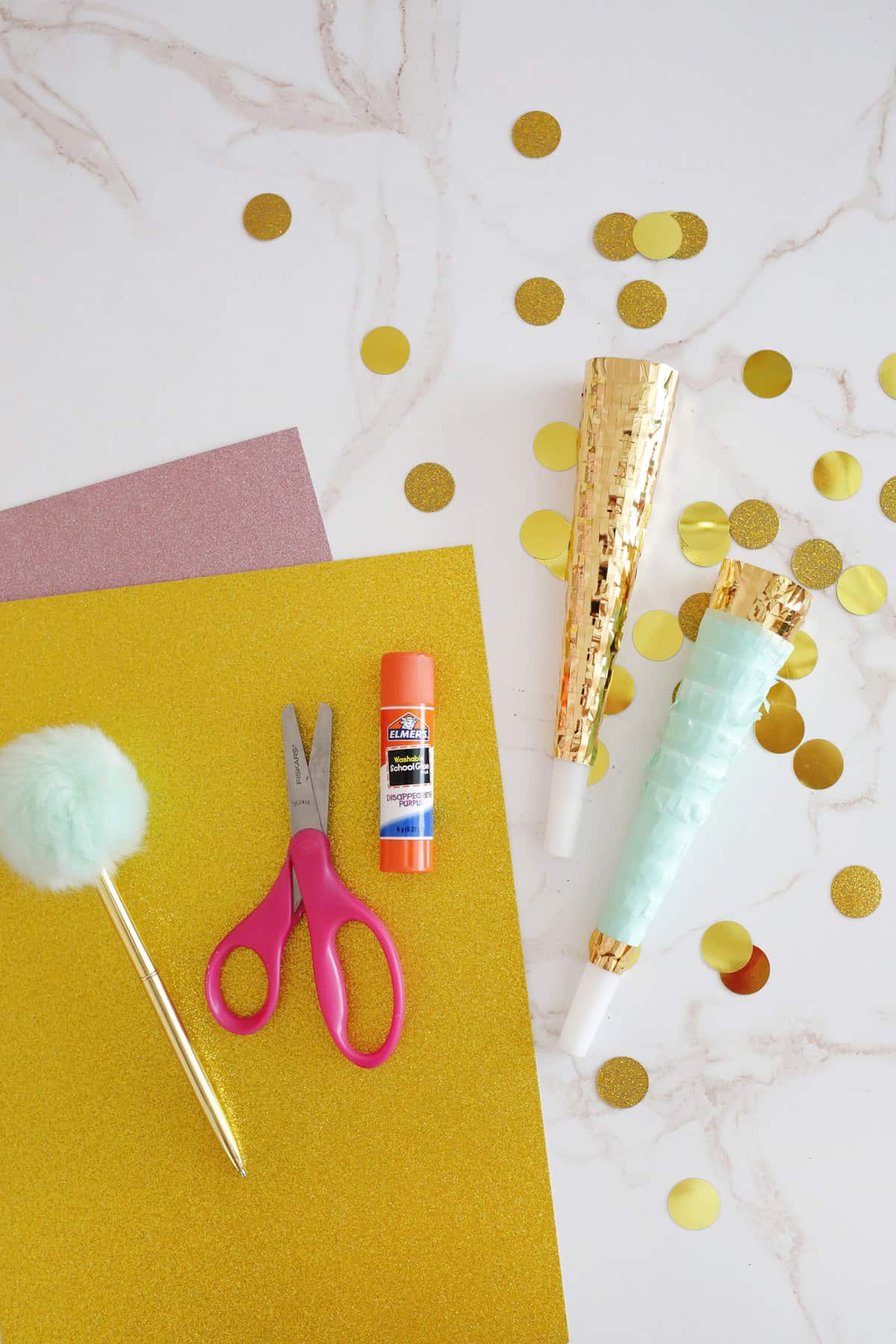 What Supplies You'll Need: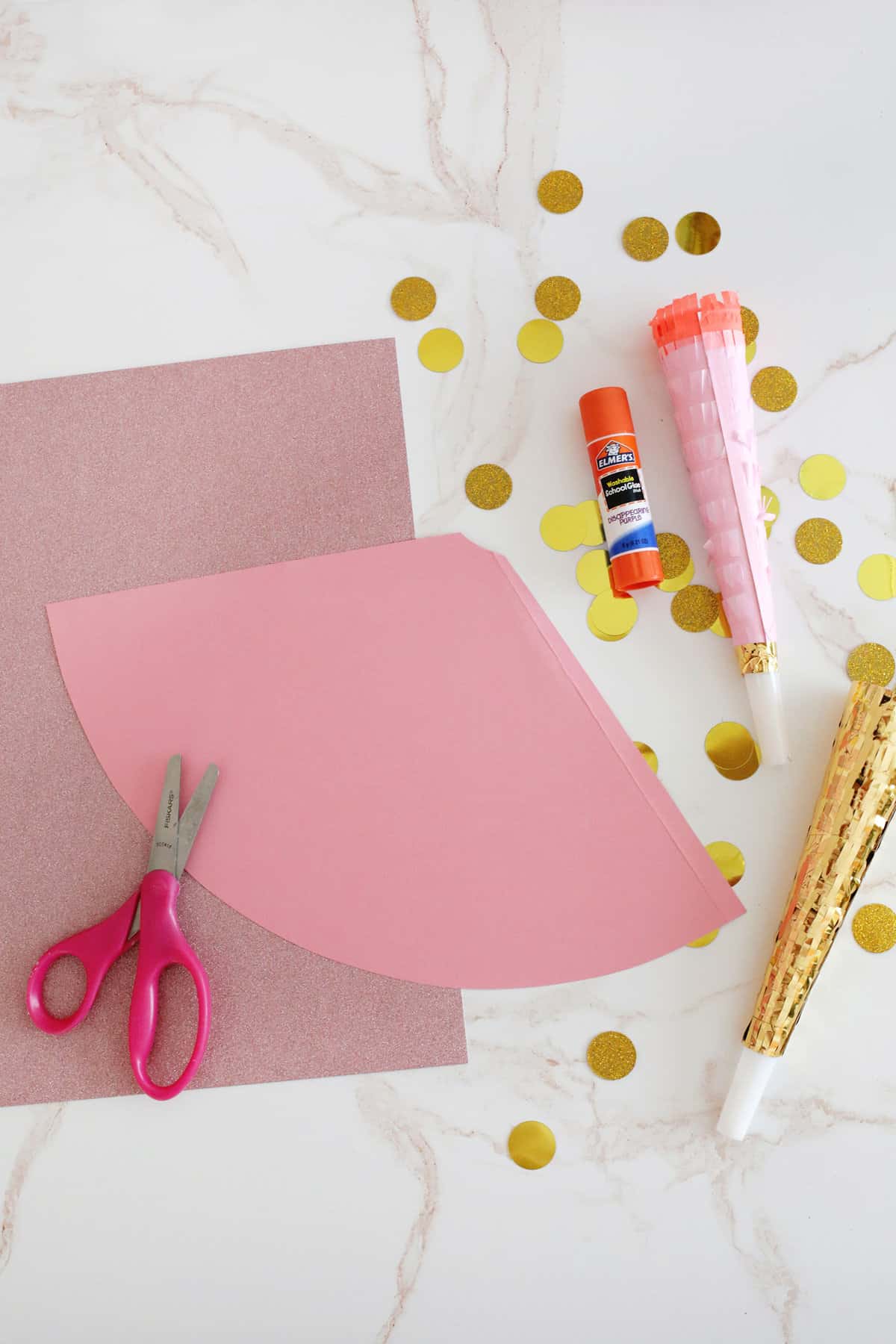 How to Make Your Party Hat:
Print the party hat template and trace it onto your piece of paper that will be your hat. Cut out the template shape and crease on the dotted line.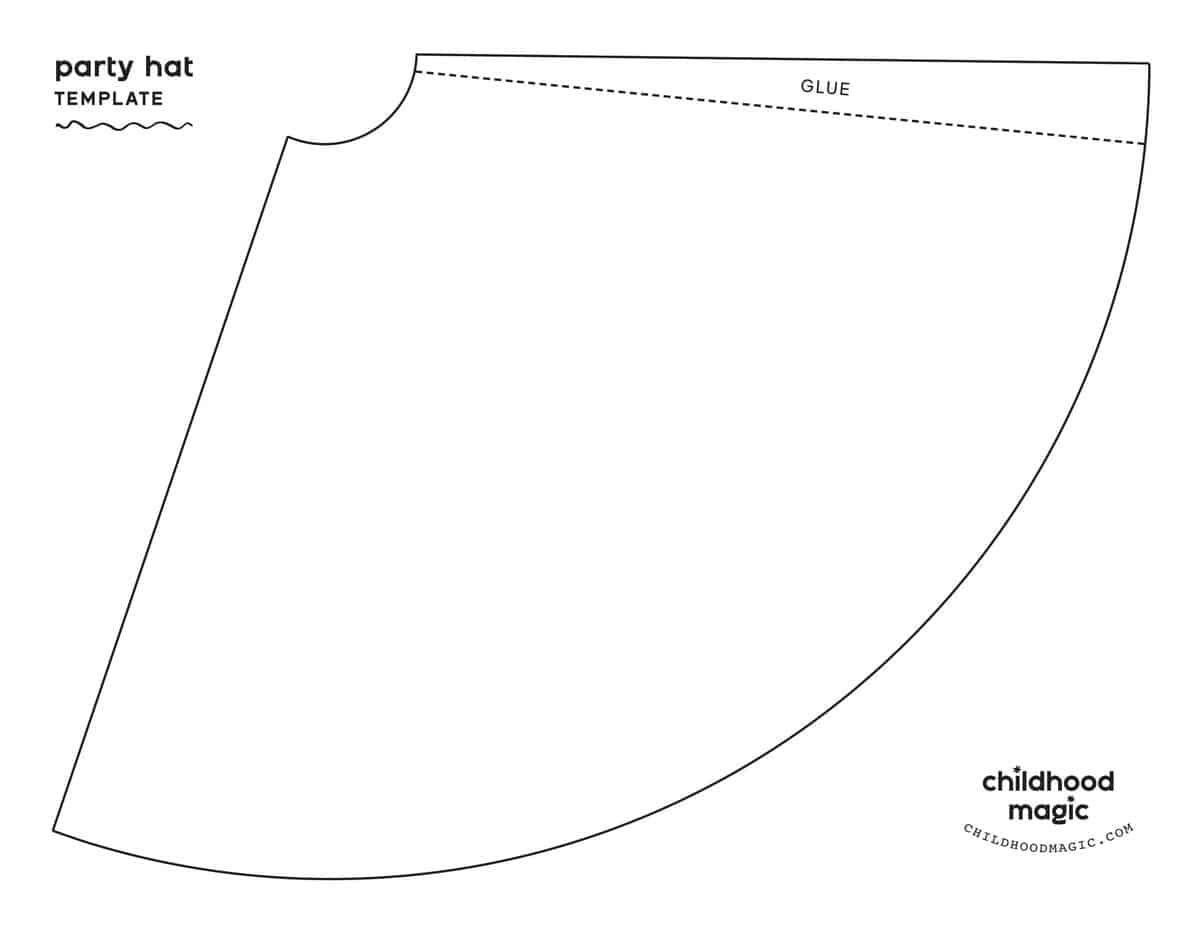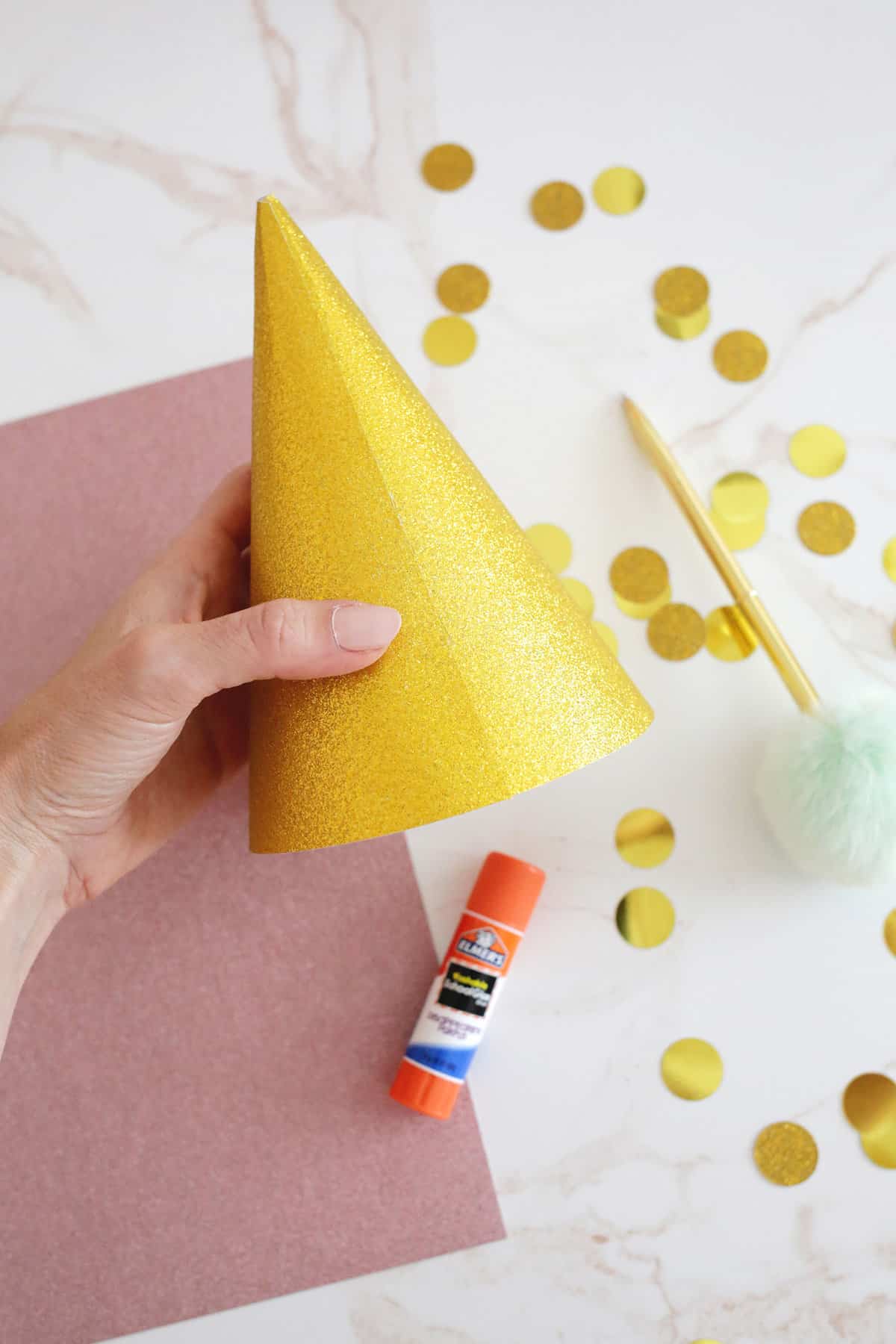 Wrap the paper into a cone shape and use a glue stick, school glue, or glue gun to glue the creased tab section onto the opposite side to make a hat shape.
If the hat is having trouble staying put while the glue dries, you can put a few pieces of tape on the inside across the seam to keep it in place while it dries.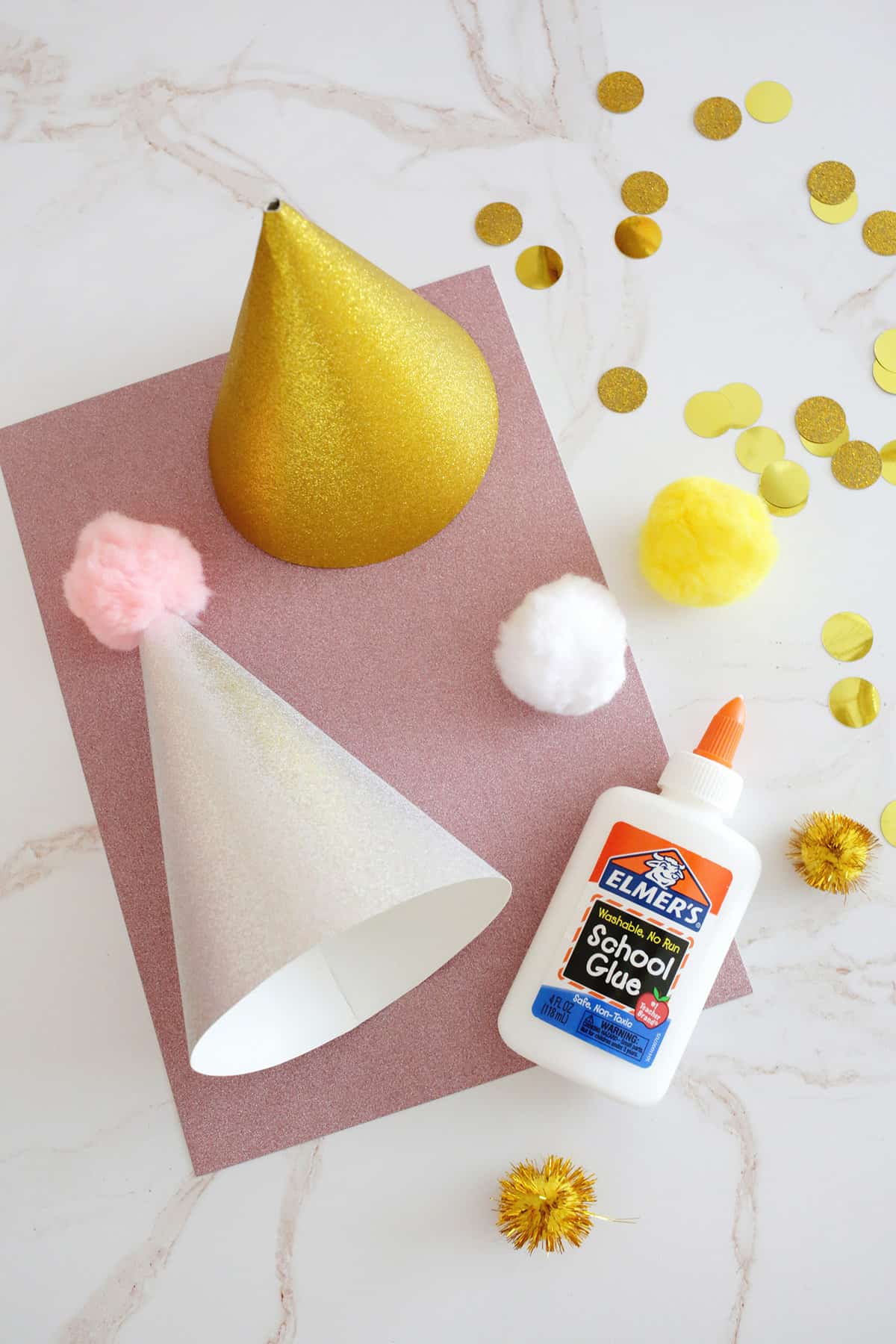 Use your glue to add your pom pom to the top of your hat.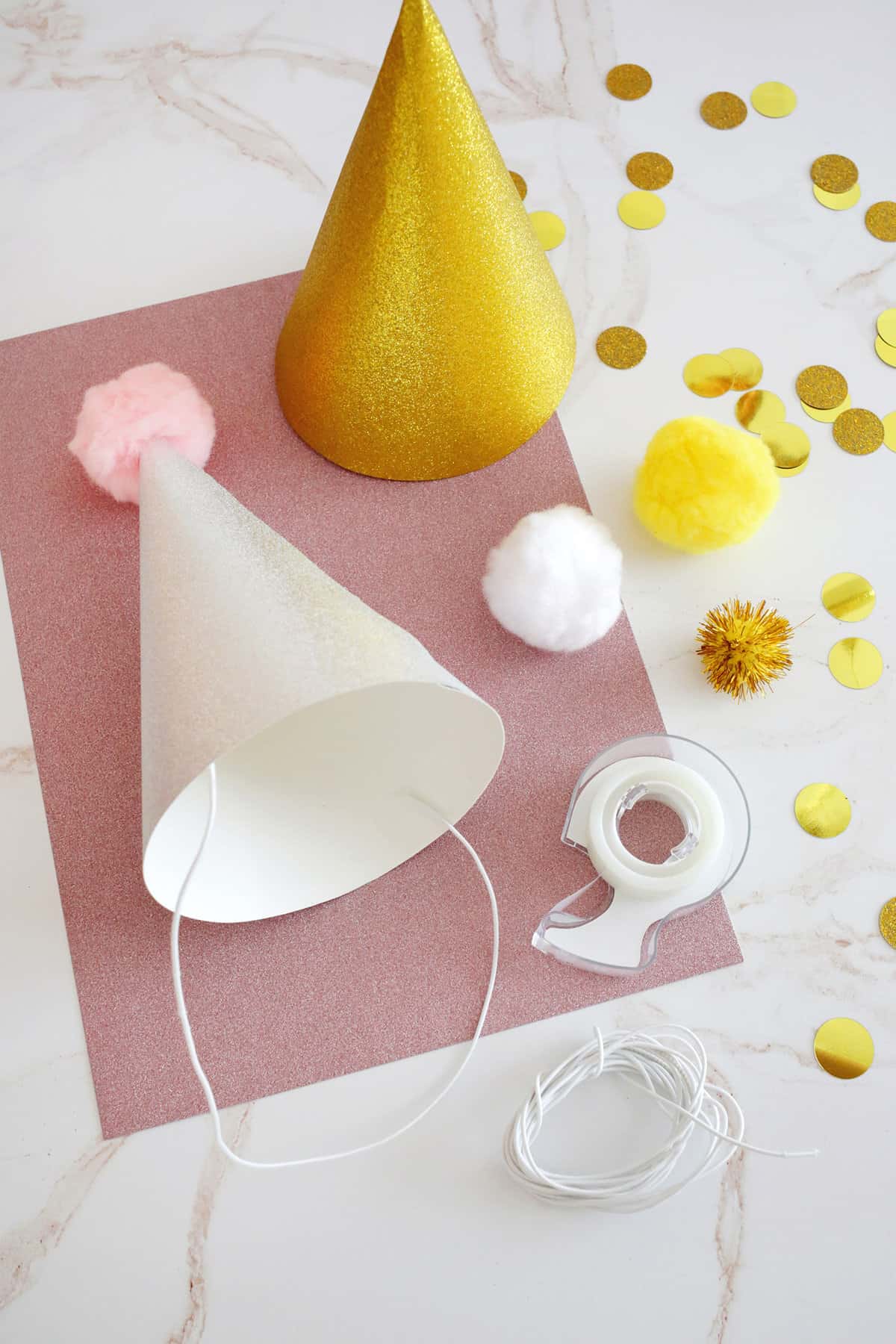 Cut your elastic to size and attach it to the inside of your hat on both sides with either tape or a stapler.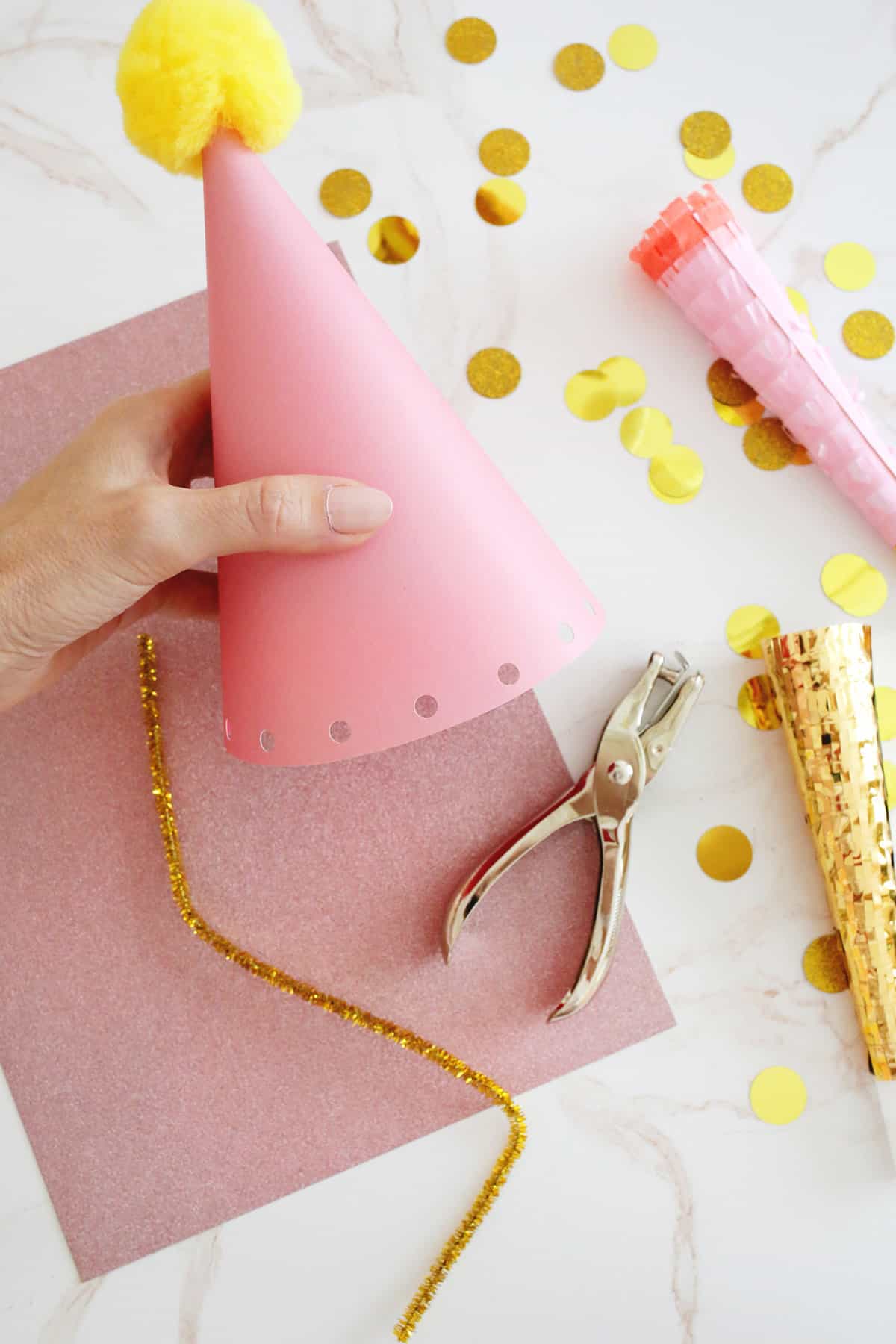 If you want to add some decoration to the bottom of your hat, use your hole punch to punch holes around the bottom of your hat (at least 1″ apart), and then wind a pipe cleaner though the holes around the edge of the hat.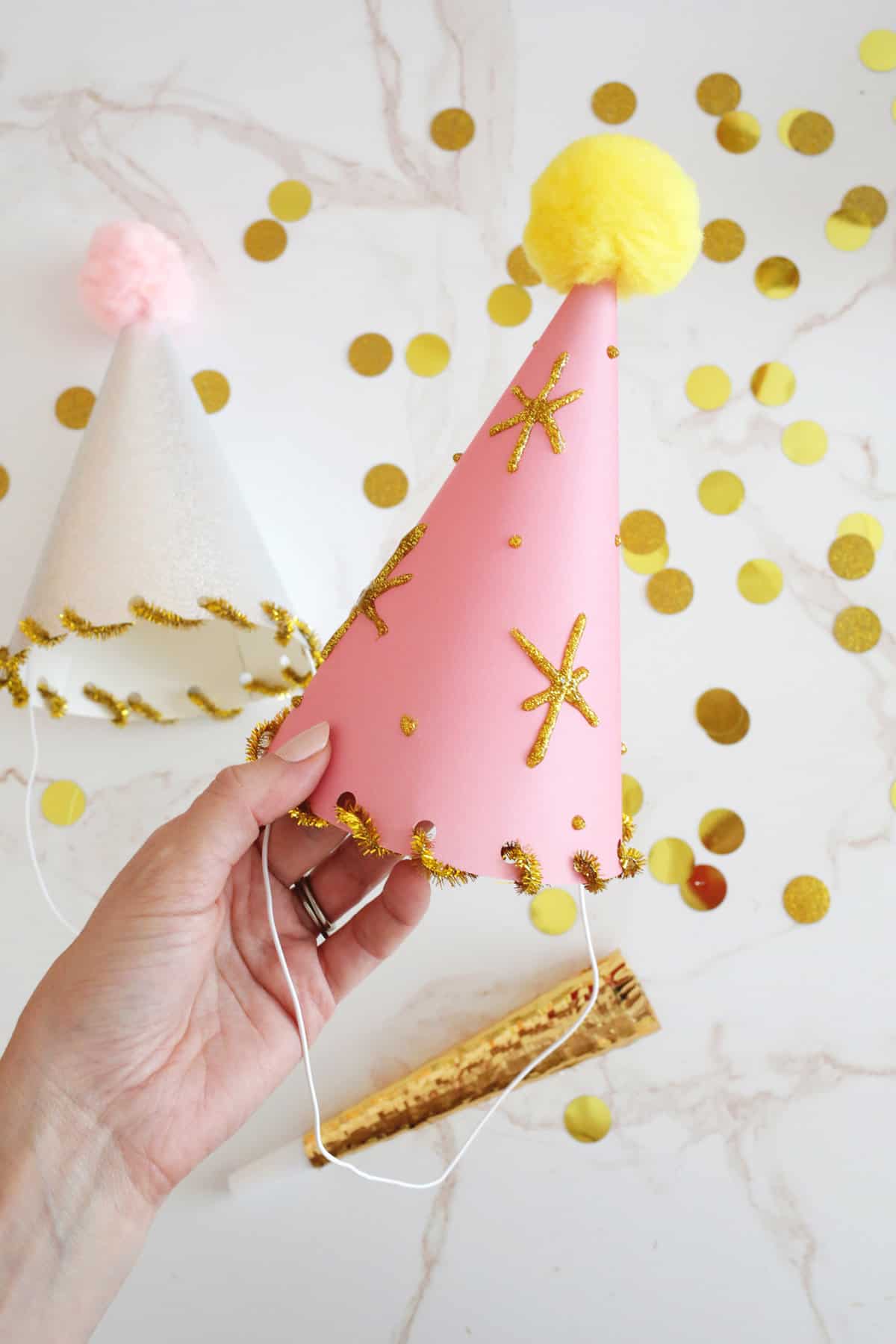 Decorate the hats with markers (or puff paints for older kids), let it dry, and your hat is ready to use!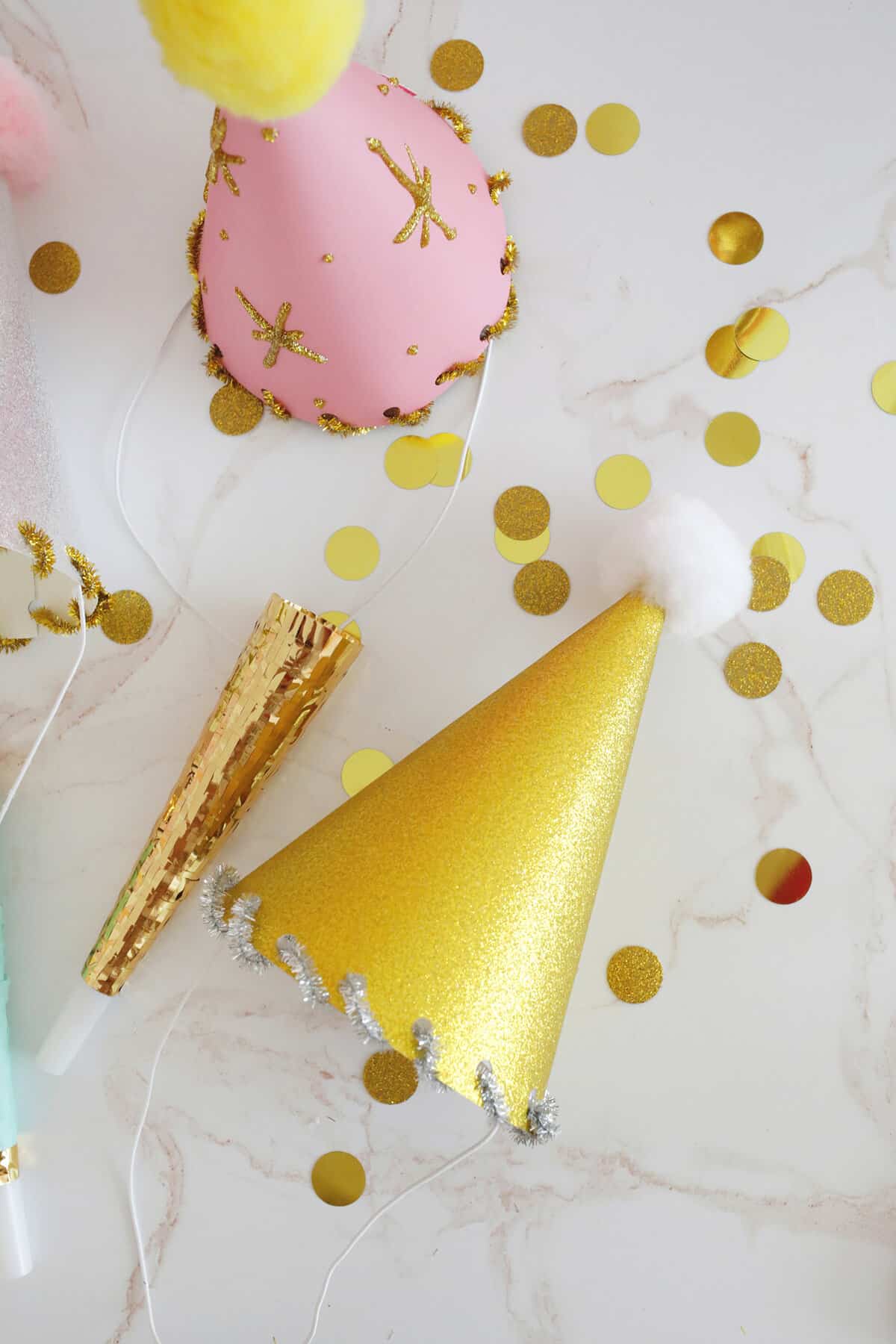 Tips for Making a DIY Party Hat:
Thicker paper that's harder to bend will need a hot glue gun to make the party cone, but thinner paper can be glued with a glue stick.
Let your kiddo help with the craft so that they can be excited to tell their friends that they had a part in the party planning.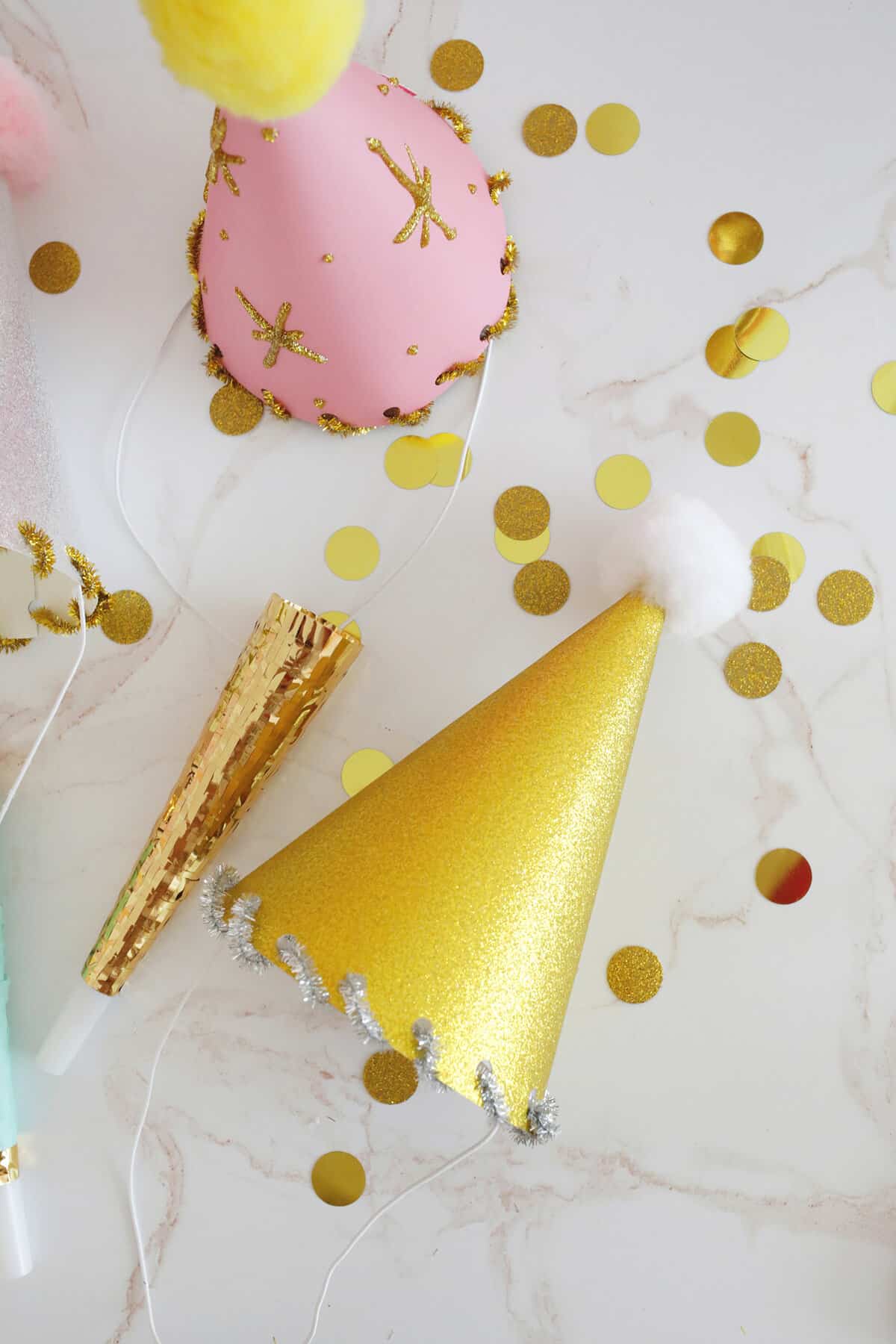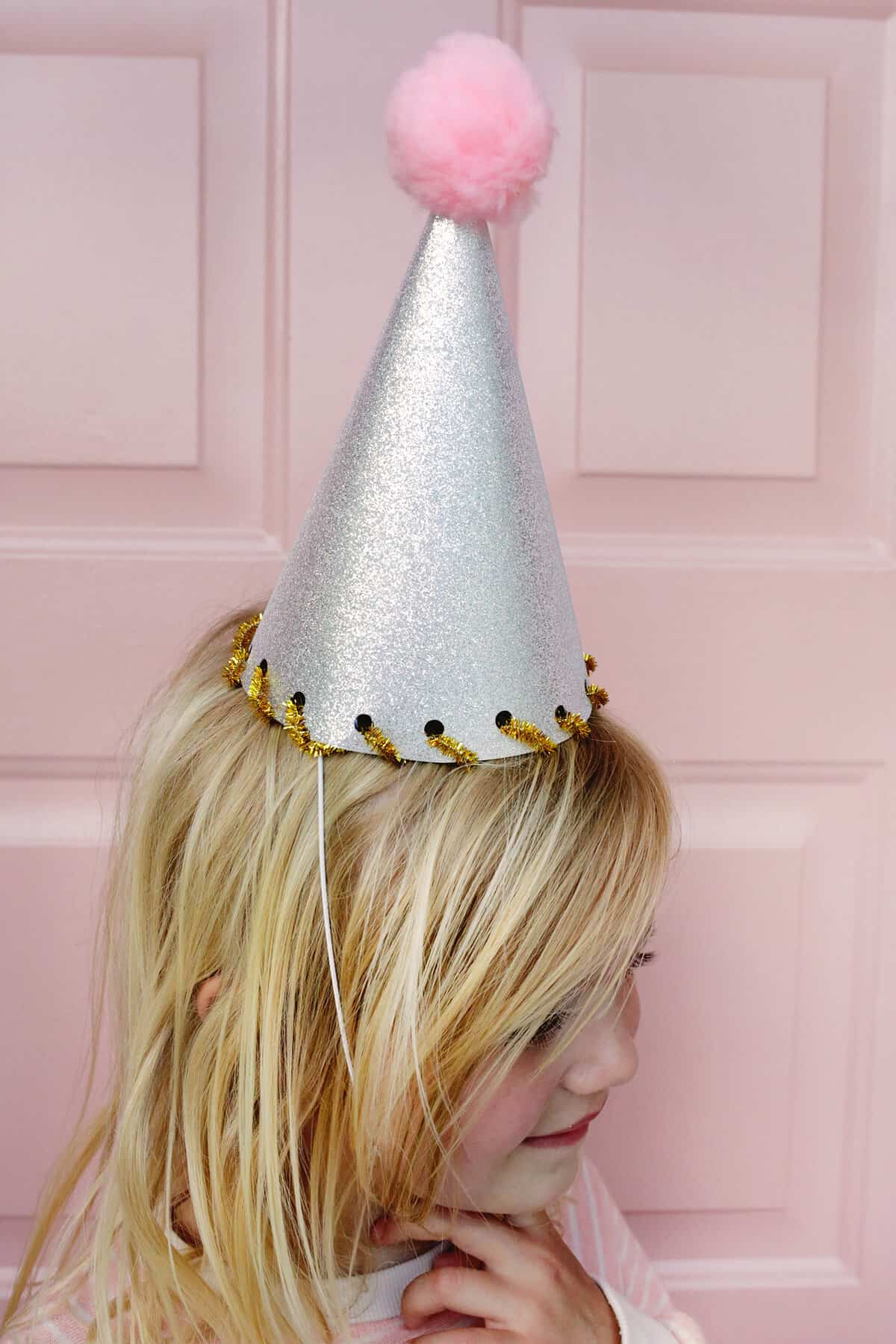 My daughter loves to have mini party hats for her stuffed animals' pretend birthday parties, so this template can also be printed smaller.
To do this, adjust the scale on your print settings before printing. You can even make mini hats for stuffed friends and dolls.
Tips for Making Hats for a Party:
Use the hats for a party activity! Make the base of the hats before the party and set out markers, etc., for the kids to each decorate their own, or add their own pipe cleaners and pom poms.
If you're making several hats for a party and you don't know the kid head sizes for the elastic (especially if you're having lot of different ages), make it extra long and then cut it at the bottom of the chin strap so you can quickly tie it under the chin for each child.
If all the kids are about the same age, you can probably use your kid's head for a guide and the elastic should stretch to fit everyone.
FAQ
How do you store a cone party hat?
The best way to store these hats is to put them in a container where they won't be crushed. You can nest them inside each other a bit to save space (especially if you didn't choose to put pom poms on the top) and they will keep very well until the next party.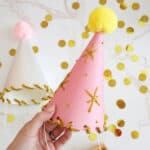 Print
Party Hat DIY- A Cone Hat with Free Printable Template
Make any occasion a party with this free template for your very own party hat!
Equipment
1 pair of scissors

1 hot glue gun

or crafting glue depending on paper weight
Materials
1

piece

paper

in color/design and thickness of choice
Notes
Your glue time will be a little longer if you use a glue stick rather than a low-temp hot glue gun.
Thinner paper works better with a glue stick, but you may need a low-temp hot glue gun if you are using a thicker card stock paper.