Let's make galaxy slime! This is a fun sensory activity if your children are learning about outer space, black holes, or just want to make something that's truly out of this world.
I've seen this called a few other names: comic slime, universe slime, space slime, and galactic slime.
More Slime Recipes: Fluffy Slime Recipe, 3 Ingredient Slime, Edible Slime, and Slime for Halloween.
Galaxy Slime Ingredients:
If you don't have Magical Liquid, you could still make this slime! Check out our post, How to Make Slime with Contact Solution.
In addition to these two ingredients, you may also want to add things like star chunky glitter, star confetti, or toy planets to your galaxy slime.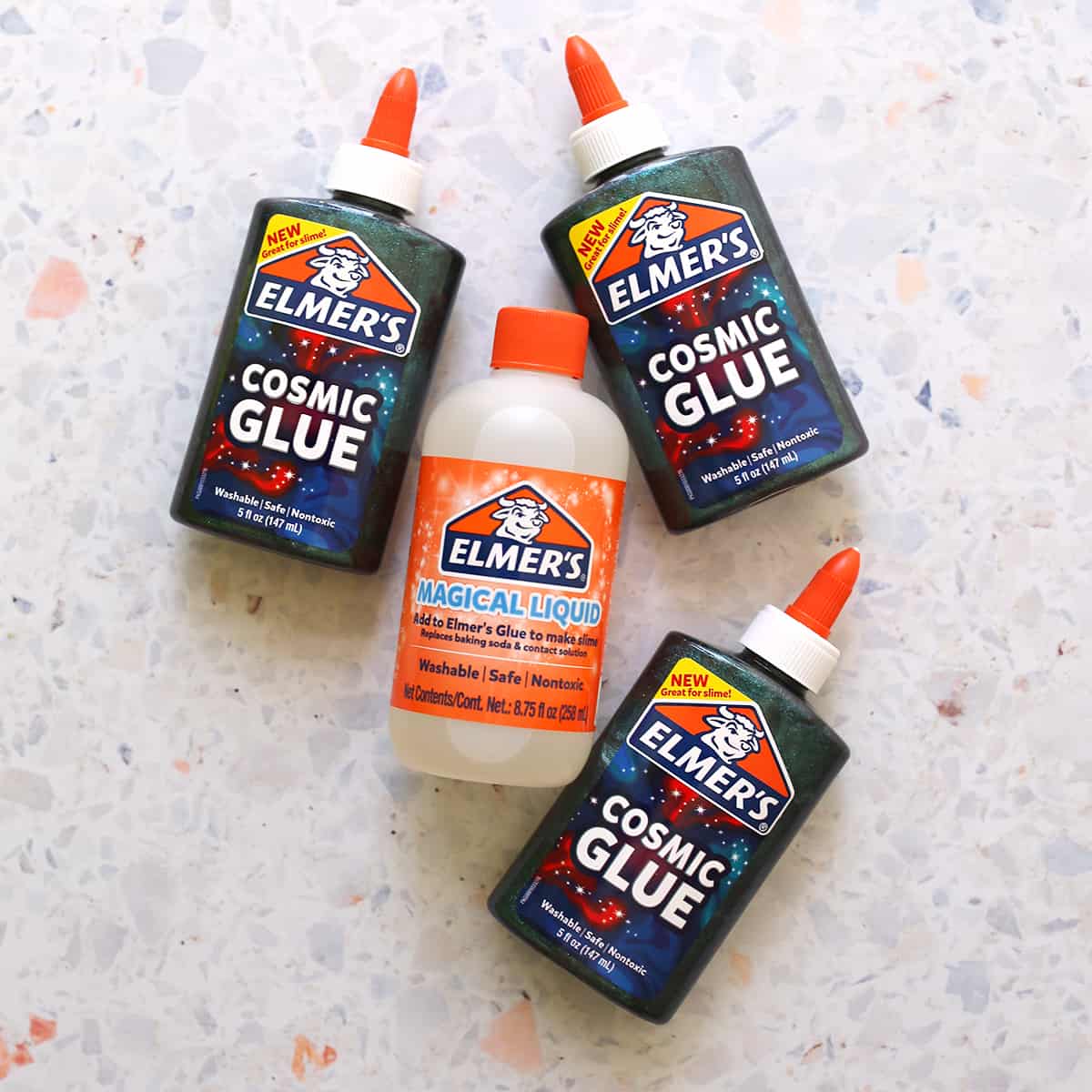 The Magical Liquid activator product shares how to make slime. Their suggestion is adding 2 teaspoons of Magical Liquid to a 4-6-ounce bottle of Cosmic Glue.
I've found that this is not nearly enough Magical Liquid, and I would recommend tripling this to begin with.
How Do I Fix Slime That is Too Sticky?
If you find your slime is too sticky, meaning it doesn't remove itself from your hands or surfaces easily as slime should, then you likely need more activator. Add a little bit at a time until you reach the desired consistency.
How to Make Galaxy Slime:
Combine one 5-ounce bottle of Cosmic Glue with 6 teaspoons Magical Liquid.
Stir to combine. If the slime is too sticky, add more Magical Liquid. Add a little at a time.
Knead the slime to mix it really well. If it hasn't reached the desired slime consistency within 30 minutes, adjust your liquid ratio.
Add glitter or other elements at the end by folding them into the slime.
Keep in mind that if you add other elements to your slime, it will change the texture.
Homemade slime can easily last 3-4 days if it's stored in an airtight container. If stored well and depending on your climate, it can last even longer. The longest I've kept mine without noticing a texture change is five days.
Note: Do not eat slime. This is definitely a project that requires adult supervision and participation. We have a recipe for edible slime here.
Looking For More Space Projects?

For more how-tos like this one, don't forget to sign up!
Join Now

Get creative ideas for recipes, crafts, decor, and more in your inbox!

Get the How-To
Make this homemade galaxy slime for your next science project!
Supplies
1

5-ounce

bottle of Cosmic Glue

6+

teaspoons

Magic Liquid

glitter

(optional)
Instructions
Combine the cosmic glue and magical liquid.

Stir to combine. If the slime is too sticky, add more magical liquid.

Knead the slime to mix really well.

Add glitter or other elements at the end by folding them into the slime.
Notes
It's best to use mixing bowls and utensils that you don't use for food purposes.