Making homemade slime is an easy project that doesn't have to be intimidating. It's perfect as a science experiment for kids and is a great way to spend an indoor afternoon.
There are a lot of ways to make slime, but this method is by far the easiest because you only need glue, baking soda and contact solution.
If you want to add color, you will also need food coloring. But that's it! It's super easy to mix together and a really fun project to make with kids.
I will note that it's important to follow the instructions and make sure you're using the right kind of contact solution. There are a few additional notes in the recipe card to help guide you through that at the end of this post.
If you don't have these three ingredients but need a project that will be equally impressive, learn How to Make Oobleck.
More Slime Recipes: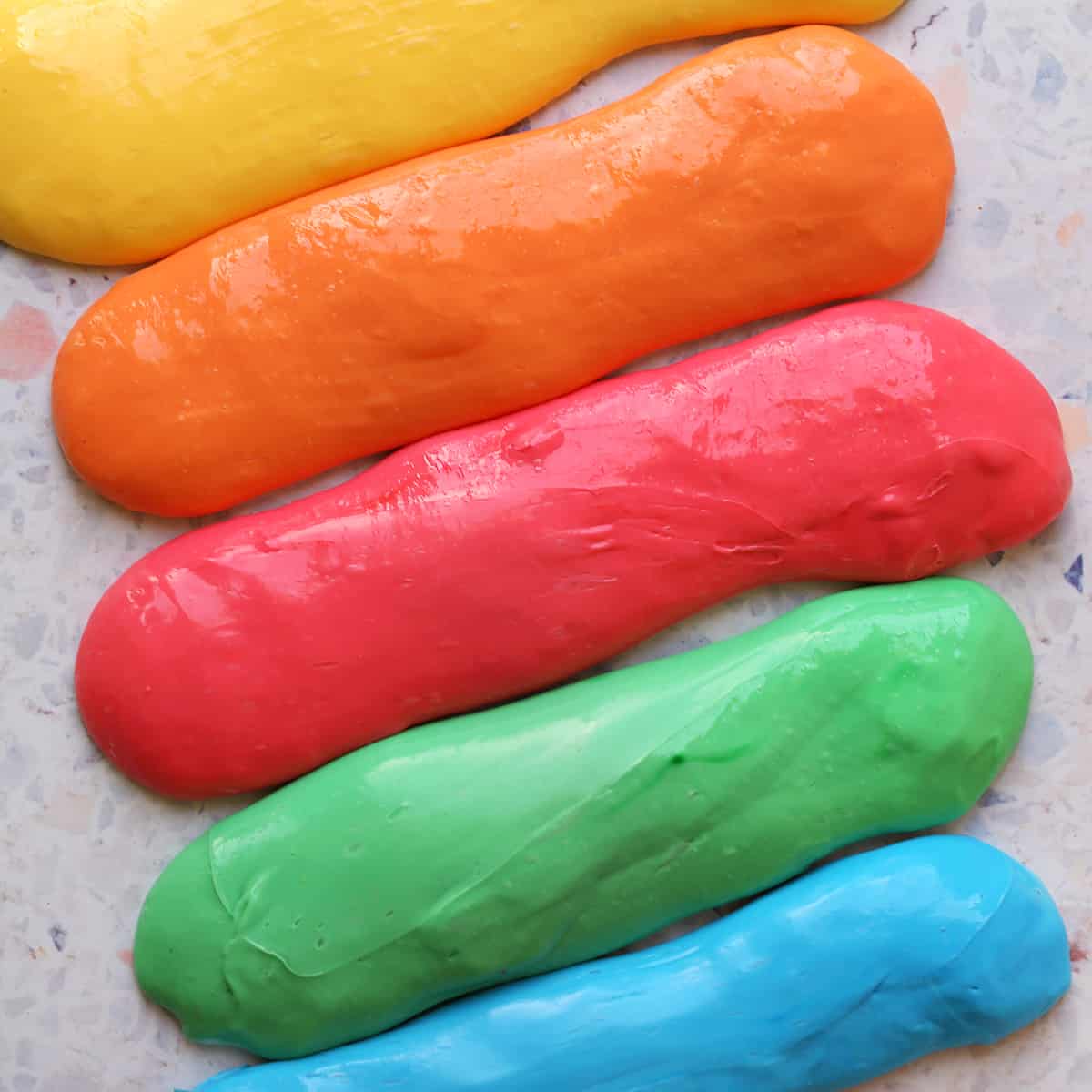 Homemade Slime Ingredients:
How Do You Store Slime?
One you make your slime and are done playing with it, your biggest question is most likely going to be what to do with it or how to store it.
I like to store homemade slime in these reusable plastic containers. You can easily stack these, and they sit pretty on tables or countertops.
In a pinch, you can use ziplock bags or anything that will keep the slime from drying out (being in contact with air). Another option is empty Easter egg containers.
How Long Does Homemade Slime Last?
Homemade slime lasts at least 2-3 days, but if you store it well in an airtight container so that it doesn't dry out, it can last even longer.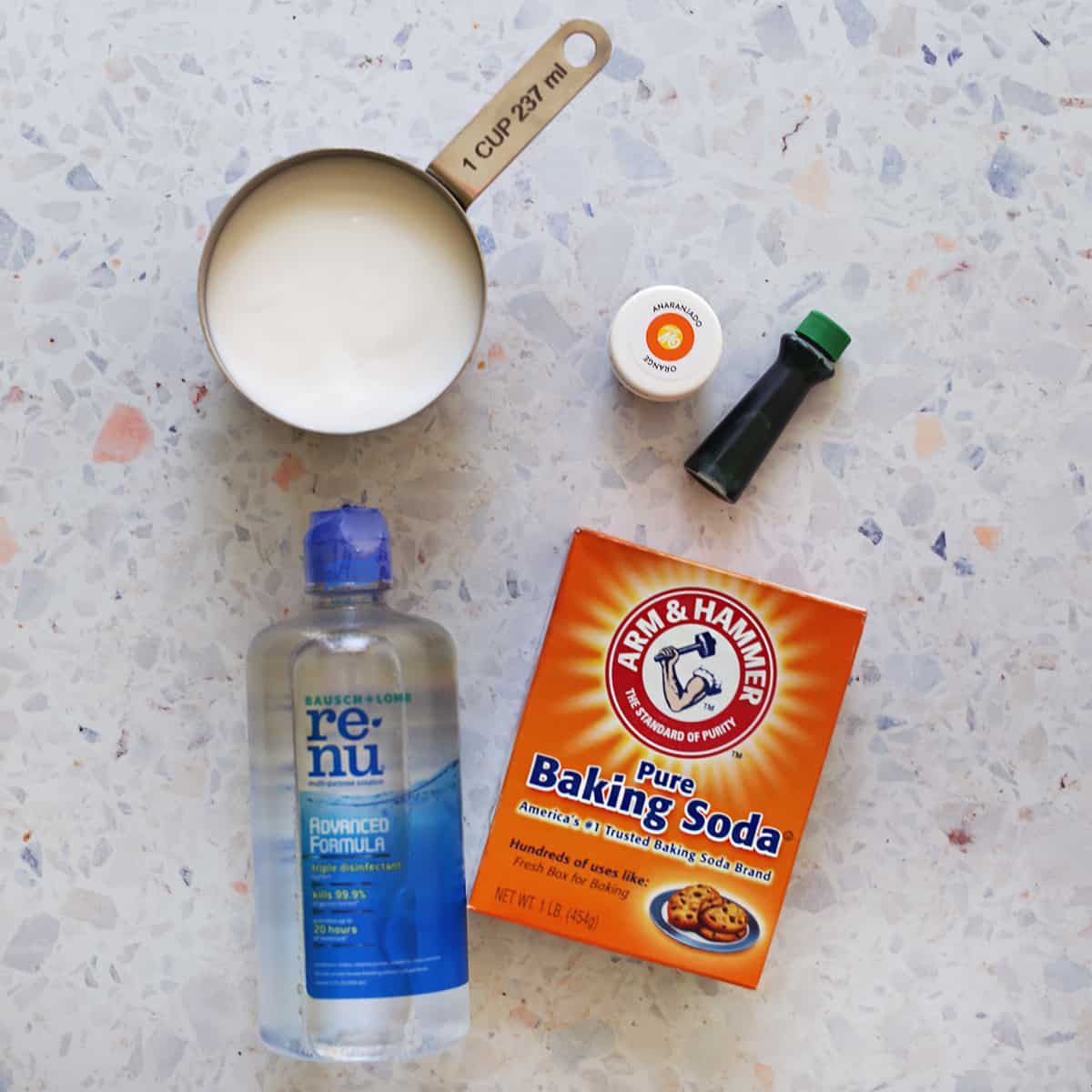 Using Food Coloring:
Although this slime recipe with contact solution only needs three ingredients, you may want to add a fourth—food coloring. If you don't add food coloring, your slime will be the same color as your glue.
I like to use liquid food coloring for this activity, as opposed to gel. I think it's easier to work with and easier to mix in with the other ingredients.
One fun thing about using food coloring is that you can tie it into any holiday theme by using festive colors.
How to Make Slime:
Small Batch Slime Recipe Ratio:
6 ounces glue + 1/2 teaspoon baking soda + 1 1/2 tablespoons contact solution + a few drops of food coloring (if using).
You can double or triple this recipe ratio to make larger batches.
How Do You Fix Slime That's Too Sticky?
If your slime is super sticky and clings to your hands or surfaces, you may need to add more contact solution or other activator. Start by adding a very small amount and increase until you reach the desired consistency.
Will Slime Stain Skin or Clothes?
Slime will not stain skin or clothes unless you use an excessive amount of food coloring. The majority of the time, food coloring will wash out, but it's good to be aware of the potential for staining.
If you don't use food coloring, then you certainly will not stain hands or clothes with this project.
How to Clean After Making Slime:
Slime is very easy to clean off of non-porous surfaces as it will cling to itself, so you can use slime to clean up stray bits left behind. Try not to get slime in porous areas like thick carpets or fuzzy clothing, as it may not clean off as easily.
Slime is such a fun project and can work well for most ages, so long as your little ones are past the point of putting things in their mouths.
Slime should not be consumed. You know the kids in your life best, so use your best judgment on if they are ready for this activity.
Projects like this take a lot of prep, hands-on help, and clean up. If you're the one doing all this so the kids in your life can have fun making slime, GOLD STAR FOR YOU! It takes a lot of adult help to create childhood magic. You're doing it, way to go!
More Activity Ideas:

For more how-tos like this one, don't forget to sign up!
Join Now

Get creative ideas for recipes, crafts, decor, and more in your inbox!

Get the How-To
how to make slime with just three ingredients
Supplies
6

ounces

glue

(¾ cup)

½

teaspoon

baking soda

1 ½

tablespoons

contact solution

1-2

drops

liquid food coloring

(optional)
Instructions
Stir together the food coloring and contact solution.

In a mixing bowl, add the glue.

Then, stir in the colored contact solution.

Once the slime is mostly mixed together, knead with your hands to really mix well.
Notes
Make sure to use a contact solution that contains boric acid, like ReNu.
If want to omit food coloring but still have colored slime, use a colored or glittery glue. 
It's best to use mixing bowls and utensils that are not for food use.