If you love slime and Halloween, then you are in luck because we are sharing our favorite Halloween slime ideas. I'll share the absolute easiest way to make slime with just two ingredients, plus tons of ways to customize slime for fun Halloween ideas.
Slime and Halloween just make sense together—you can make it as fun or creepy as you want! It's a great activity to get everyone in the festive mood.
Not only is it a lot of fun, it'd be a great idea for handing out to trick-or-treaters if you're looking for a candy alternative.
This recipe uses Elmer's Magical Liquid, but if you don't have time or access to it, you can use this contact solution and follow our Homemade Slime tutorial.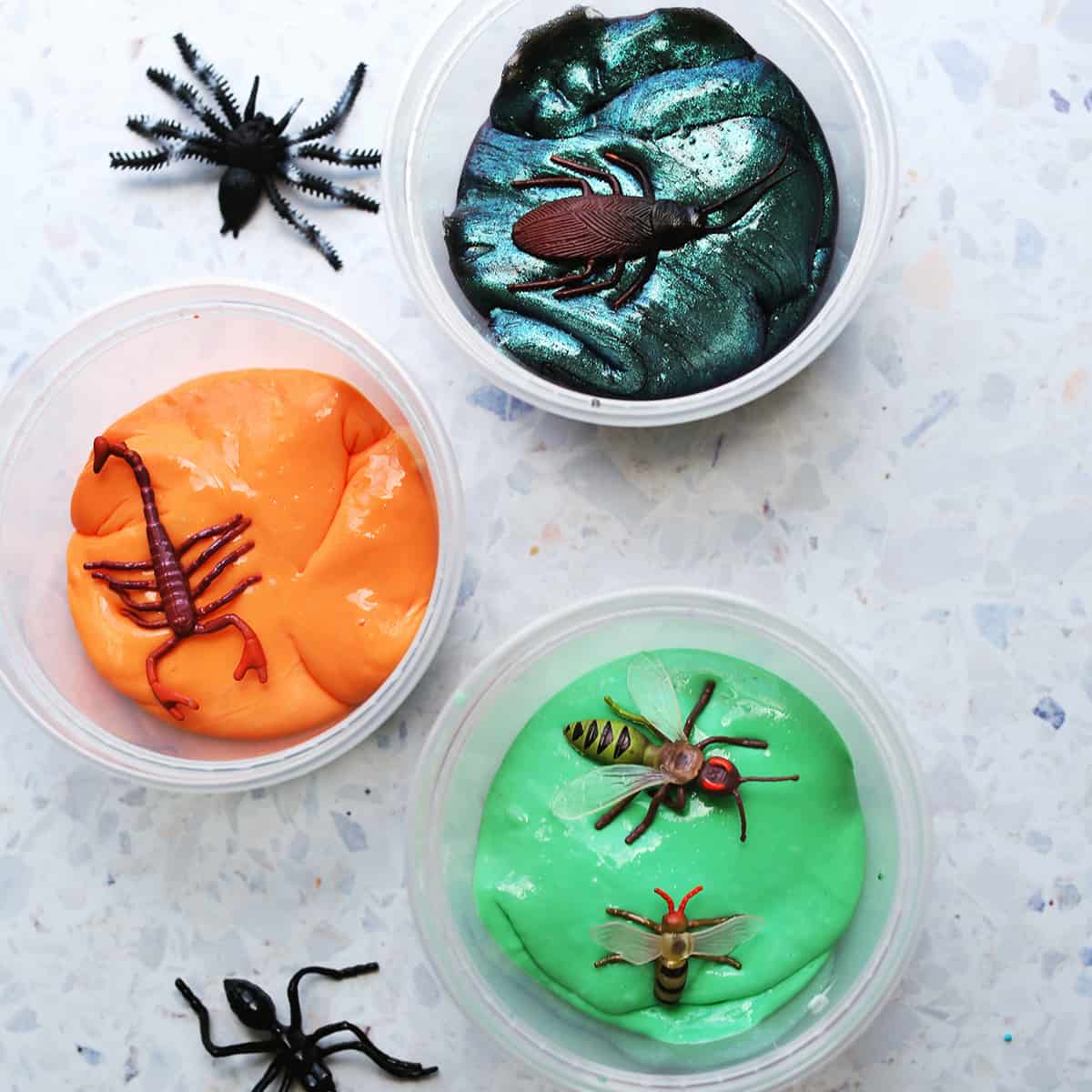 Why would you want to make slime for Halloween?
This could be a fun seasonal activity for the classroom or something to do after school. You could also make Halloween slime as party favors for a Halloween party or a birthday that falls near the holiday.
Also, you could choose to give away slime as a trick-or-treat alternative to candy. For any of these gifting ideas you may want to purchase small, inexpensive containers that you can give away.
Decorating the containers is another fun way to add to your craft time and make a fun gift.
Making Homemade Slime:
You can make homemade slime with just two ingredients: Cosmic Glue and Elmer's Magical Liquid.
You could also add food coloring if you are using white glue and want to make it colorful. Or, you can simply buy colored or glitter glue.
I share tips for using Elmer's Magical Liquid in this Galaxy Slime tutorial, but if you don't have access (or time) to get any, you can also use contact solution like I did in this slime tutorial.
Additional Supply Ideas to Make Spooky Slime:
Halloween-Themed Slime Ideas:
Ghost slime – white slime with our without glitter (or you could add toy eyeballs or spiders).
Zombie slime – red or green slime with toy brains.
Vampire slime – red slime with or without red glitter and add toy fangs.
Galaxy slime – black glittery slime.
Pumpkin slime – orange slime with mini toy pumpkins OR real pumpkin seeds.
Monster blood slime – green slime.
Insect slime – green, orange, or black (or dark purple) slime with toy insects.
Bat slime – glow-in-the-dark slime (made with glow-in-the-dark glue) and bats.
Looking for another fun Halloween project? Learn how to make oobleck!
How to Store Slime:
Homemade slime can last at least 3-4 days as long as you store it in an airtight container. If you store it well, it can last even longer than this.
If you have other Halloween slime ideas or questions about making slime for Halloween, let us know in the comments!
Love Halloween Crafts? Try These:

For more how-tos like this one, don't forget to sign up!
Join Now

Get creative ideas for recipes, crafts, decor, and more in your inbox!

Get the How-To
Make this fun Halloween slime with only 2 ingredients and then add all your spooky favorites!
Supplies
1

bottle

glue of choice (5 ounces)

(Cosmic or regular (I used Elmer's) )

6

teaspoons

activator

(I used Elmer's Magical Liquid)
Instructions
Combine one 5-ounce bottle of cosmic glue with 6 teaspoons Magical Liquid.

Stir to combine. If the slime is too sticky, add more magical liquid. Add a little at a time.

Knead the slime to mix really well. It comes together really quickly, but if it isn't the right consistency after 30 minutes, you need to adjust the liquid ratio.

Add glitter or other elements at the end by folding them into the slime.
Equipment
1 bowl
for mixing and combining slime