When it comes to pumpkin decorating, we've got tons of no-carve pumpkin ideas that are sure to delight you and your kids this fall. From paint to pom poms, scary to sweet, we've got 30 easy ways to make your season special this year.
Decorating pumpkins is one of our favorite activities to do in the fall during the Halloween season and we have no-carve suggestions for preschool up through adulthood!
Looking for free and fun ideas for fall? Check out: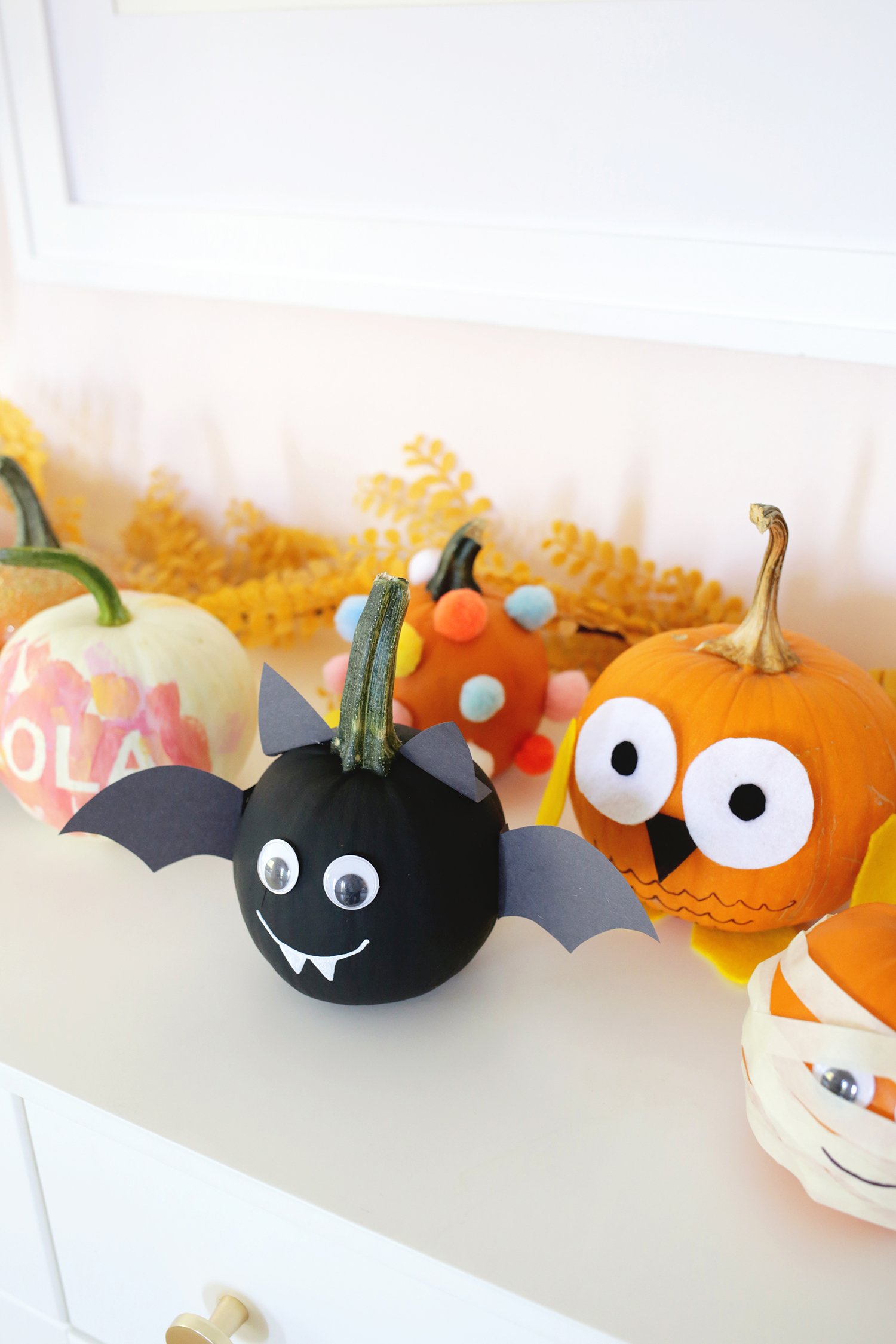 What is the best glue to use on pumpkins?
You can use regular school glue on pumpkins, tacky glue, or low-temp hot glue guns when attaching your decorations.
The tacky glue is a bit thicker than school glue so it may hold heavier items in place better while drying, and if you use a low-temp hot glue gun make sure the adult is the one handling the gluing.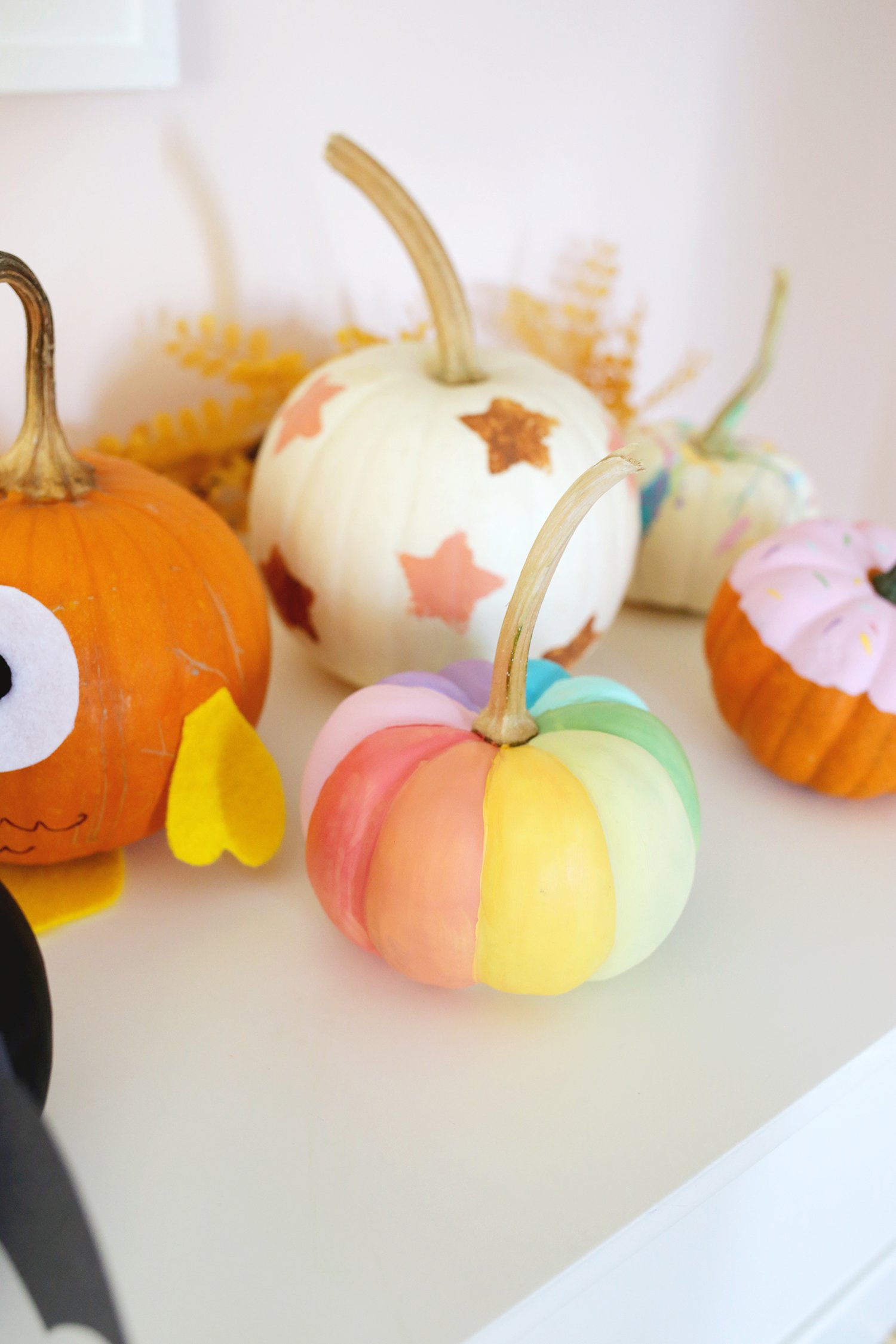 Why kids love to decorate pumpkins:
Kids love to get in on the seasonal and holiday spirit, so it's an easy fall or Halloween craft idea.
They can help pick which way they want to decorate, so they can express their individuality and make it their own.
These pumpkins will keep through the holiday season, so they will get to enjoy their work for weeks as a decoration in the house.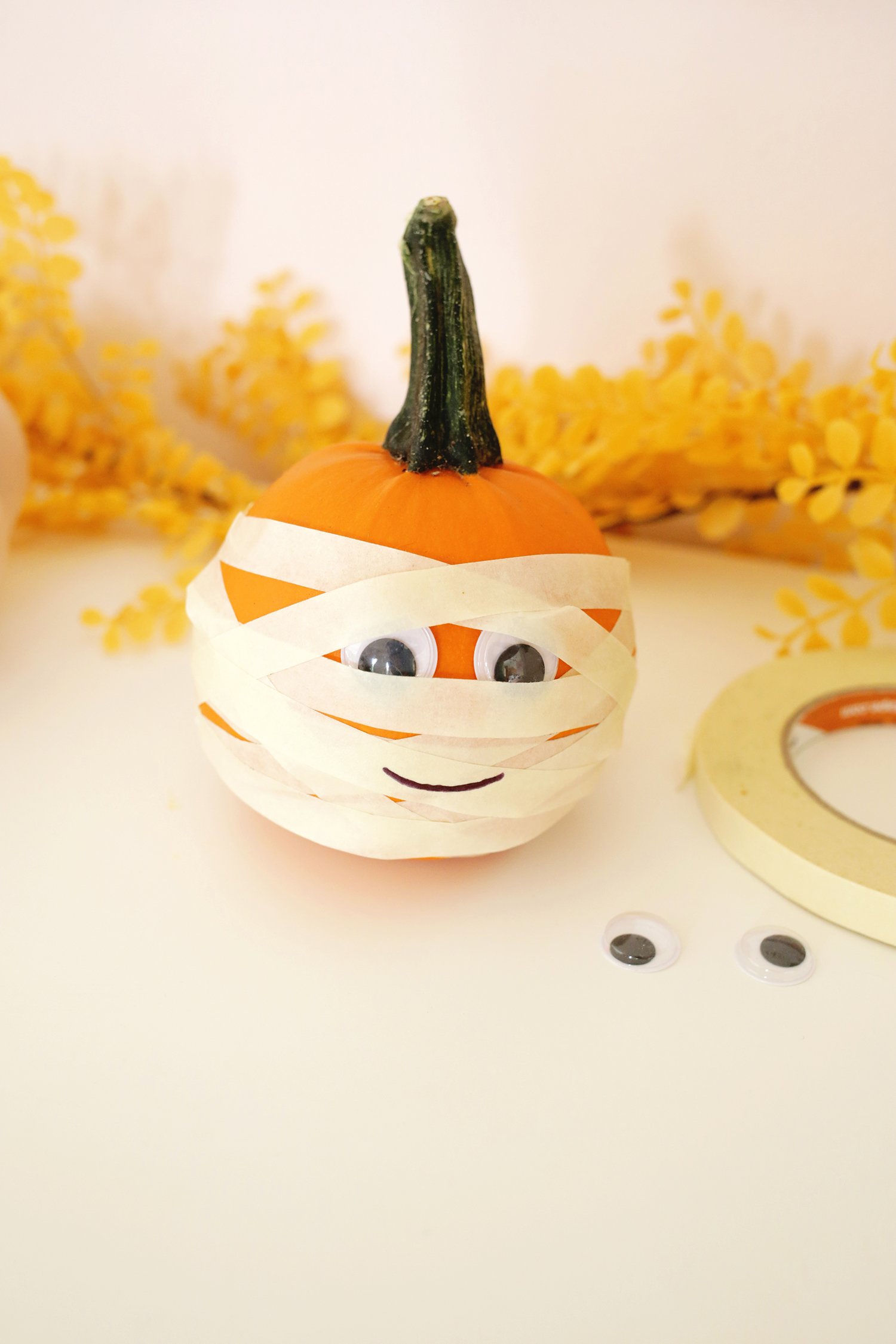 Mummy pumpkin: Glue on large google eyes (or paint them on) and wrap masking tape around the pumpkin to create a mummy look. Don't forget to draw on a smile!
Candy corn pumpkin: Glue candy corns in patterns or just all over your pumpkin for a sweet look.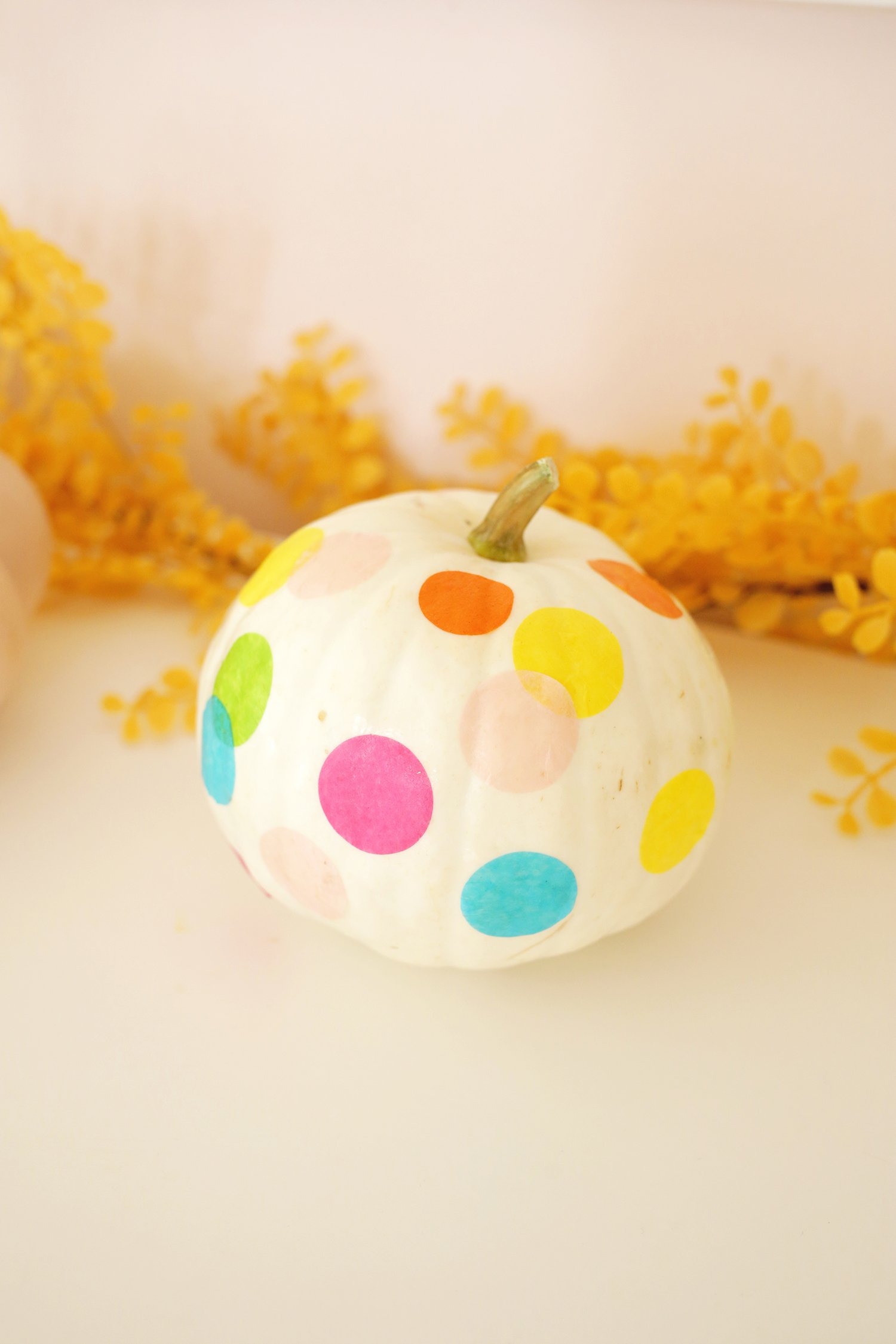 Confetti pumpkin: Use Mod Podge to attach paper confetti to your pumpkin. Brush Mod Podge onto your pumpkin and stick the confetti onto the wet areas. You can leave it as is or go over it again with the Mod Podge to seal it onto the pumpkin.
Puff paint pumpkin: Use puff paint to add dots all over your pumpkin in different colors.
Rainbow pumpkin: Paint each section of the pumpkin a different color in rainbow order to make a beautiful rainbow pumpkin.
Chalkboard pumpkin: Paint your pumpkin with chalkboard paint and once dry, let your kiddo decorate the pumpkin with chalk!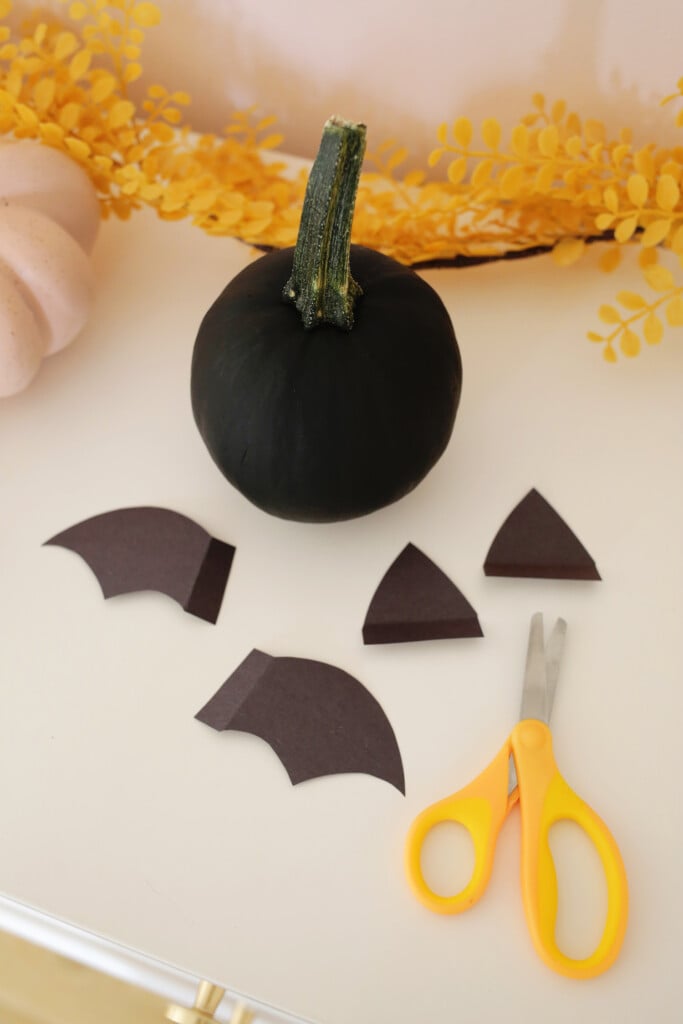 Bat pumpkin: Paint your pumpkin black and glue on paper wings and ears. Add google eyes and draw on a smile with a white or silver paint pen!
Drip pumpkins: Get a squeeze bottle of paint and let your kiddo squeeze the paint down the sides of the pumpkin for a drip effect.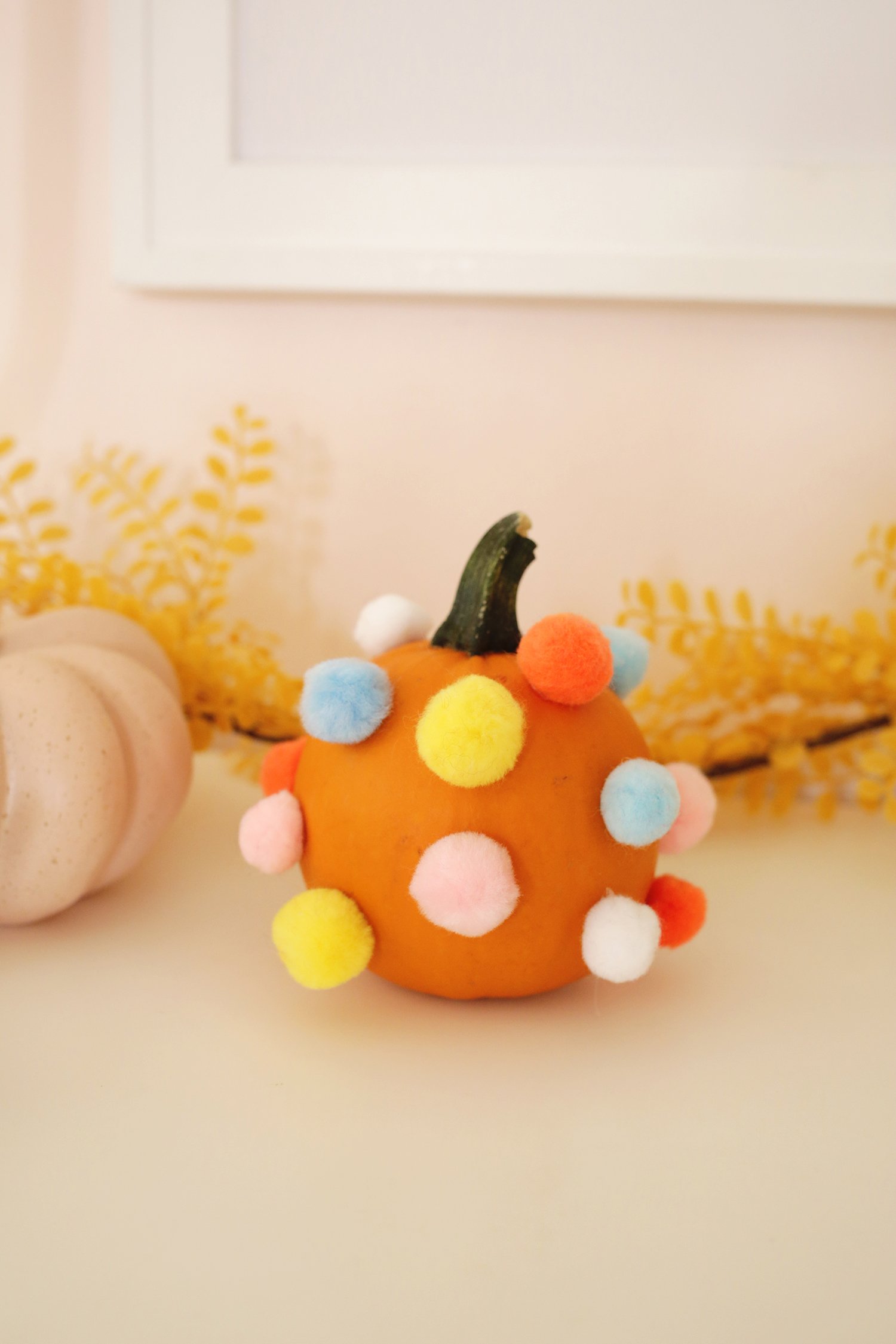 Pom pom pumpkin: Glue on pom poms in different colors and sizes to make a fun and furry pumpkin.
Sticker pumpkin: Use fall stickers to decorate your pumpkin for easy fun for little ones.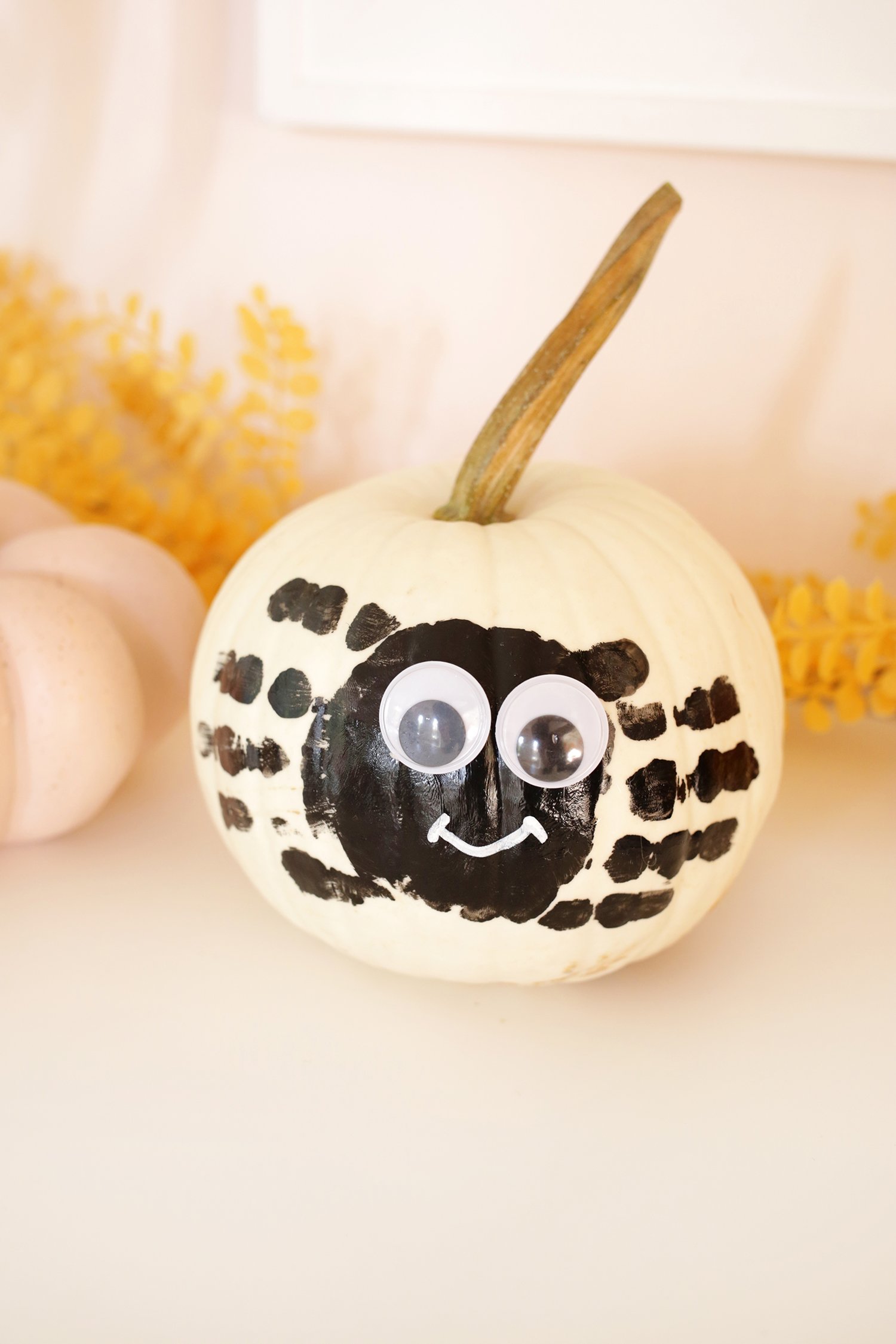 Handprint pumpkin: Paint your child's hand with black paint and stamp two handprints (palm overlapping in the middle) and add eyes and a mouth for a spider. You can also do a white handprint vertically and add black eyes and an "O" mouth for a ghost!
Glow-in-the-dark pumpkin: Use glow paint to decorate your pumpkin and give your kids a surprise when you turn out the lights!
Face pumpkin: Use paint or paint markers to draw a silly face and hair onto your pumpkin.
Sticker face pumpkin: Use a pack of face stickers to easily make your own silly face with no mess involved.
Name pumpkin: Use letter stickers to write a name, paint over the stickers, and once the paint is dry, peel them off to reveal the name underneath.
Ribbon pumpkin: Glue some strips of ribbon going up and down the sides of your pumpkin.
Splatter pumpkin: Put your pumpkin in a large box or on a plastic sheet outside and fling paintbrushes full of paint onto your pumpkin for a splatter effect. You can add a little water to acrylic paint to thin it out and make it more flingable.
Spider pumpkin: Paint or draw web designs on your pumpkin and glue on some plastic spiders for a spooky look.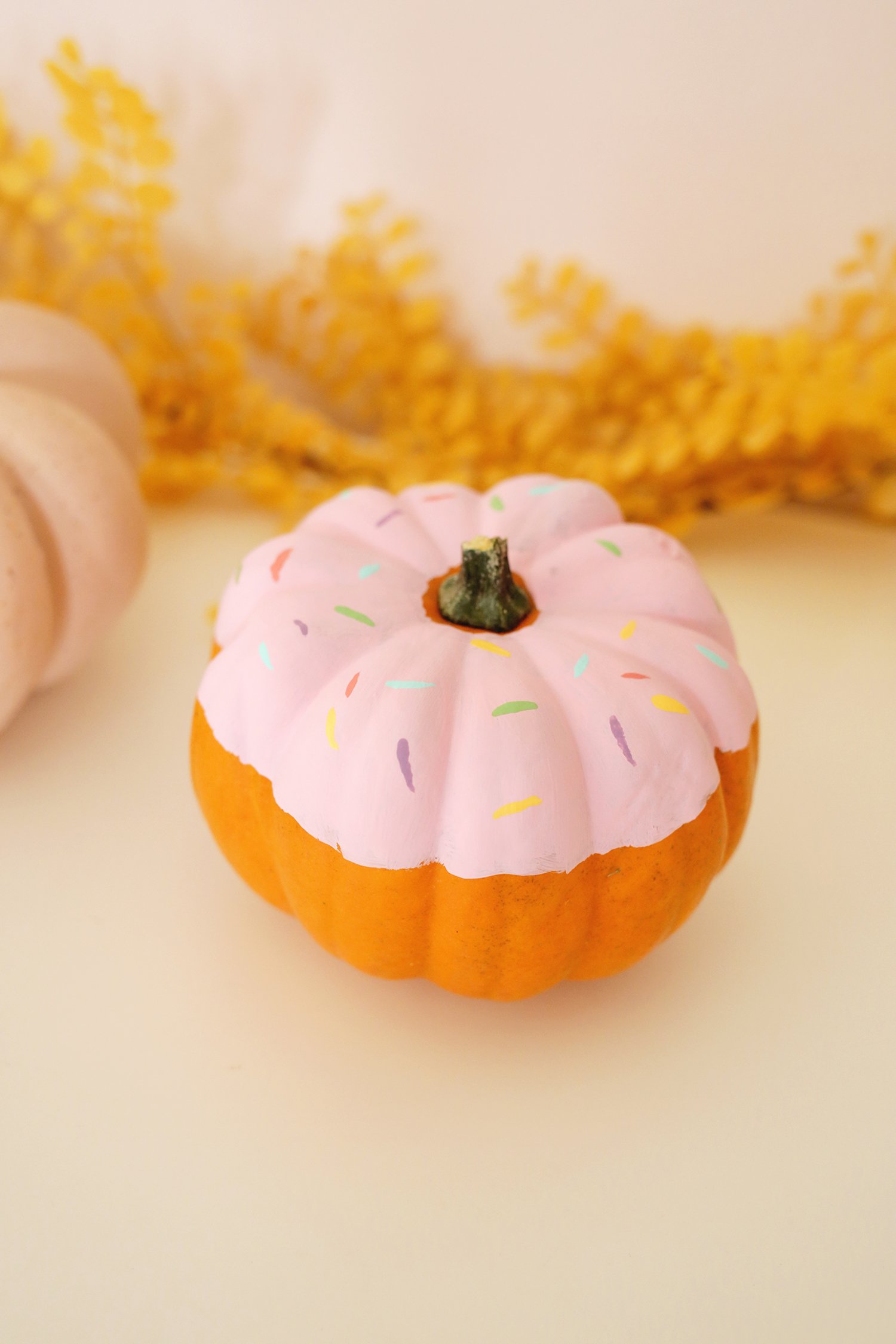 Donut pumpkin: Paint the top section of your pumpkin white, brown, or pink (for whatever flavor you want your donut to be) and when dry, paint some sprinkles on top!
Fingerprint pumpkin: Let your kid dip their fingers in paint to make fingerprints all over the pumpkin. You can do different colors for a rainbow dot look or draw legs and eyes onto the fingerprints so it looks like crawly bugs or spiders.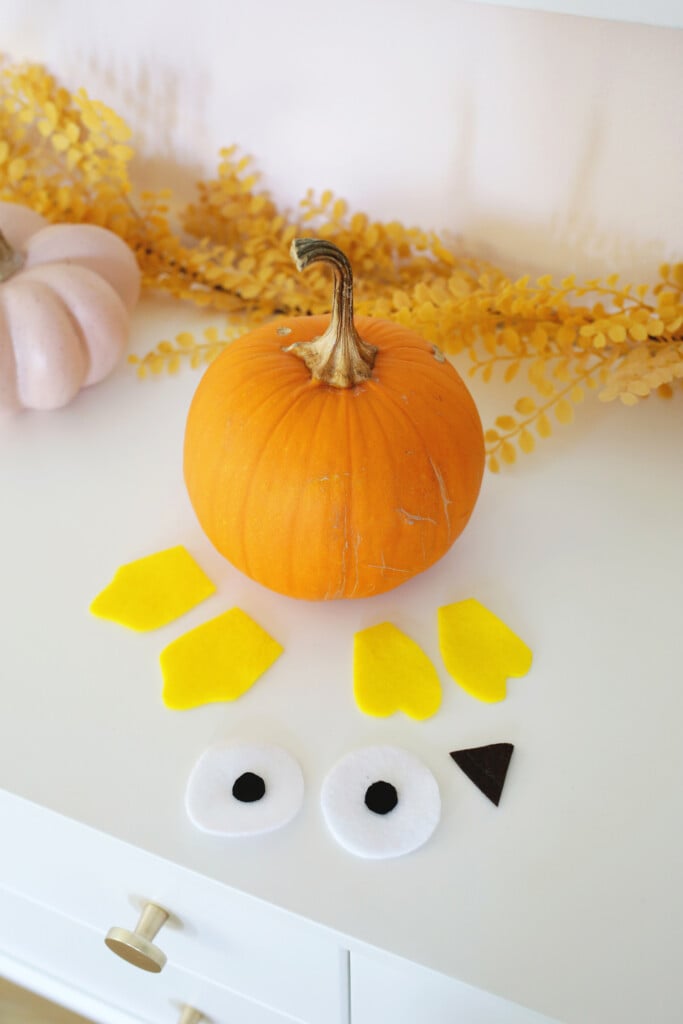 Owl pumpkin: Cut some feet, wings, a triangle beak, and some eyes out of paper or felt and glue them onto your pumpkin. You can also draw some feathers on the front as well!
Button pumpkins: Choose flat buttons that are an appropriate size for your kid so they aren't a choking hazard and glue them onto your pumpkin.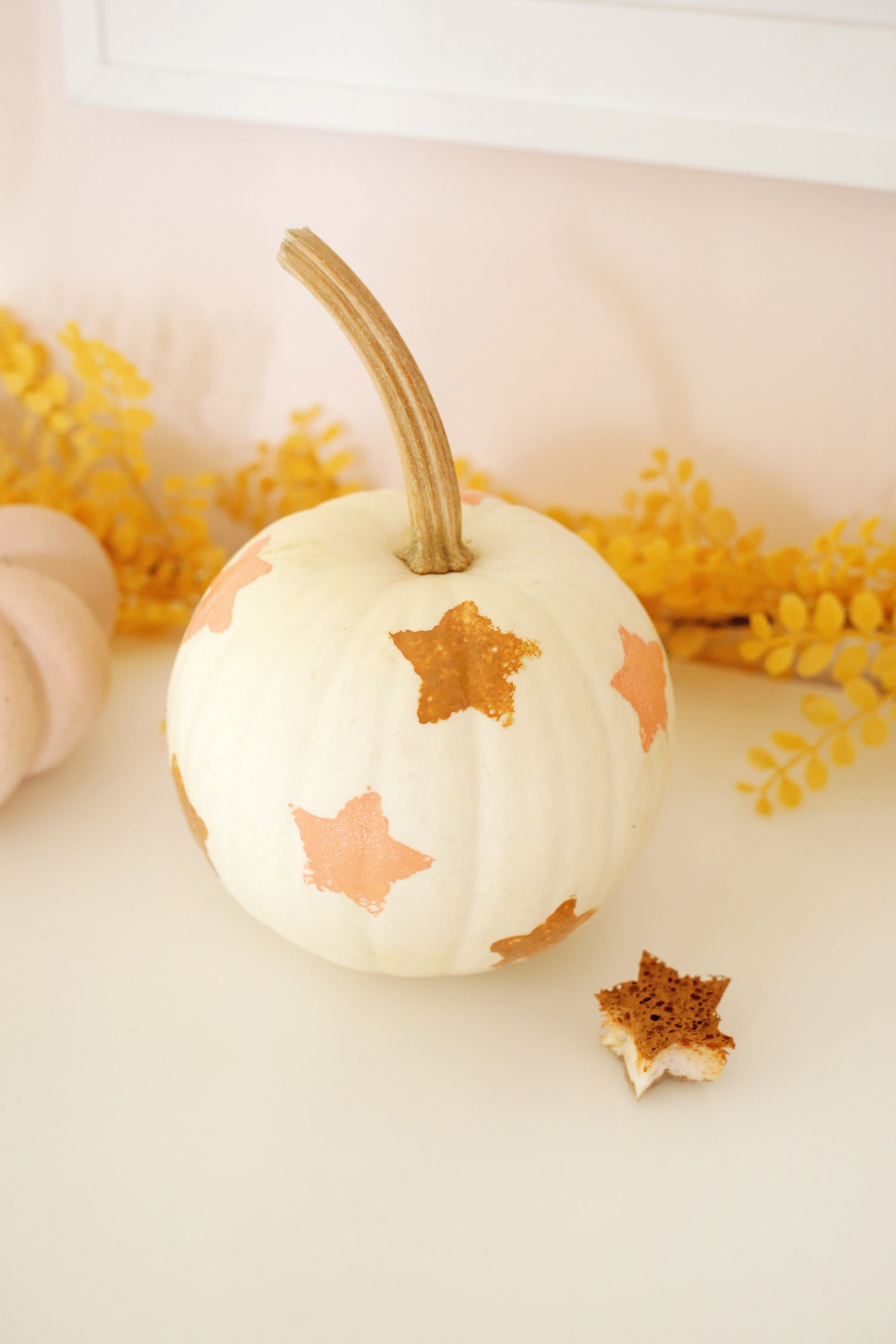 Stamp pumpkin: Cut shapes out of a kitchen sponge and stamp your pumpkin with different colors of paint!
Ghost pumpkin: Choose a white pumpkin (or paint yours white) and then draw or paint black eyes and an "O" mouth for a cute ghost.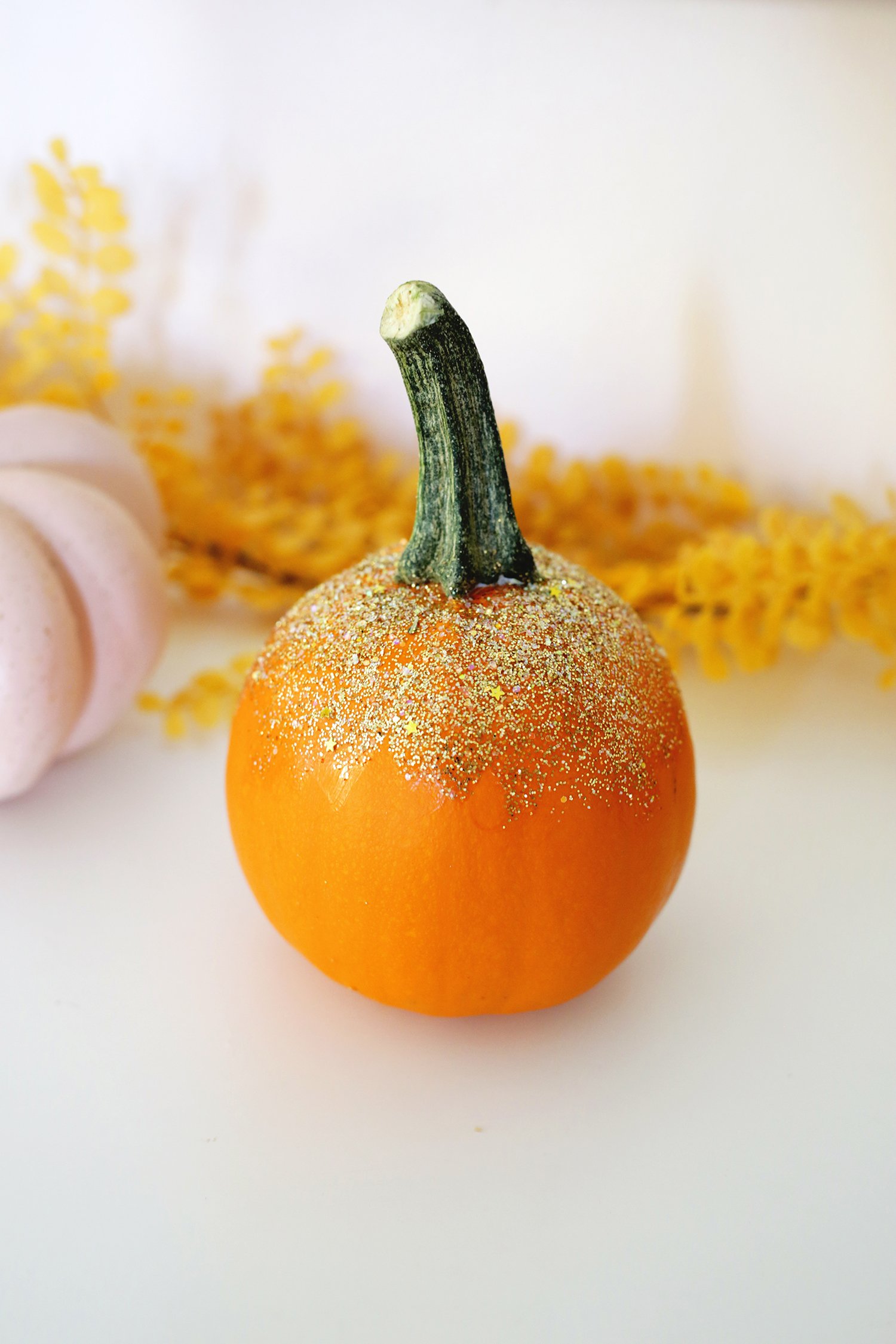 Glitter pumpkin: Place your pumpkin in a box or tray to catch excess glitter. Paint the top of your pumpkin with Mod Podge and sprinkle the glitter over the wet glue. Shake off excess glitter and once the glue is dry, paint another layer of Mod Podge over the glitter to seal it.
Sprinkle pumpkin: Brush school glue over the bottom half of your pumpkin and roll the bottom in a bowl full of sprinkles for a sweet surprise.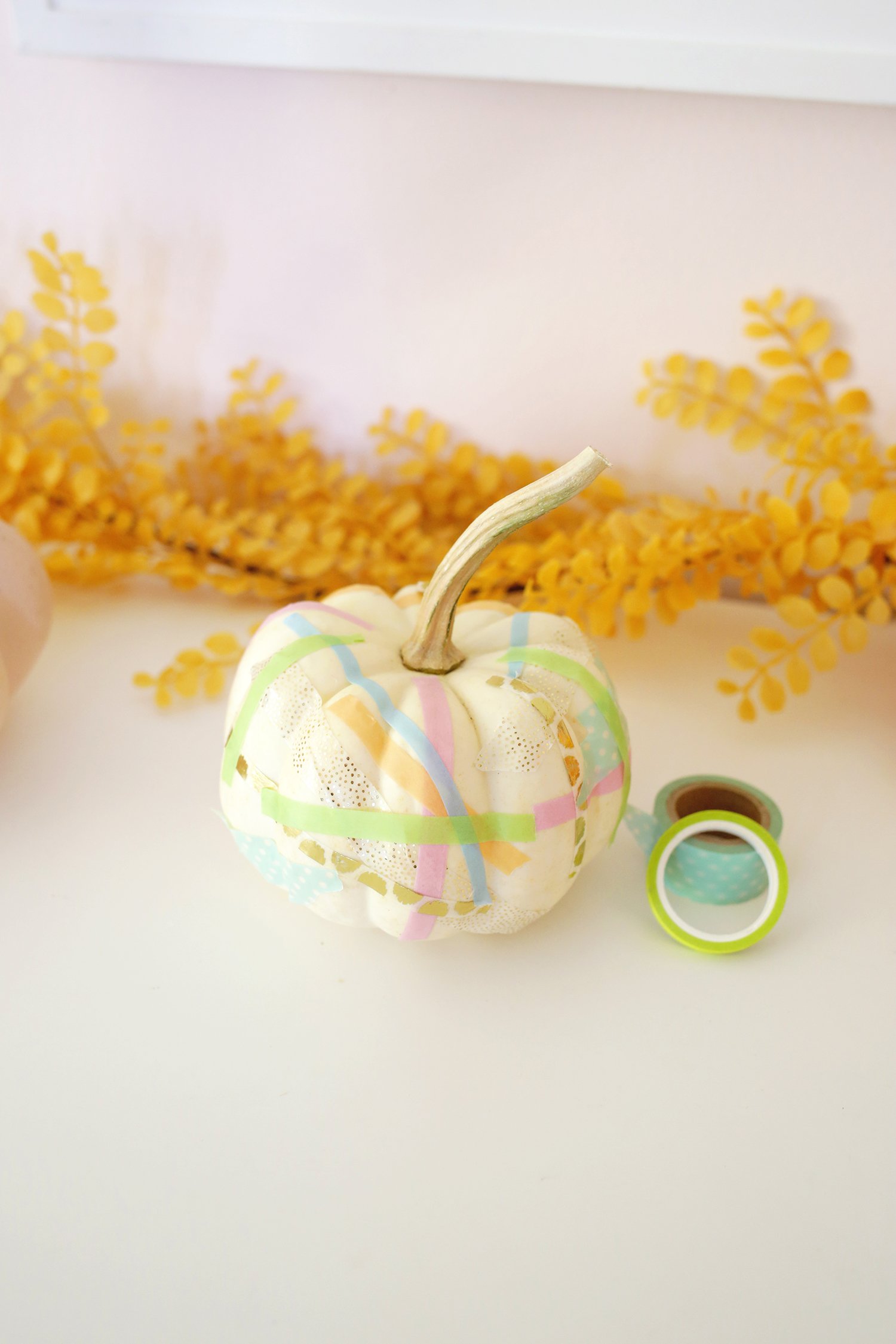 Tape pumpkin: Use different colors of tape or washi tape to decorate your pumpkin in a low mess way!
Floral pumpkin: Get some dollar store fall flowers, cut them off at the stem, and glue your flowers all over your pumpkin.
Dot pumpkin: Use dot markers to stamp dots onto your pumpkin! Dot markers are one of our favorite art tools for kids, so it's great to have a set of them around for craft time.
Scribble pumpkin: Perfect for little kids! Use crayons or markers and let them scribble all over the pumpkin. If using crayons, try a fake pumpkin as the more matte texture is better for crayons.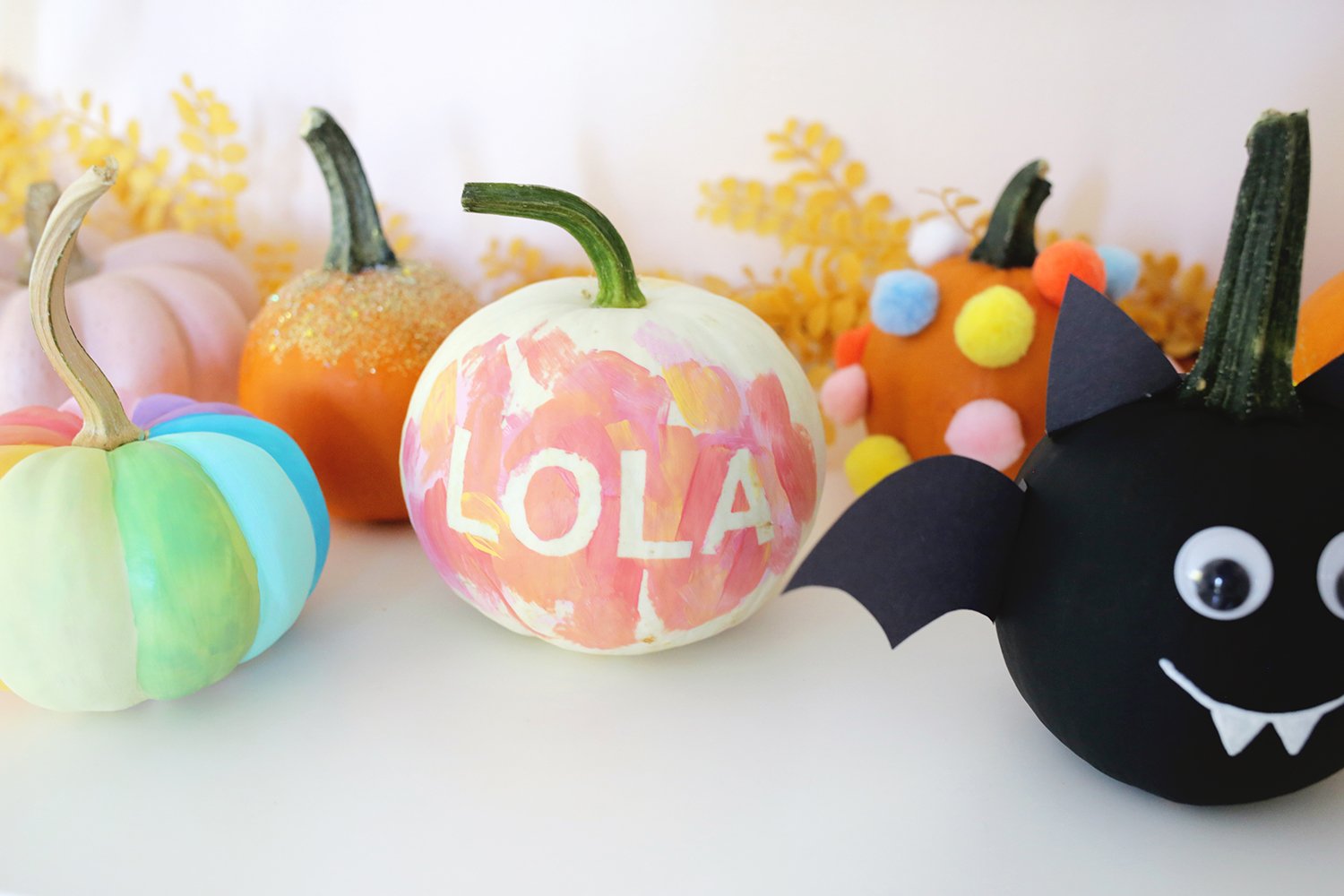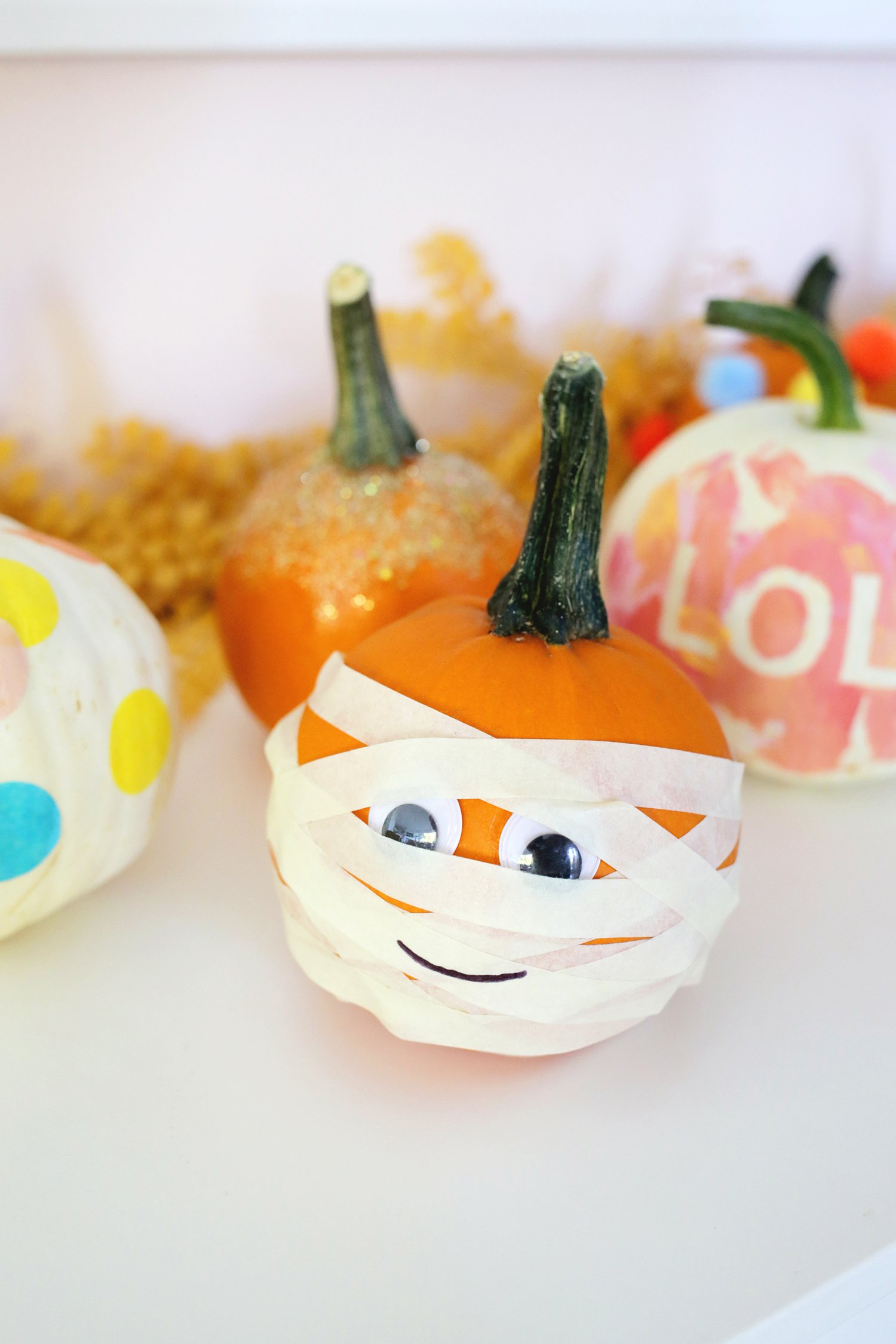 Looking for more fun crafts to do with kids? Check out: