If you are looking for the easiest goop/slime recipe around, then you should make oobleck.
Oobleck is made of only two ingredients, which you likely already have: cornstarch and water. If you want to add some color, then you'll also need food coloring. But that's it!
Oobleck is not slime, but it is similar. It's very inspired by the classic Dr. Suess book, Bartholomew and the Oobleck.
The mixture is both a solid and a liquid, so it's a fun and easy science project as well. In this post, I will show you how easy it is to make oobleck.
Related: How to Make Slime – 3 Ingredients, Galaxy Slime and Fluffy Slime.
Oobleck Ratio = 2 Parts Cornstarch + 1 Part Water
If you want to make your oobleck a color (like green), add food coloring to the water before mixing with the cornstarch.
And since cornstarch, water, and food coloring are all non-toxic and food safe materials, you don't have to worry about using different mixing bowls or utensils from what you already use in your kitchen.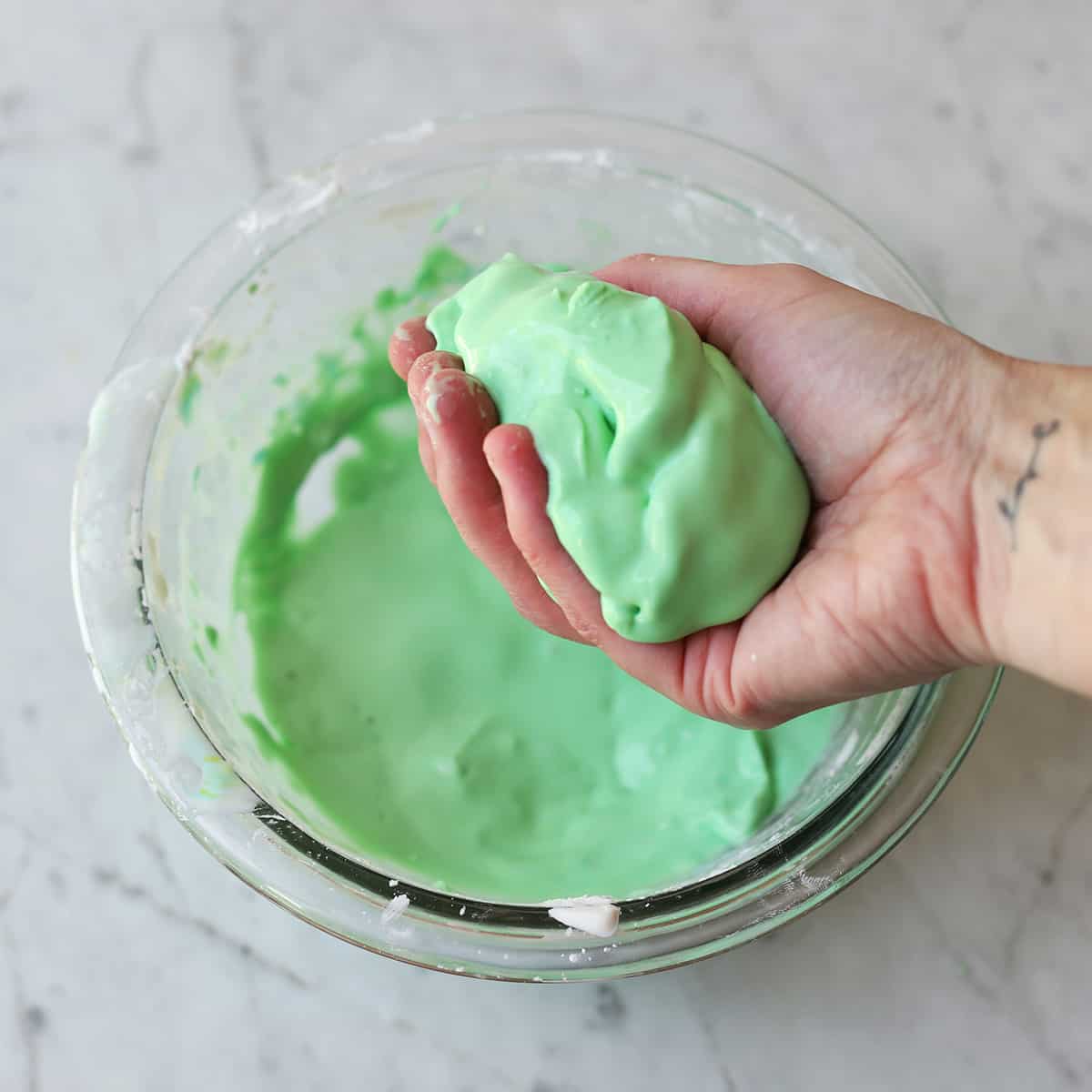 If you've never played with oobleck before, it's really fun! Parents and kids can enjoy the feel of oobleck. It will crack and bend, but also ooze and drip. It's really quite remarkable.
Can I Use Flour to Make Oobleck?
No, you cannot substitute flour for cornstarch to make oobleck. It's simply not the same. Flour and water will make a paste, which is safe to play with it. But it's not oobleck.
How Do I Clean Oobleck Off Surfaces?
Oobleck will easily clean off nonporous surfaces like tabletops or floors. It wipes up easily! For porous surfaces like carpet or clothing, keep in mind that oobleck is simply cornstarch and water.
Once the water dries out, it will be a dust that can be brushed or vacuumed away. The only thing that could stain is the food coloring.
Clothing with small amounts of oobleck can go in the washing machine. Dishes with small amounts of oobleck can go into the dishwasher.
Do not pour leftover oobleck down a drain like a kitchen sink, as it can cause a clog. Either dispose of it in a trash bin or allow it to dry out into a dust.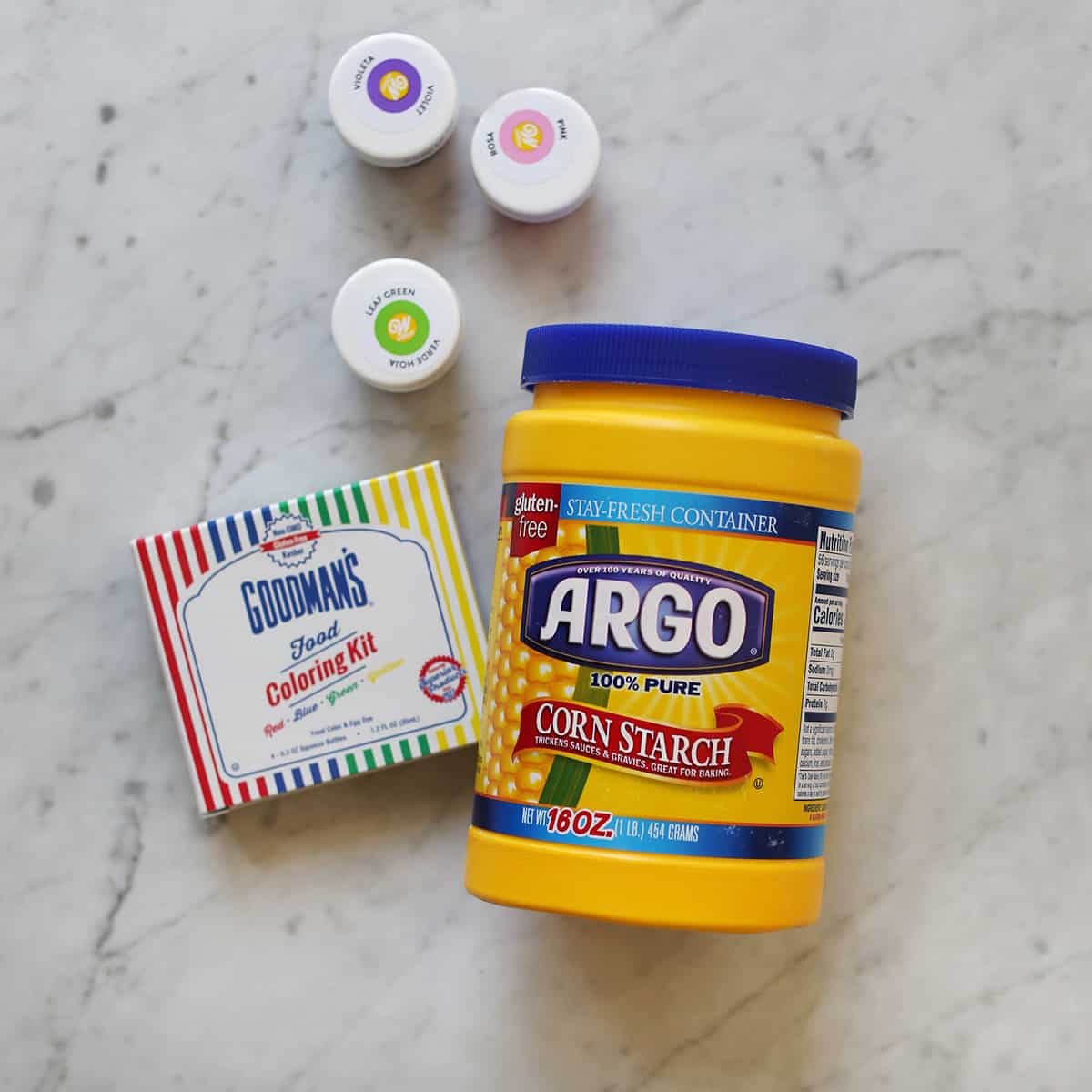 You can use any type of food coloring in your oobleck, but I think liquid food coloring works best and is the easiest to work with.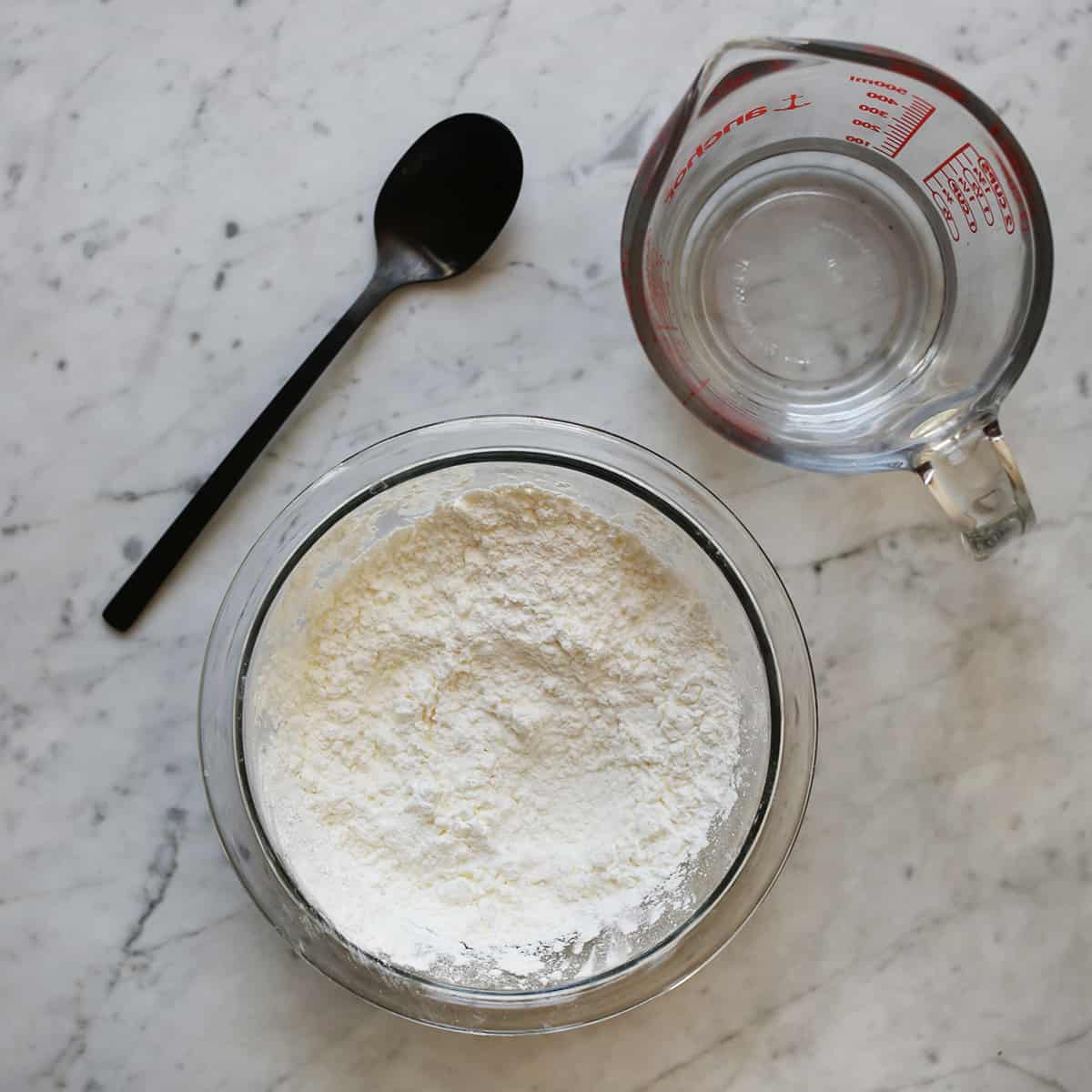 Mix together 1/2 cup water and a few drops of food coloring. In a mixing bowl, add one cup of cornstarch. Pour the colored water into the bowl and use a spoon to stir together.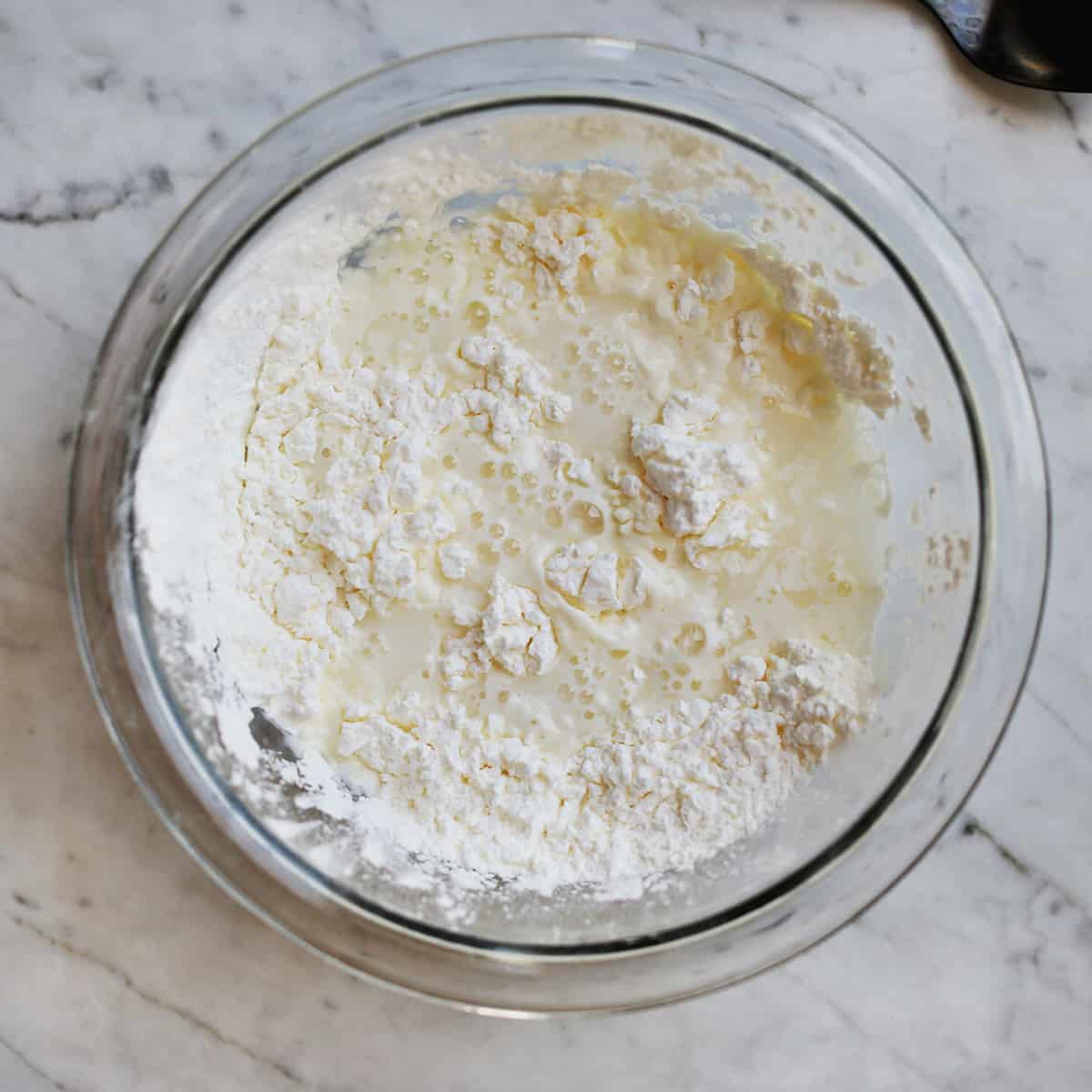 If your oobleck seems too runny, you can add a little more cornstarch. Or if it seems too thick, and does ooze after a few seconds, you can add a little more water.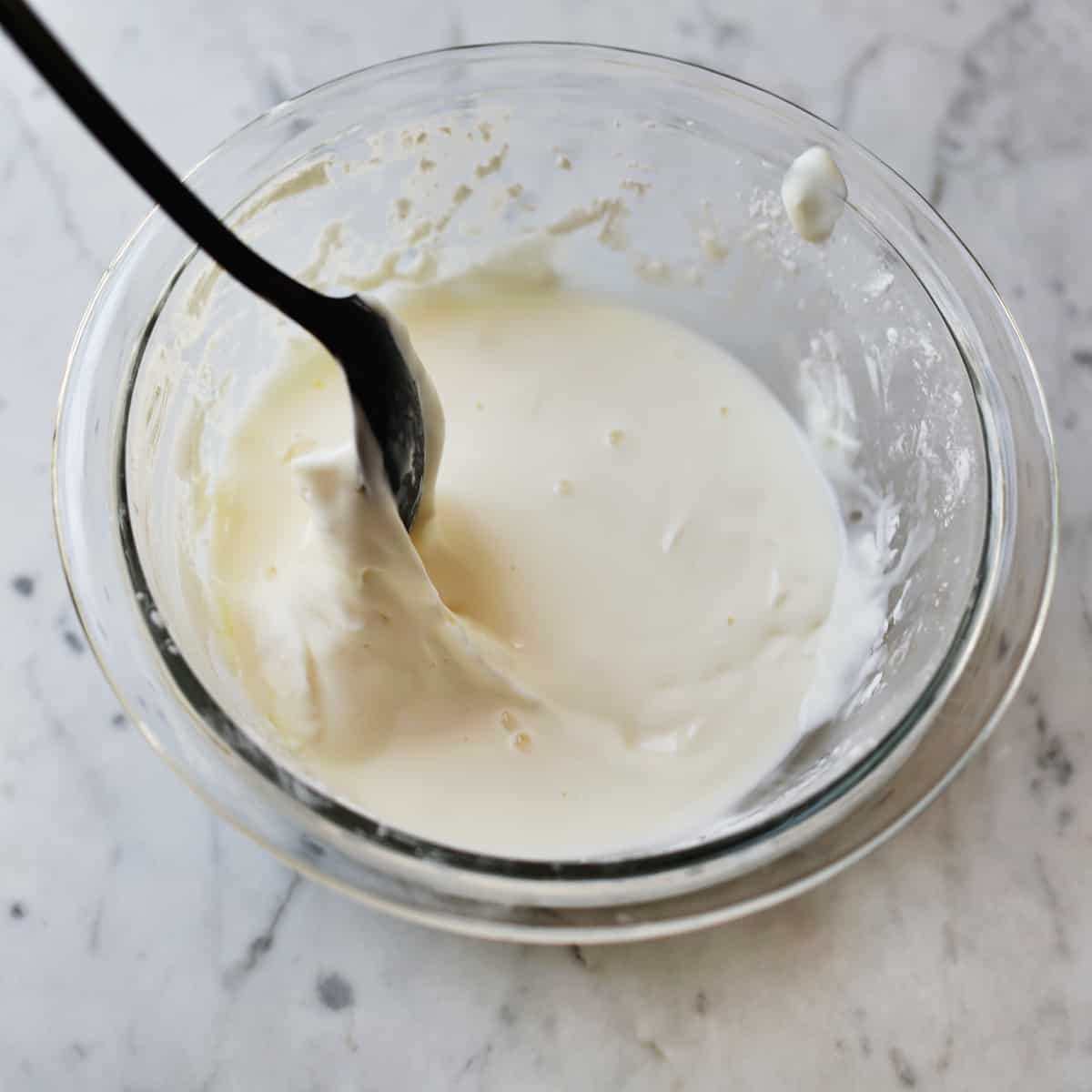 Here is what your oobleck should look like once it's mixed together (if you don't use food coloring).
It will kind of crack or chip off with a spoon or if you use your hands to pull it from the mixing bowl, but then it will begin to ooze or drip and act more like a liquid.
If you try adding food coloring after the oobleck has already been mixed, it will be difficult to get the entire substance to become the color you want.
This is why it's better to mix the food coloring with the water before adding to the cornstarch.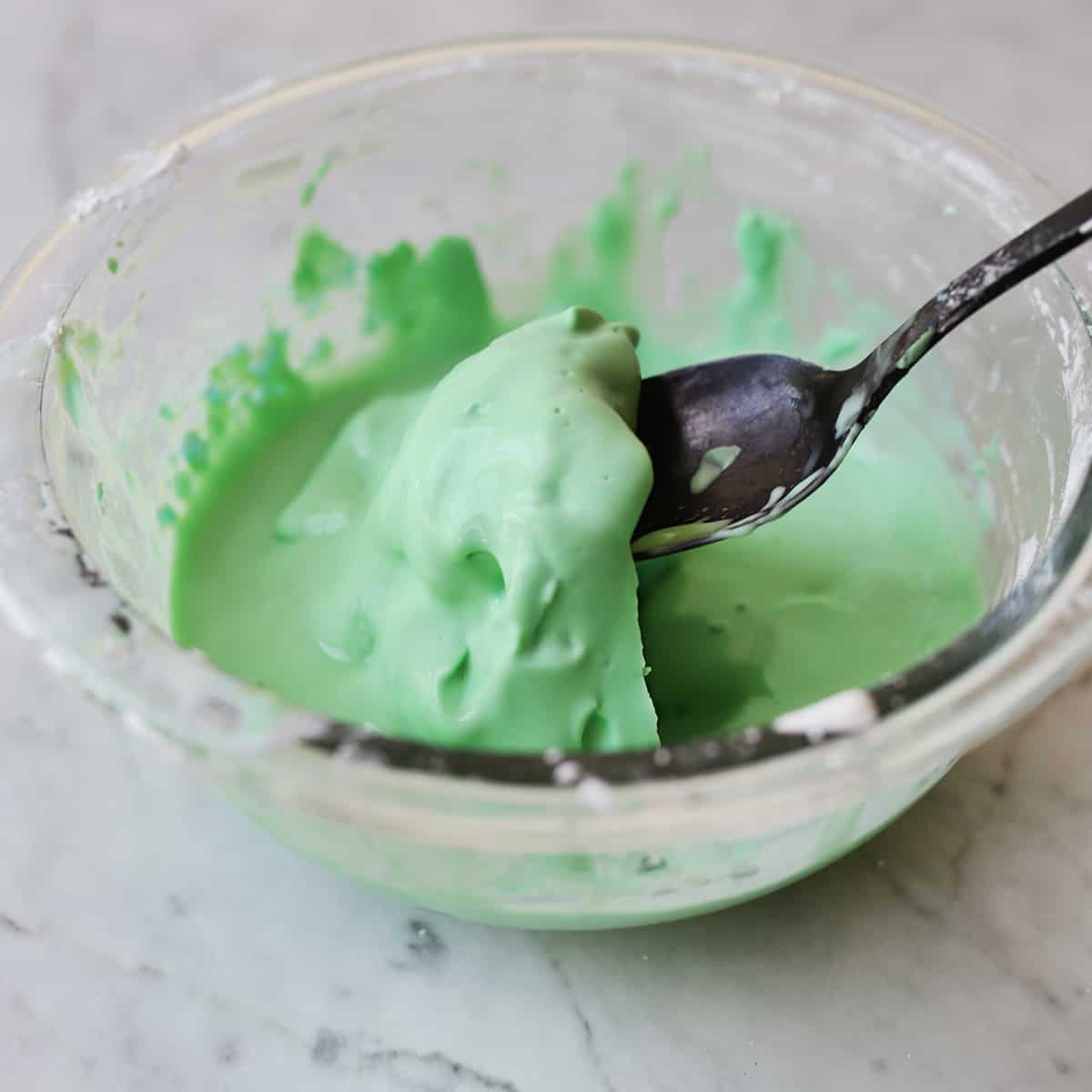 Is Oobleck Edible?
Technically yes, as it's made of only edible and nontoxic materials (cornstarch, water, and food coloring). That being said, it will not taste good. And I wouldn't allow your kid to eat large amounts of it as it could led to a stomachache.
What Age is Oobleck Good For?
Children who are no longer putting toys (and everything) in their mouths and can easily follow directions can have lots of fun and success with oobleck. Use your judgment as you will know your child best.
Parents, childcare workers, teachers, and others reading this to make with children you care for—we are rooting for you!
It takes a lot of effort to get things set up, clean things up after, and spend the time and effort engaging with kids for activities like this. There is no wrong way to do it!
If you are putting in the effort, you are nailing it! You are helping to create that childhood magic for the littles in your life. What a gift!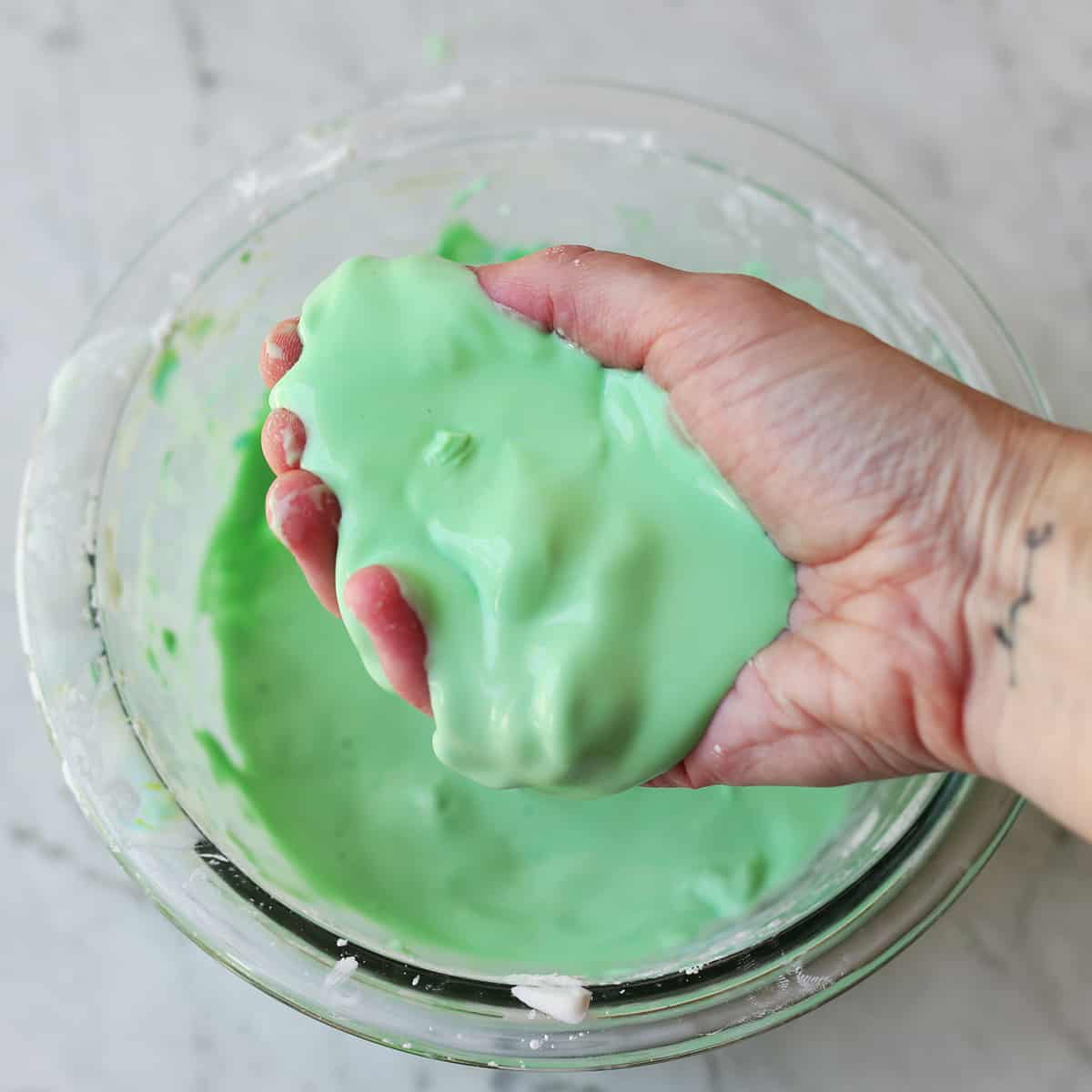 Click around our site for lots more science experiments and printables you can use with the little ones in your life.

For more how-tos like this one, don't forget to sign up!
Join Now

Get creative ideas for recipes, crafts, decor, and more in your inbox!

Get the How-To
how to make oobleck with just two ingredients
Supplies
1

cup

cornstarch

½

cup

water

1-2

drops

liquid food coloring

(optional)
Instructions
Mix together 1/2 cup water and a few drops of food coloring.

In a mixing bowl, add one cup of cornstarch.

Pour the colored water into the bowl and use a spoon to stir together.
Notes
Since all the ingredients are food safe, you can use kitchen mixing bowls and utensils for this project.