If you enjoy making homemade slime, then you will probably love making fluffy slime! It's puffy and fluffy and really fun to play with once made. This is also sometimes called cloud slime.
Fluffy slime is a perfect rainy day activity, and the best kids craft. It has a marshmallow consistency that makes it a lot of fun to squish, stretch, and twist.
It's super simple to make, and you only need to add one ingredient to change regular slime into this fluffy version. I've also found that fluffy cloud slime, if stored well, can last even longer than regular slime.
The batch I made to photograph here lasted over three weeks without drying out or becoming runny. I do think the key to the slime lasting that long is the storage method, which I will share below.
Safety Note:
Slime is a really fun activity, but it does require adult supervision. This is a craft/activity for children who are old enough that they would not try to eat the slime. It is not safe to eat.
Other Slime-Related Recipes: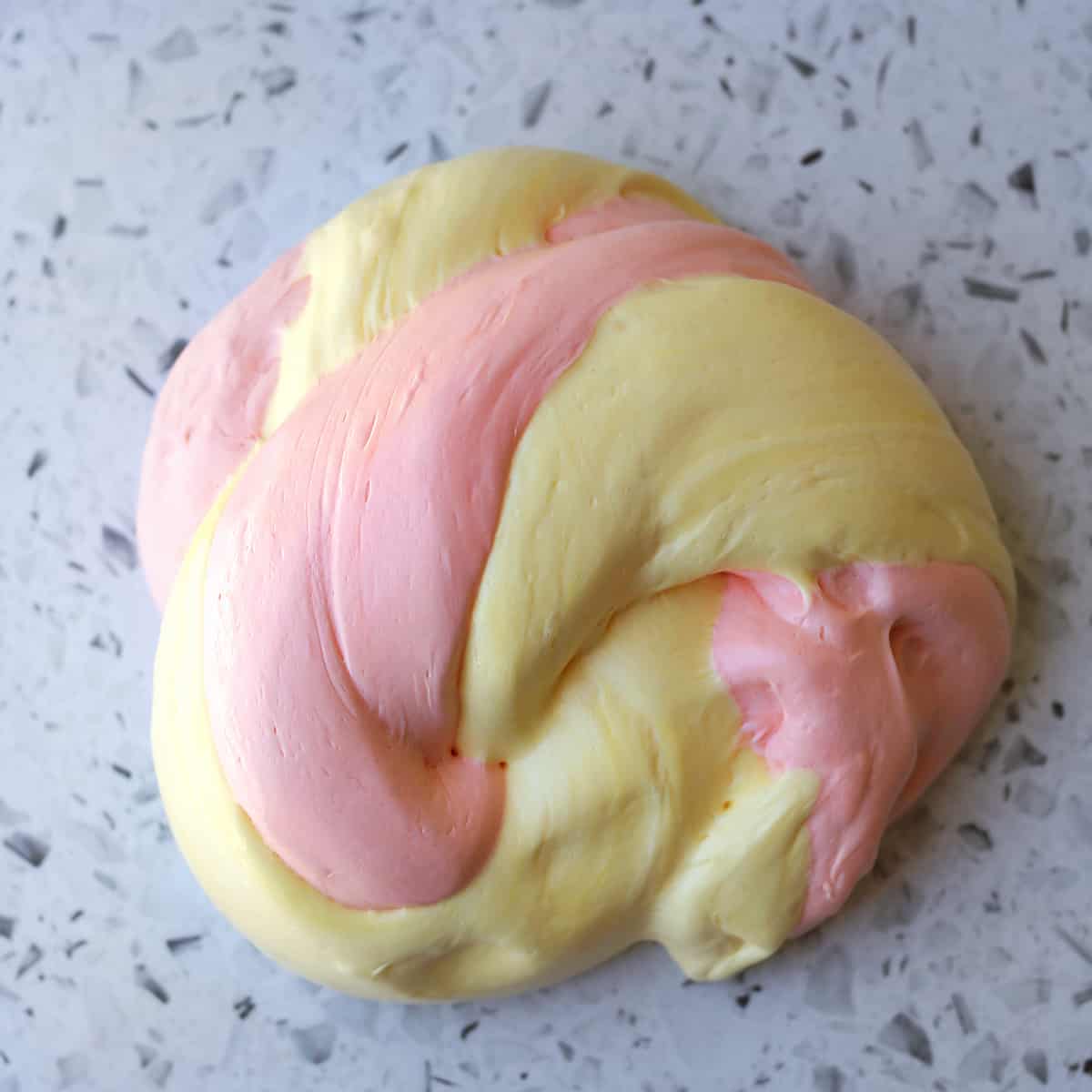 What's Different about Fluffy Slime?
Slime is a sensory activity that is really popular with kids, and so much fun. To make a slightly different version of slime, you can make "fluffy" slime by adding shaving cream to this simple slime recipe.
This creates a different texture that is fun to play with—kids will love stretching and squeezing the fluffy slime. If you're making more than one color, they can stretch and twist it to combine colors for a fun and magical activity.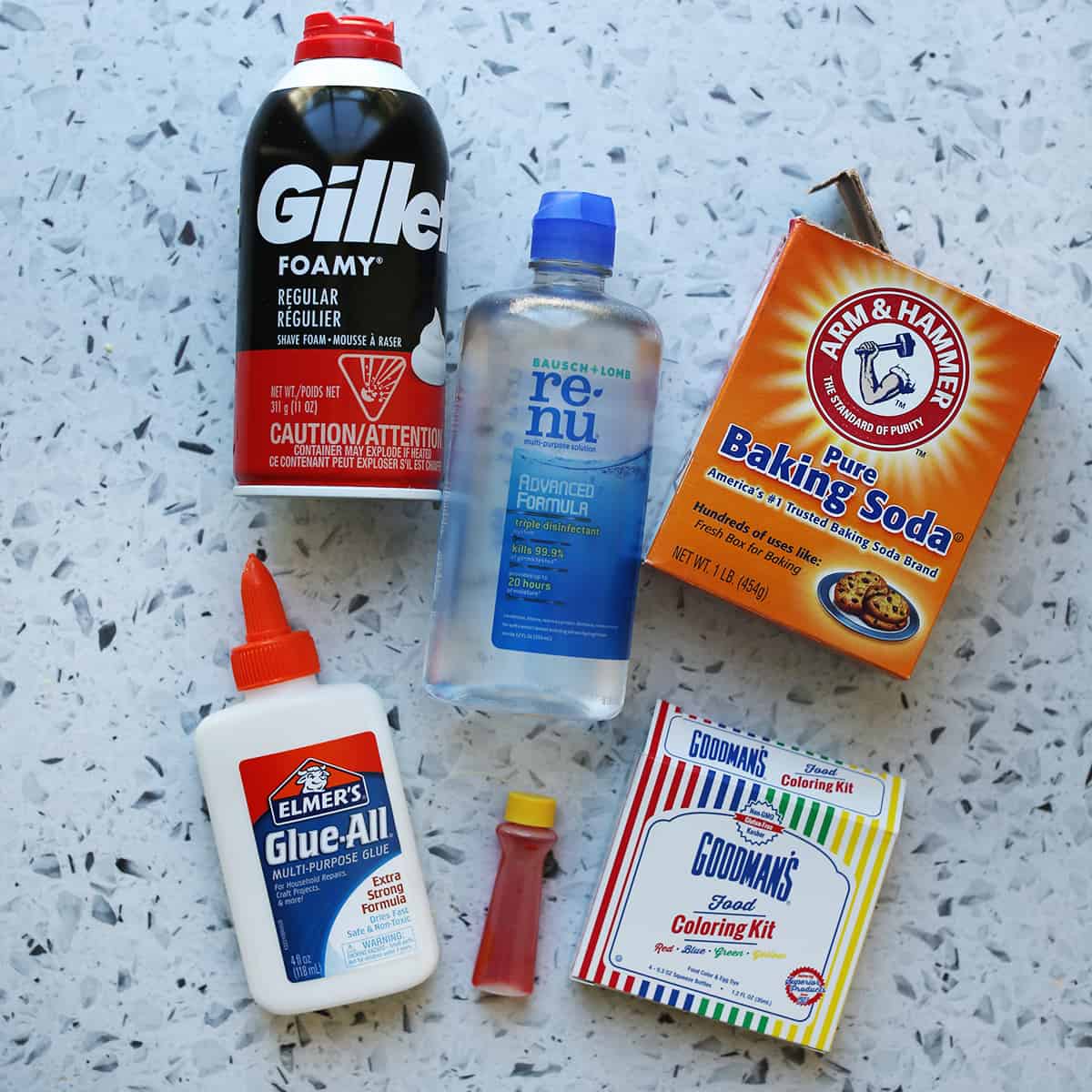 Fluffy Slime Ingredients:
You can easily double or triple this basic recipe depending how much fluffy slime you want to make.
Make sure to use contact solution that contains boric acid, like the ReNu brand.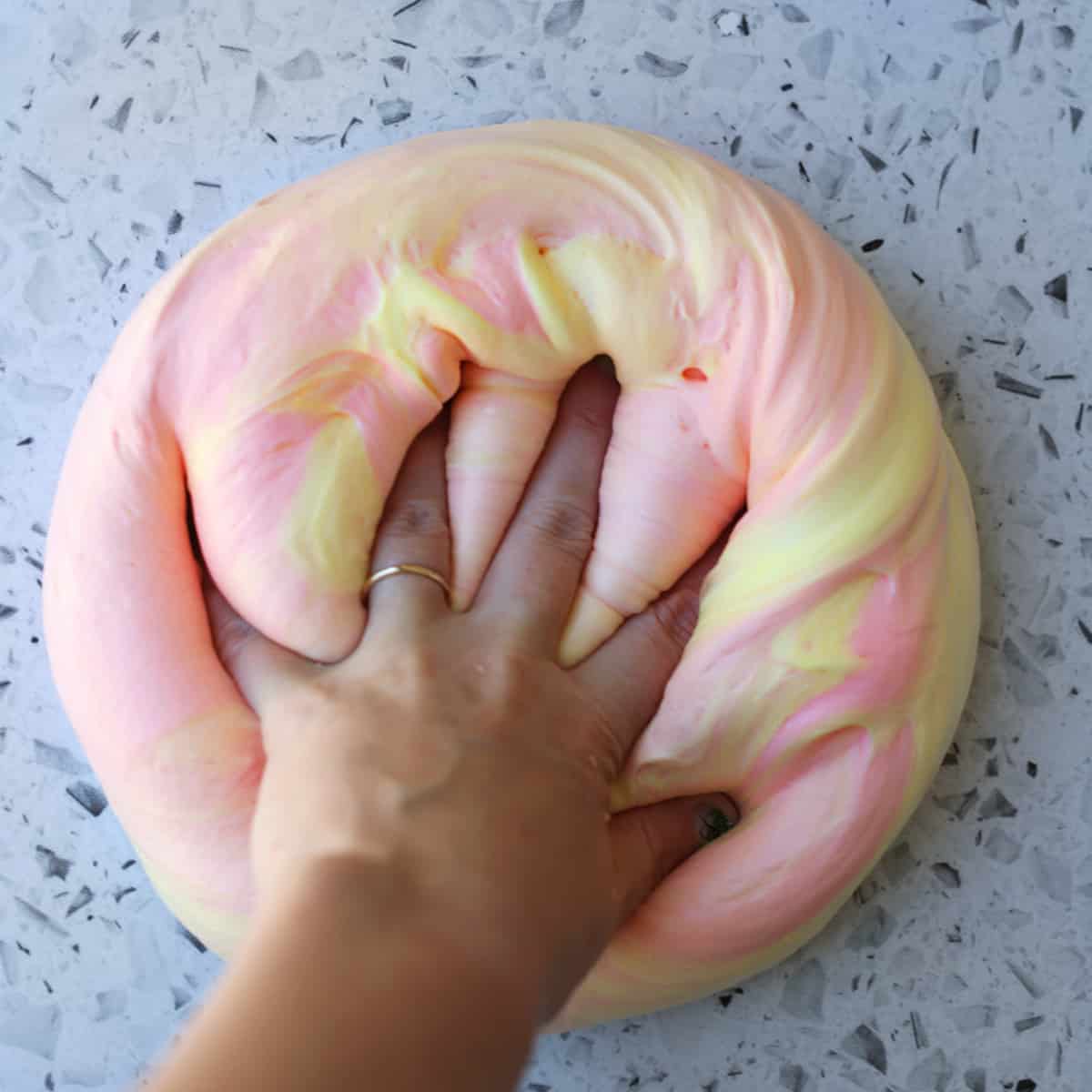 Tips for Making Fluffy Slime:
If you're planning on making lots of slime, I'd recommend buying your glue in bulk.
Make sure you're using shaving cream and not a gel.
The contact solution that you're using must have boric acid and sodium borate, otherwise it will not form the slimy consistency.
If you decide to make multiple colors, keep in mind that after they've been combined for a bit they may turn a bit grey or muddy looking—similar to play dough colors being combined.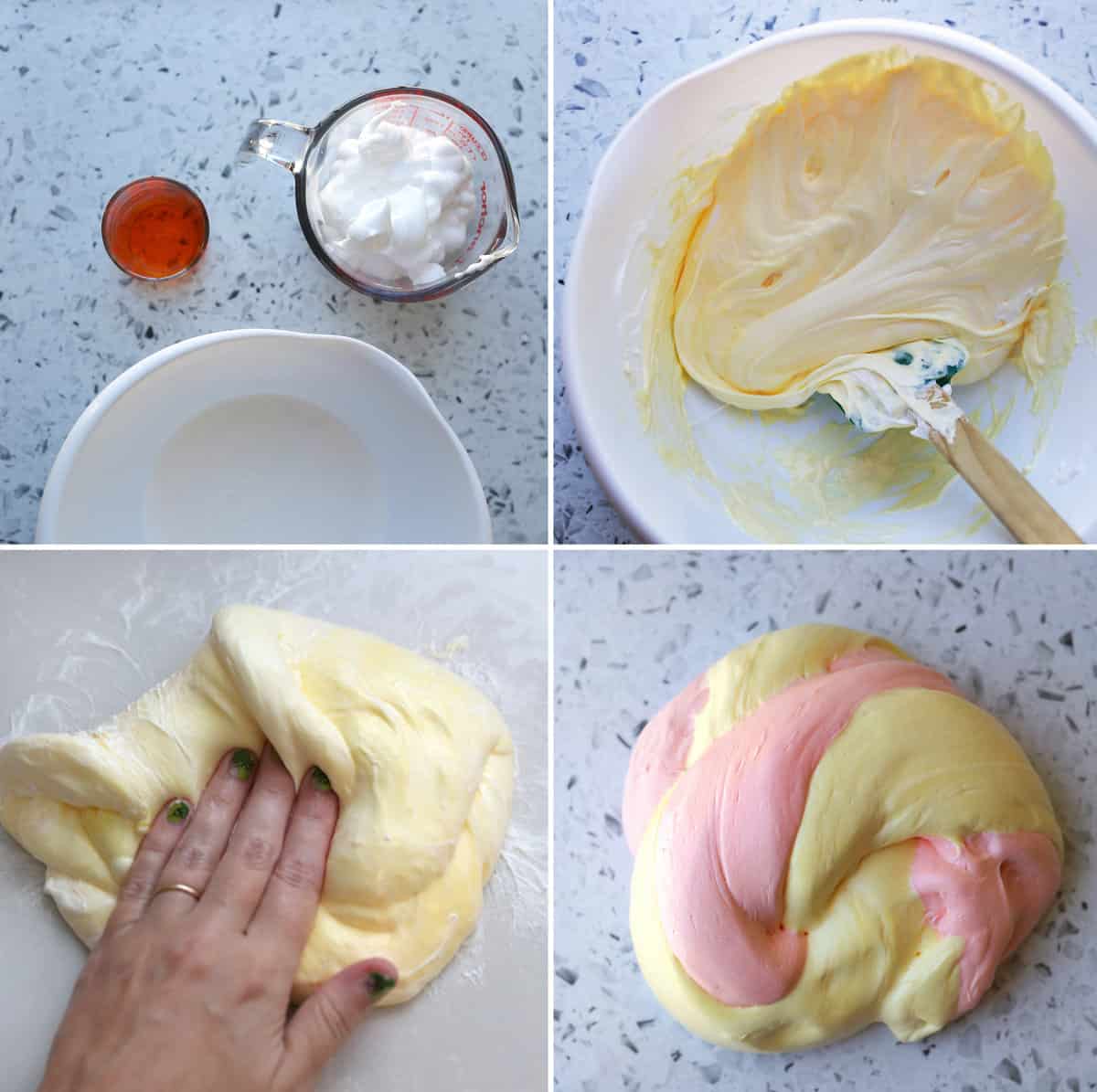 How to Make Fluffy Slime:
Stir together the food coloring (if using) and the contact solution
In a mixing bowl, add the glue.
Stir in the baking soda to the glue.
Then stir in the colored contact solution.
Once the slime is mostly mixed together, fold in the shaving cream.
Knead with your hands to really mix well (the slime will become less sticky).
Here's a quick video of how to make fluffy slime. This video really shows how kneading the slime at the end of the process makes it come together.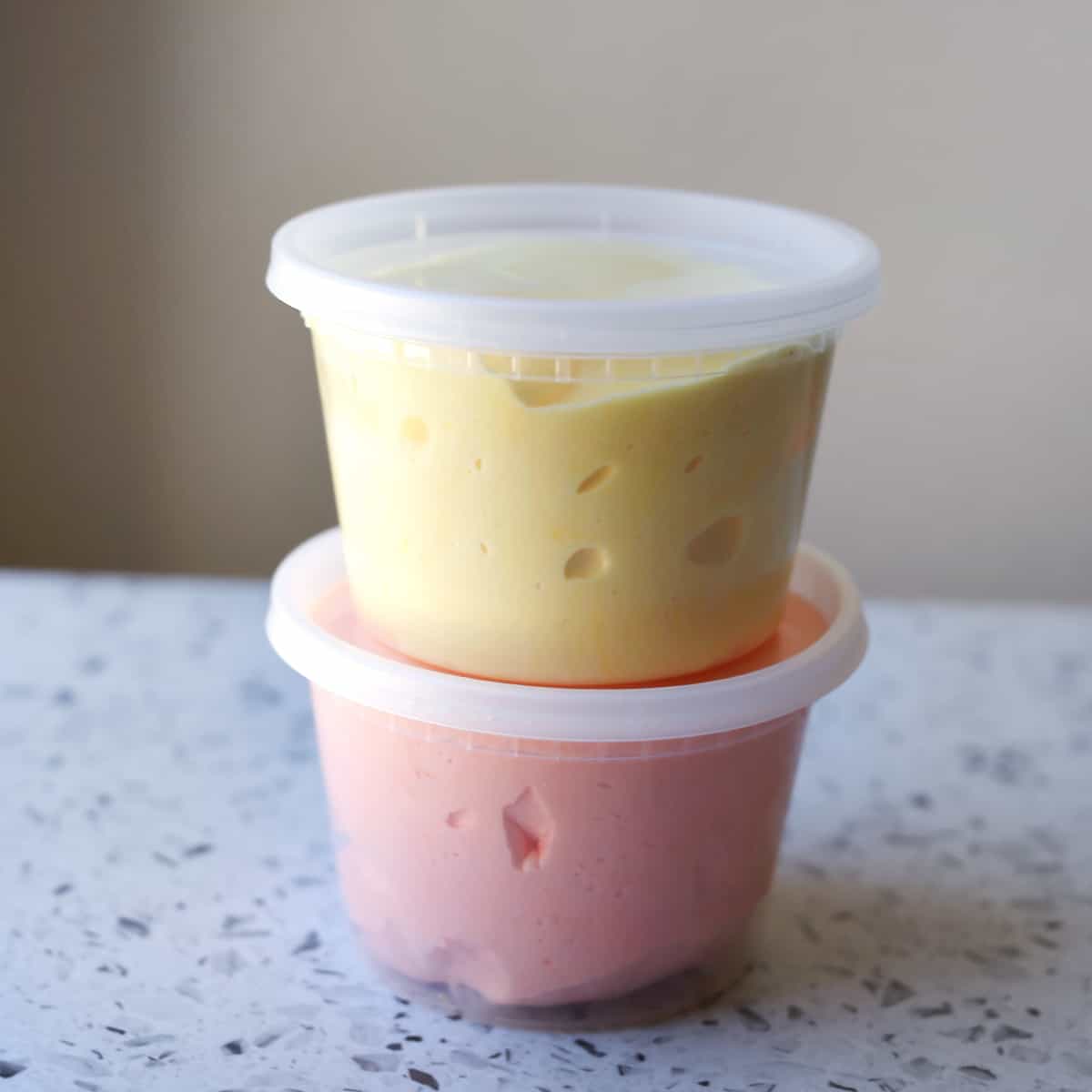 Storing Slime:
Store fluffy slime in an airtight container. I like to use these reusable plastic food storage containers, but other containers (or even a Ziploc bag) can work. You just want to keep air from drying the slime out.
Fluffy slime, if stored well, can easily last three weeks or more. This slime filled the container and there was hardly any air at all, which is why I think it maintained that fluffy texture.
If you don't store it in airtight container, you may only have super fluffy slime the first day of play and it will start to deflate.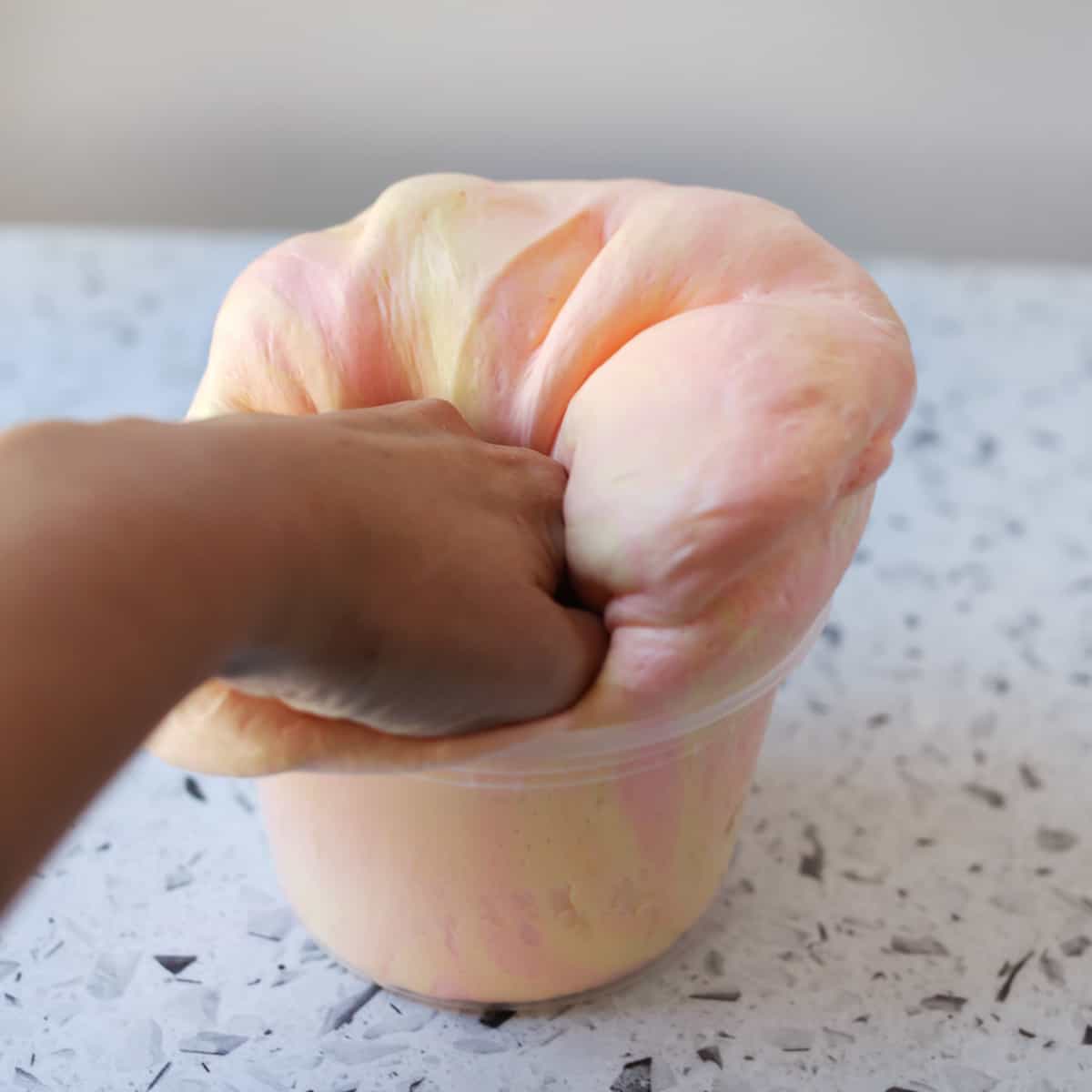 If you make this DIY fluffy slime, let us know your thoughts in the comments below!
And if you're the one gathering supplies and helping the kids in your life make this project (and likely on cleanup duty), we see you! You are making childhood magic. Thank you for all the effort! We are in it with you and rooting you on.

For more how-tos like this one, don't forget to sign up!
Join Now

Get creative ideas for recipes, crafts, decor, and more in your inbox!

Get the How-To
how to easily make fluffy slime
Supplies
6

ounces

glue

(¾ cup)

½

teaspoon

baking soda

1 ½

tablespoons

contact solution

2

cups

shaving cream

2-6

drops

food coloring

(optional)
Instructions
In a mixing bowl, add the glue.

Stir in the baking soda to the glue.

Then stir in the colored contact solution.

Once the slime is mostly mixed together, add the shaving cream and fold in.

Knead with your hands to really mix well (the slime will become less sticky).
Notes
Fluffy slime is not safe to eat.
Store slime in an airtight container when not in use.