Halloween is such a special time of the year and the tradition of "Booing" your friends and neighbors is a great way to get in on the fun. Whether it's something you already do every year or Booing is new to you, we'll give you all the tips and tricks with a free printable to make it easy!
Kids love to be Booed and to Boo other people, so it's a perfect way to let kids participate in the holiday spirit and practice the joy of giving.
Looking for more Halloween fun? Check out: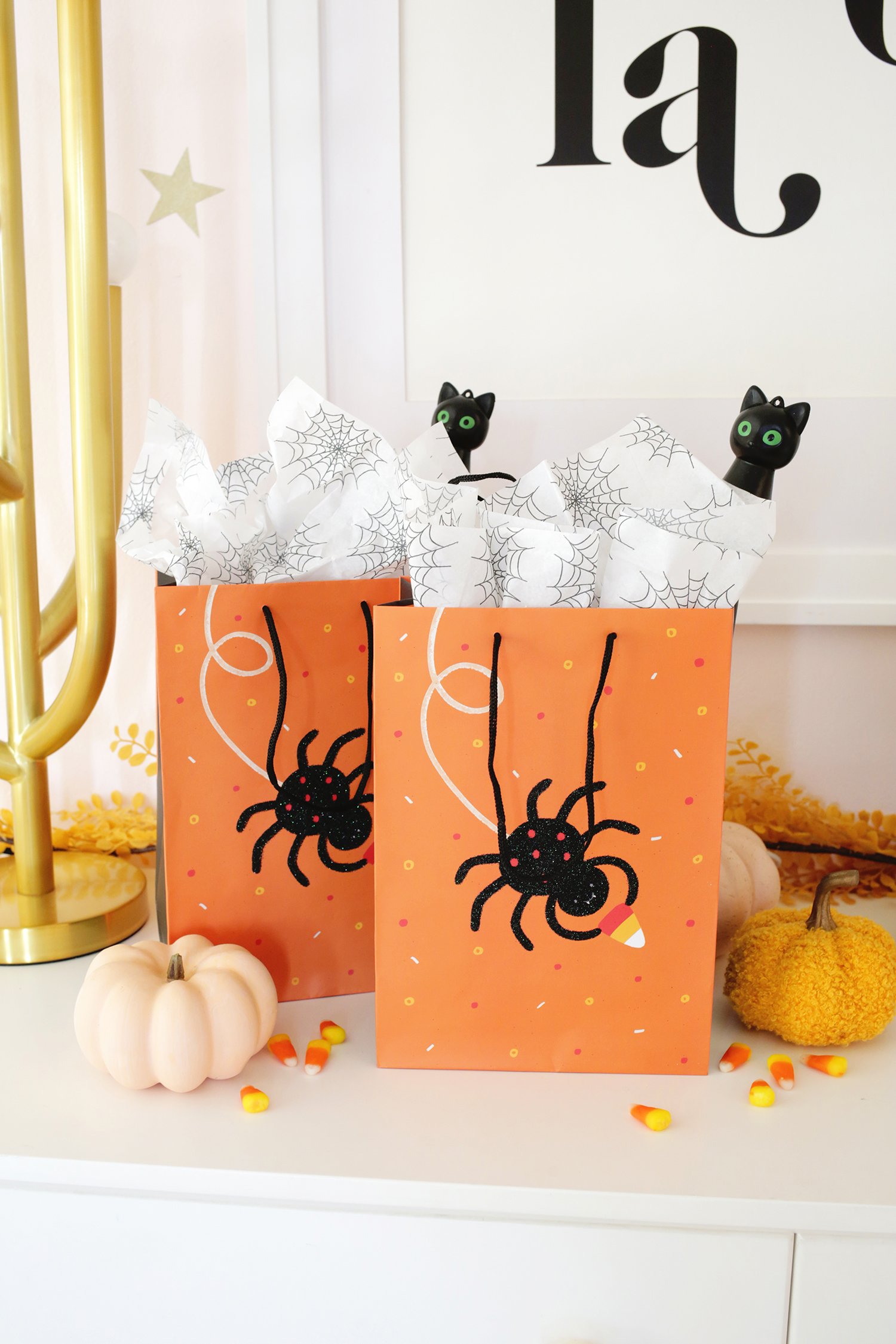 How do you Boo someone?
The tradition of Booing (also known as Ghosting) is when you make bags or baskets filled with fall and Halloween treats and then anonymously drop them off in October at your neighbors and friends houses. If they want to keep the fun going, they can also make their own Boo bags and continue to spread the holiday cheer!
Booing someone is easy! Just:
Print your free "You've Been Booed" signs and directions (you'll want two copies, one for each Boo bag you make). If your family has already been Booed, hang up your "We've Been Booed" in a front window or on your door so people know your house has already been hit.
Fill your treat bags with fun Halloween and fall items.
Secretly deliver your bags to your friends and family. You can either place the bag on their doorstep to find later or you can knock/ring the doorbell and run—just don't let them see you as that's part of the fun!
Once your recipient has their bag, they can hang up their "We've Been Booed" sign and within two days give out more treat baskets to keep the fun going.
Downloads:
This printable PDF includes a "We've Been Booed" sign and instructions.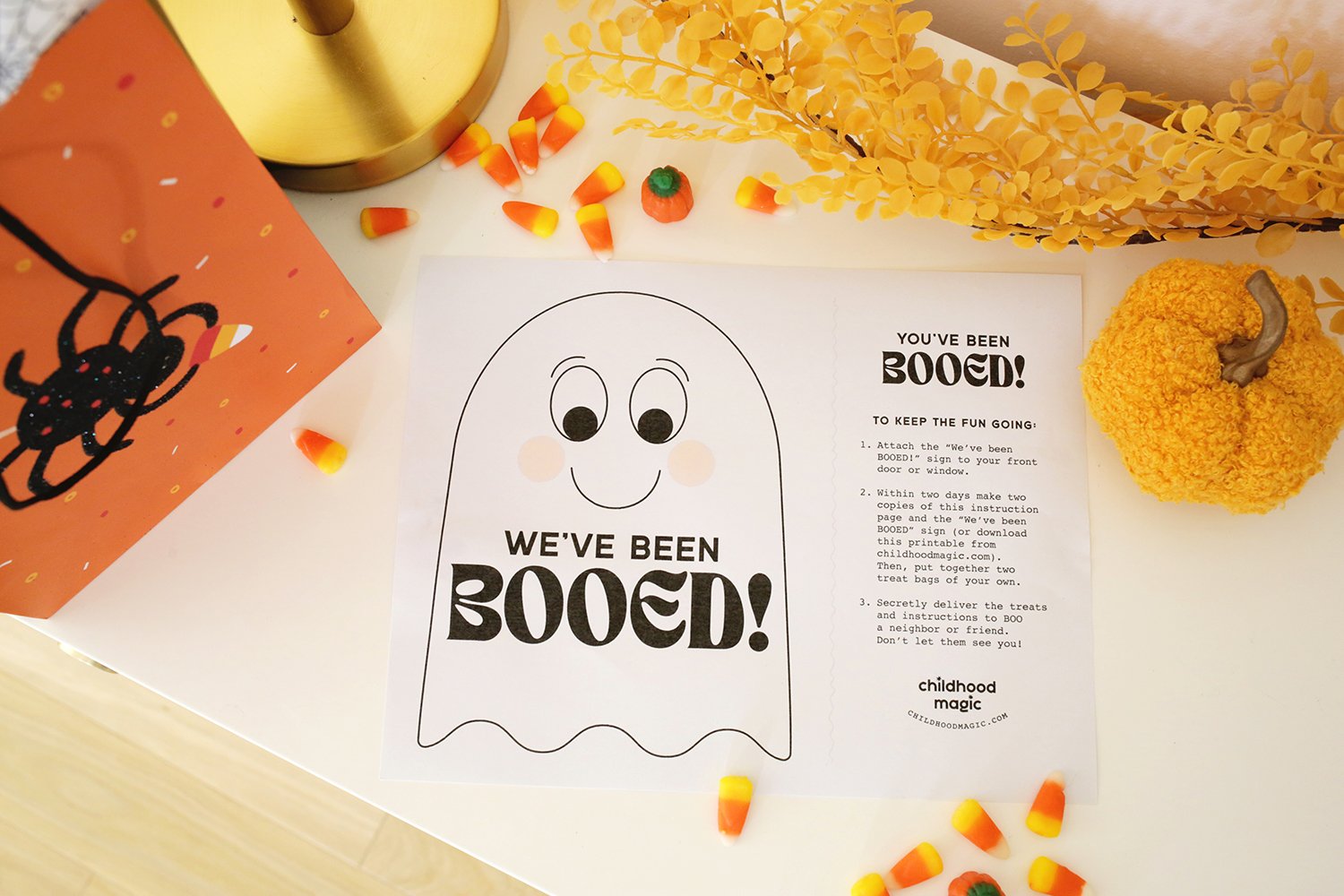 When should we start Booing friends and neighbors?
The Booing season usually starts at the beginning of October and lasts throughout the month until Halloween. While you don't have to Boo people that live in the same neighborhood as you (and you may not live in a traditional neighborhood set up anyway), it is fun to see the Booing spread throughout where you live and watch the signs continue to pop up throughout the month.
And if you live in an apartment, you can still Boo your neighbors there too!
What are the best items to put into a You've Been Booed basket?
There are tons of items that would be great for a Boo basket or bag, so just try and pick items that are appropriate for the household you are Booing (so add kid items if they have kids or even a pet treat if you know they have a furry family member). Dollar stores and the dollar section at Target are great areas to fill your basket for not a lot of money.
Some fun ideas for a Boo basket are:
Edible treats like candy or cookies
Hot chocolate bombs
Bubbles
Small bottles of apple cider
Halloween decorations like window clings or paper bats
Light-up necklaces or glow sticks
Fall scented candles
Halloween socks or headbands
Mugs or cups
Stickers or small coloring books
Halloween bingo or tic-tac-toe games
Small Halloween toys like spider rings or vampire teeth
Halloween books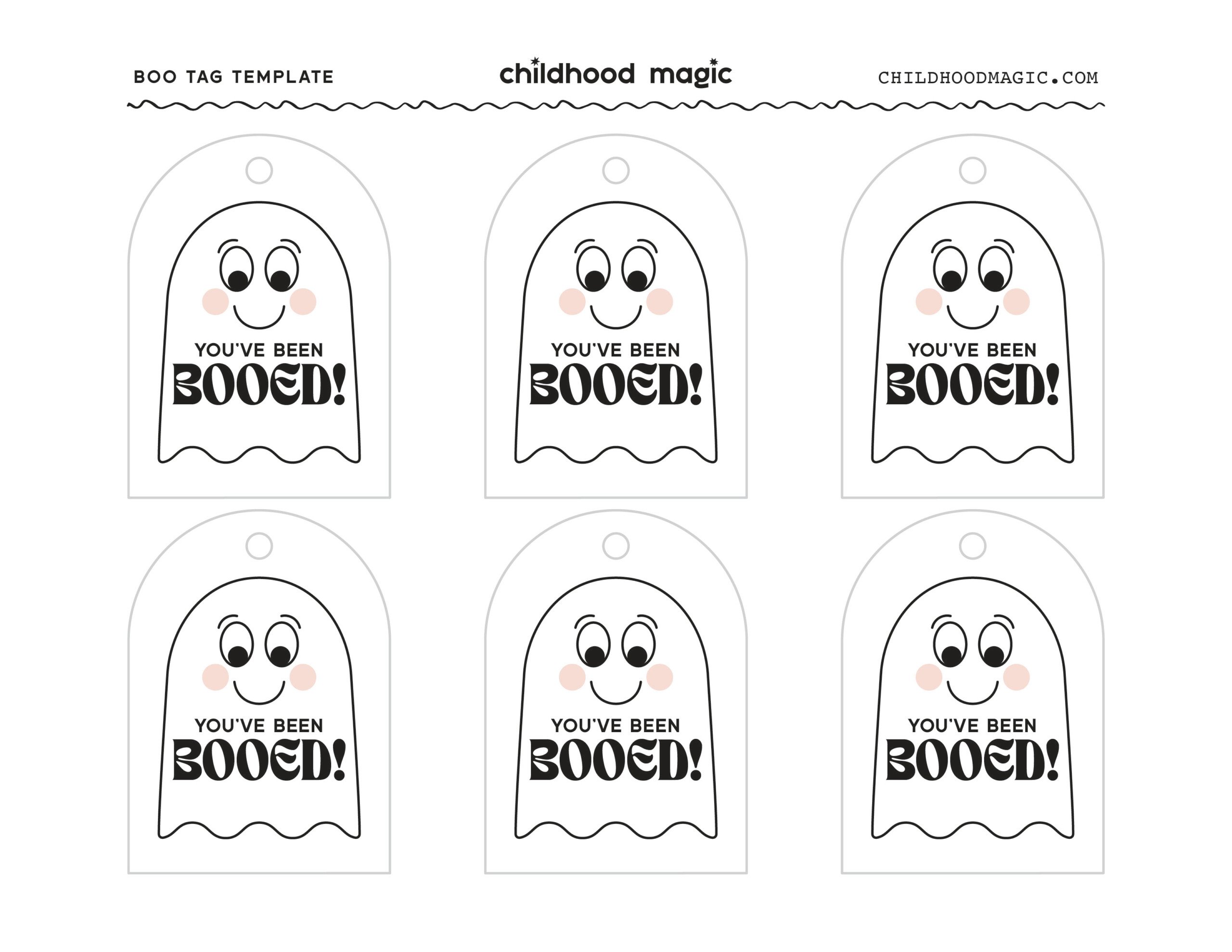 Want to give something small or skip the "pass it on" component?
No problem! Just use our free "You've Been Booed" printable gift tags instead to attach to your small item or treat bag and there's no request for the recipient to keep the giving going.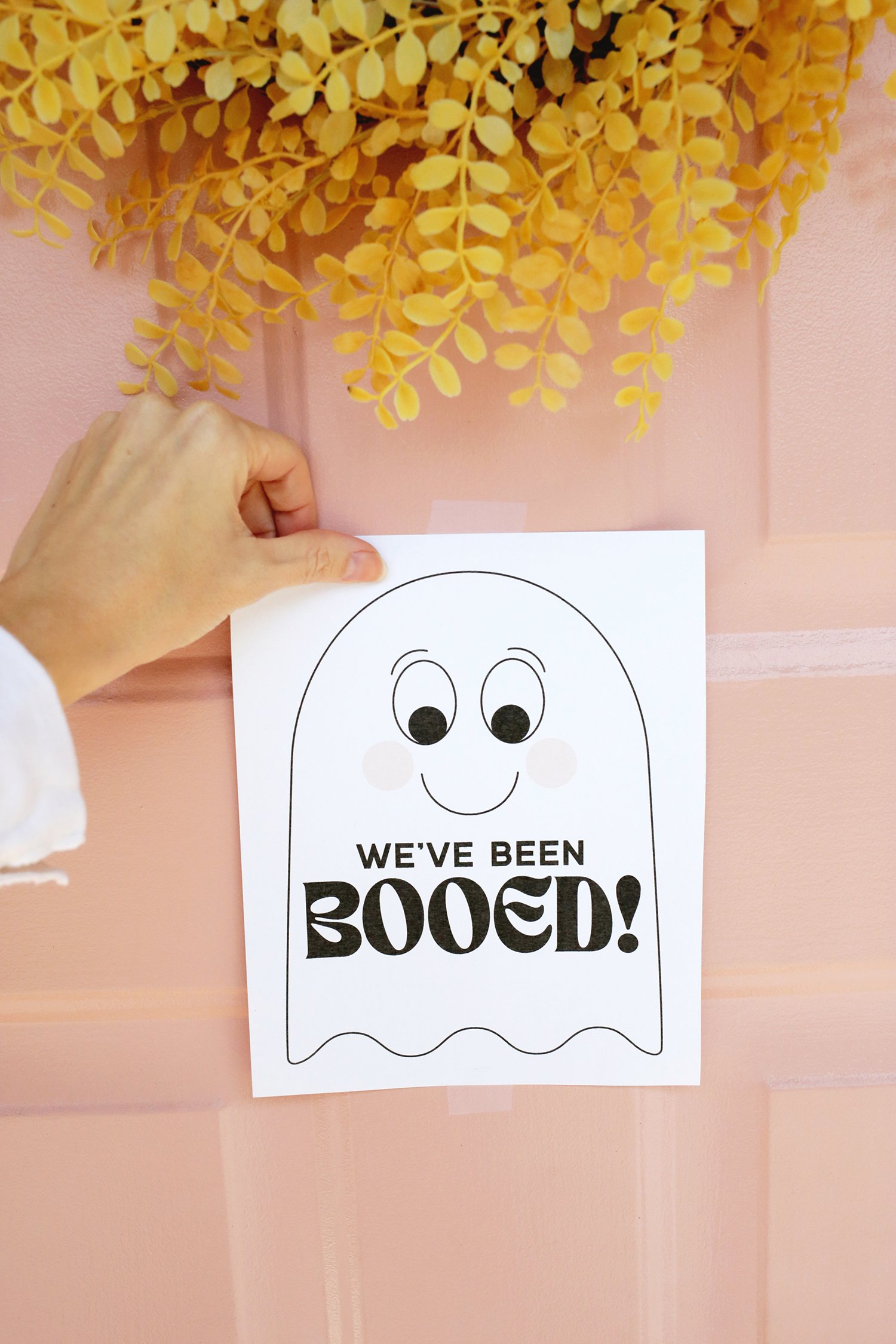 Tips for Booing:
Keep in mind the ages and number of people in the house you are giving a bag to so you can pick out items that are age appropriate for that family. Not everything has to apply to everyone but try and give at least one thing each person can enjoy.
If you want to make it easier for your basket recipient to keep it going, you can include two extra copies of the "You've Been Booed" sign and instructions so they don't have to copy or print more off to make their two baskets.
Tie a fun balloon to your basket for an extra surprise!
Double-check that the people you are Booing aren't on vacation or a long trip so the basket doesn't sit there for days! If it's a neighbor you don't know well, you can always wait until you see a car parked or lights on before taking your bag over secretly.
If you want to send homemade treats in your Boo bag, just send the recipient a quick text once they get the bag. That way they'll know who it's from and that the treats are safe to eat.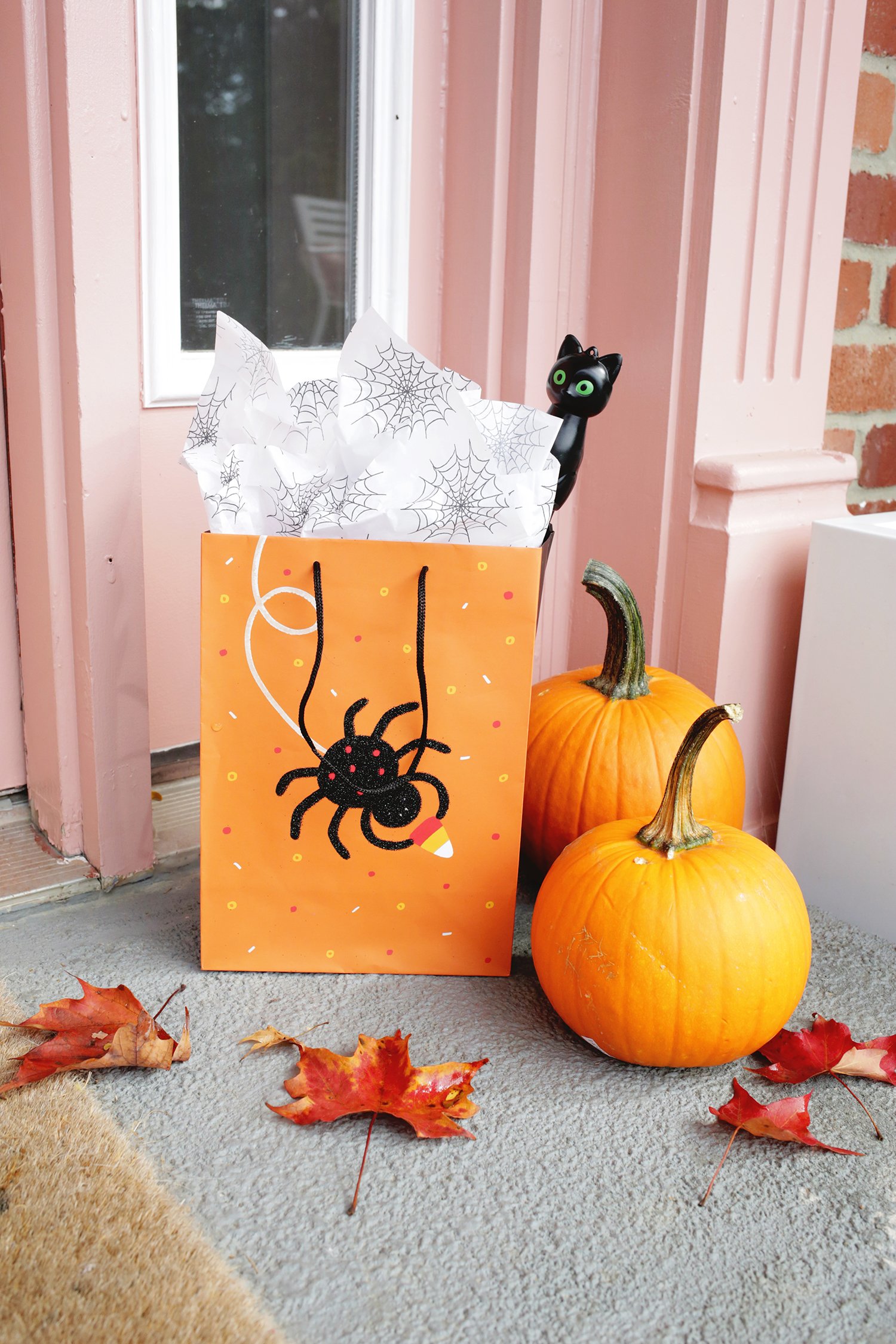 Want more free printables? Check out our printables archives!