There's something truly special about celebrating a child's first year of life. It's a milestone worth cherishing, and what better way to commemorate this special birthday than with a smash cake?
In recent years, smash cakes have gained immense popularity, turning first birthdays into adorable, messy, and unforgettable experiences.
There are SO many different ways to make a smash cake! In this post, I'm going to try and share some of the easiest ways, as well as many healthy and safe options.
Related: Looking for more activities for infants? Check out our entire Baby Archive for more!
What is a Smash Cake?
A smash cake is a small, individual cake specifically made for a baby's first birthday. Unlike a traditional birthday cake, which is carefully cut and served to guests, the smash cake is meant to be destroyed!
It's placed in front of the birthday boy or girl, who is encouraged to dig in and, well, "smash" the cake with their tiny hands. The result is often a hilarious, messy, and adorable photo opportunity that captures the pure joy and wonder of a child experiencing their first taste of cake.
While smash cakes are pretty common and many bakeries offer them, you can easily make your own. A few things to keep in mind are health and safety. Smash cakes are smaller versions of birthday cake, as infants don't need and likely won't eat an entire slice of cake.
If you choose to make a smash cake, make sure to use baby-safe ingredients and decorations. You'll want to avoid anything that could be a potential choking hazard and you may want to decrease or omit the amount of sugar (more on this below).
As with most decisions, if you are the parent or guardian, you likely know your child best. Some babies are eating lots of solid food by their first birthday, and some aren't.
Some babies may need special considerations due to allergies or sensitivities like having a gluten-free or nut-free smash cake. Some parents may not want to allow their 1-year-old to eat granulated sugar—it's up to you!
The best part about making your own smash cake is you can control all of these considerations and do what works best for your family.
The Cake
Here are options for the cake (inside) of a smash cake:
Store-bought or homemade muffins – these could also be gluten-free, dairy-free, etc.
How to bake mini cakes in a sheet pan – use a homemade recipe or a box mix.
Stack a few donuts for a really easy option.
All-fruit cake – stack sliced bananas or watermelon rounds (seedless) into the shape of a cake. This takes more skill, but there's no added sugar!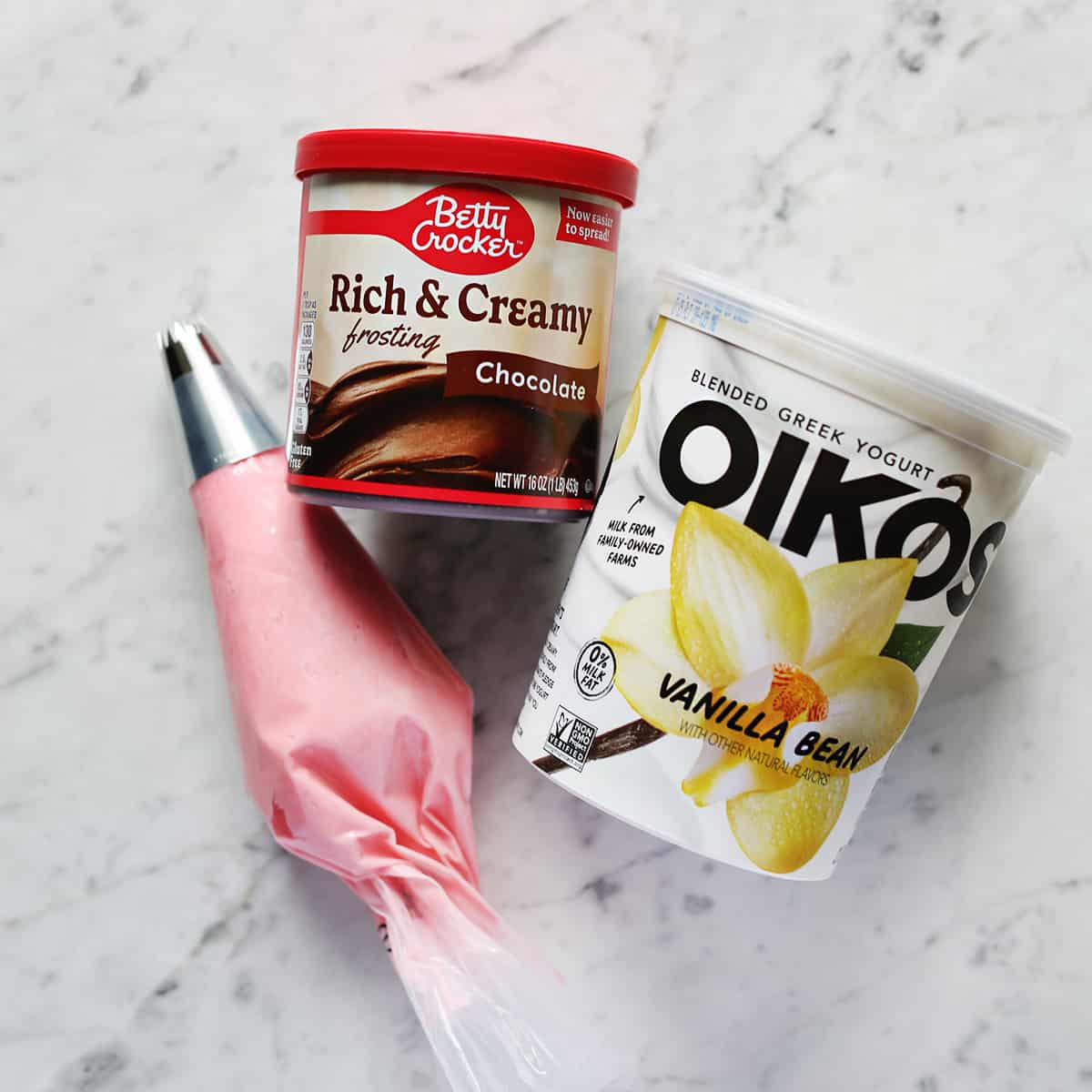 Frostings, Fillings, & Decorations
Store-bought or homemade frostings (any flavor).
Thick Greek yogurt makes a great frosting substitute if you want less sugar.
Fillings could include apple sauce or baby food purees they love.
Whipped topping (Cool Whip) is a light/less dense option.
Sprinkles or other small (no choking hazards) edible cake decorations.
Fresh fruit like cut strawberries or blueberries for the top.
Dried (dehydrated) fruit crushed up makes a colorful and sugar-free sprinkle substitute.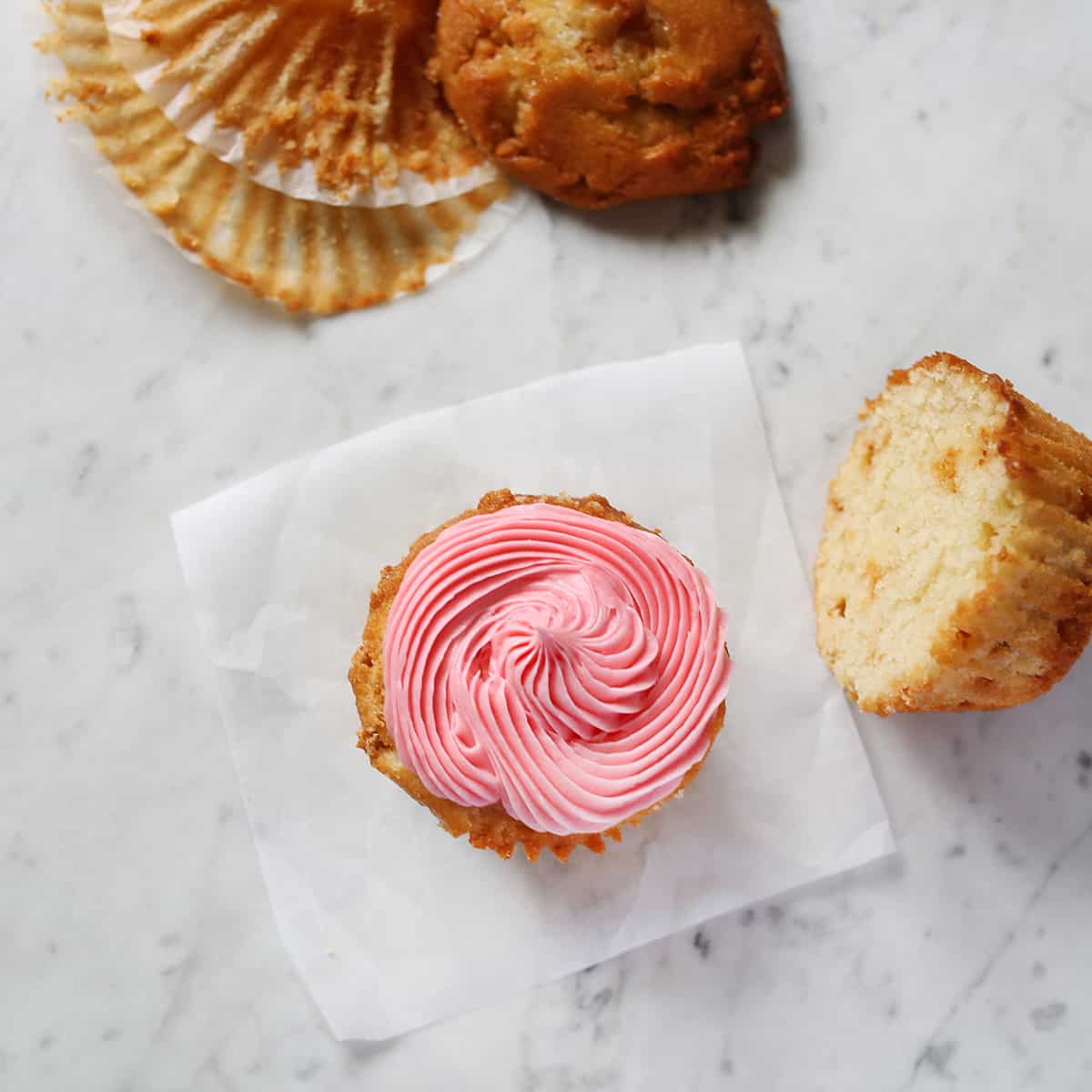 How to Make a Smash Cake
This is the easiest way to make a smash cake. Buy at least two muffins and cut the tops off. Then, add a layer of frosting or yogurt in the center.
Pipe or spread more frosting or yogurt on top and around the sides if desired.
Decorate with sprinkles, fresh fruit, or dried fruit crushed up.
If you choose to add a candle for the child to blow out, simply monitor them closely when you do.
Our son loved blowing out his first birthday candle, but for other children this may not be a safe option. You know your kid best, so do what's right for you!
One of the best aspects of smash cakes is the opportunity to capture truly priceless photographs and videos. The sheer delight on the child's face as they explore the texture and taste of the cake is a memory that will be treasured for a lifetime.
These pictures can be shared with family and friends, becoming a cherished reminder of this precious milestone.
Many parents choose to serve the smash cake while their infant is safely in their high chair, but you could also choose to let them eat it outside like a picnic or many other options.
Keep in mind, the idea behind a smash cake is the child will smash it! So dress them appropriately and keep in mind the area will become messy. Keep the wipes at hand and enjoy this special memory.

For more how-tos like this one, don't forget to sign up!
Join Now

Get creative ideas for recipes, crafts, decor, and more in your inbox!

Get the How-To
how to make a safe and delicious mini cake
Supplies
2

muffins

1

cup

frosting

(or yogurt)

sprinkles

(or other edible decorations)
Instructions
Cut the tops off of the muffins so they have a flat surface on top and bottom.

Then, add layer of frosting or yogurt in the center.

Pipe or spread more frosting or yogurt on top and around the sides if desired.

Decorate with sprinkles, fresh fruit, or dried fruit crushed up.
Notes
Store-bought or homemade muffins can work great for this! You can also choose something gluten-free, nut-free, dairy-free or anything else your child needs. 
Frosting, filling and decoration ideas:
Store-bought or homemade frostings (any flavor)
Thick Greek yogurt makes a great frosting substitute if you want less sugar
Fillings could include apple sauce or baby food purees they love
Whipped topping (Cool Whip) is a light/less dense option
Sprinkles or other small (no choking hazards) edible cake decorations
Fresh fruit like cut strawberries or blueberries for the top
Dried (dehydrated) fruit crushed up makes a colorful and sugar-free sprinkle substitute