'Tis the season! Each year after Thanksgiving (the day after), I swap out the books for our Christmas collection. This is one of our most treasured seasonal book collections.
There are so many incredible selections in this category—from classics that you probably grew up with, to new ones coming out each year.
Pour yourself some hot chocolate and get ready to curl up with some incredible books for your little ones.
Looking for Christmas Activities?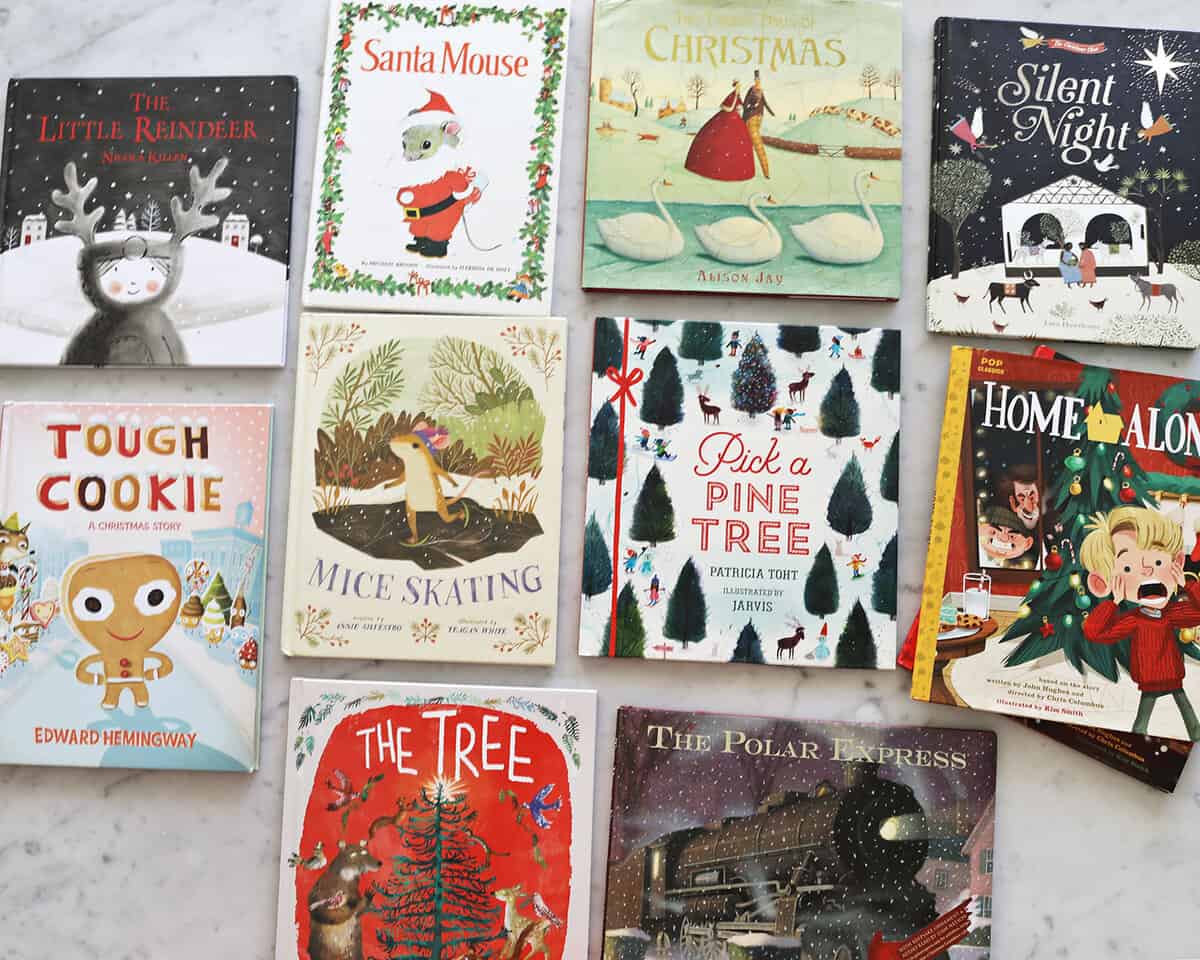 Favorite books for Christmas:
Since we have so many favorites in this category, I am going to divide them into two categories (by age).
Christmas books for babies and toddlers:
Christmas books for preschool and elementary ages:
I'd love to highlight a few of our favorites for you.
Mice Skating
Who doesn't love a family of mice making snow cones and ice skating? This book is so charming, and we read it every year.
Link: Mice Skating
Little Penguins
This book is one of our all-time favorites. We've read it countless times. It's one of those perfect bedtime books that's so fun to read and make up voices for.
It's a story about a family of penguins enjoying a snow day complete with boots, scarves, mittens, and hot chocolate.
Link: Little Penguins
Snow Globe Wishes
This book gives me the best nostalgic cozy vibes. It's a story about a family getting snowed in, and all the things they do. The perfect book to read to your kids on a snow day!
Link: Snow Globe Wishes
Together
This is a great book to read when kicking off the holiday season.
It shows so many of the magical traditions to do with your kids like a gingerbread day, a baking day, trimming the tree, ice skating, sledding, and more. It's beautifully illustrated and so fun to read.
Link: Together
Silent Night
This book is a beautiful telling of the classic story of Jesus' birth. I wanted to find a book that did not portray the Biblical characters as white people, and this book is perfect.
The words are the lyrics from the song Silent Night and the illustrations are beautiful.
Link: Silent Night
Pick a Pine Tree
This is a great book about choosing the perfect tree and decorating it with your family.
Link: Pick a Pine Tree
Our top 10 favorite children's Christmas books
My tip for collecting holiday books is to buy a few each year. Most years, we only add a few new books and as you can see … the collection grows fast!
Love Christmas Crafts? Try These!