With the holidays in full swing, this Gingerbread Man template is the perfect craft to pair with some gingerbread cookies! This template can be used to make a fun decoration, a name tag, gift tag, or as a coloring page.
Below, you will find a PDF file that you can download and print. We've included a gingerbread man and woman along with smaller versions that have four images on one page.
Looking for more Christmas ideas and templates?
How to Use This Gingerbread Man Template:
This template is for personal and educational use only. Feel free to use it as home or in your classroom. It is not intended for commercial use. If you use our template, please link back to this page.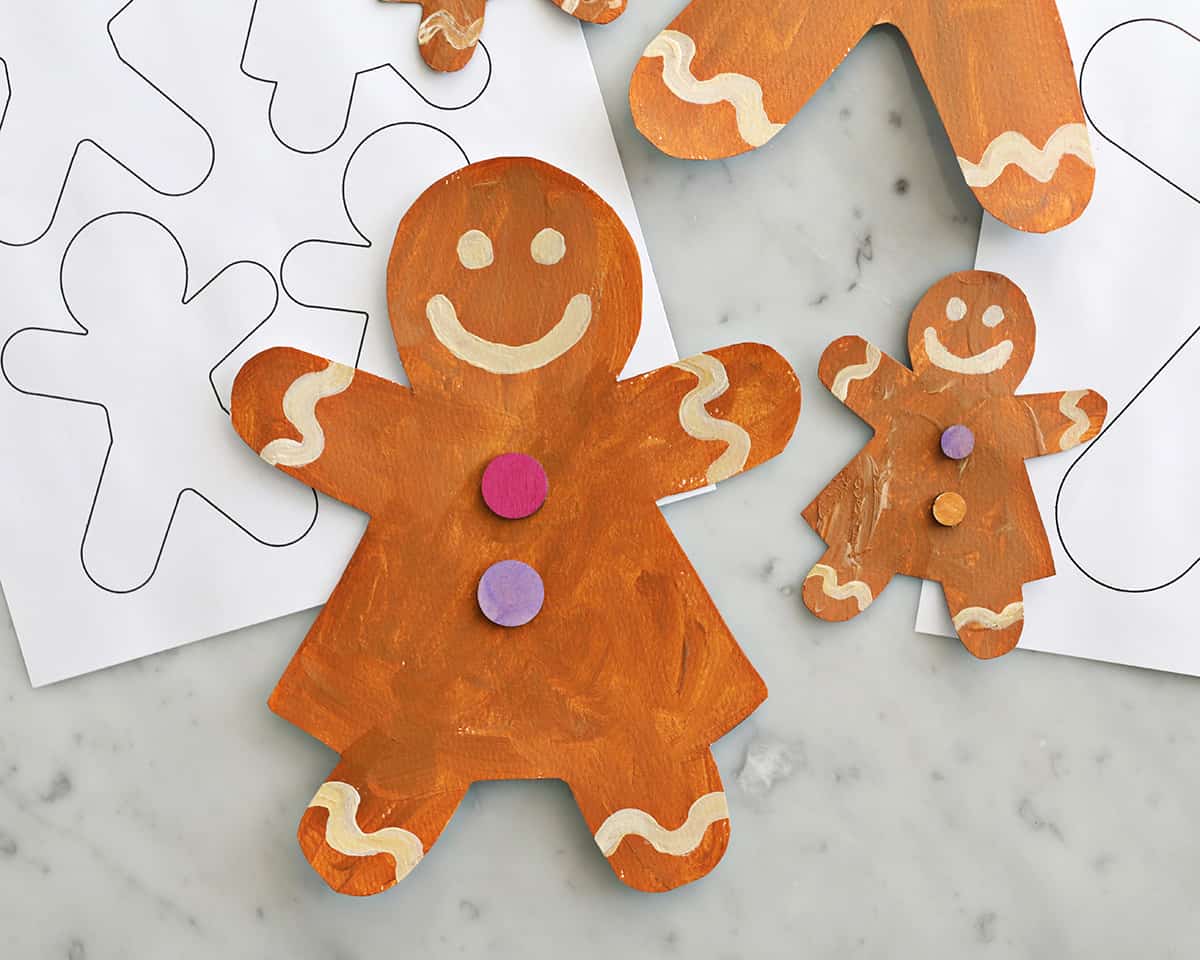 Gingerbread Printable:
This is the perfect craft or activity when there's a batch of gingerbread cookies in the oven, or when you're teaching a child about Christmas traditions. They can print and decorate this template in so many different ways!
As a preschool or kindergarten craft, they can do more of the cutting and coloring with you.
You can also print out multiple pages of the gingerbread family and use it as an opportunity to work on shapes (and decorating) to make each cut out look a bit different.
Gingerbread Man Craft:
Ready to make your cut out gingerbread man or woman? Follow these steps!
Supplies Needed:
For the example, we cut ours from watercolor paper and painted them brown.
Steps:
Print out your template(s).
Cut out gingerbread shapes.
Add details like buttons, paper scraps, or paint.
As an alternative, print on colored paper to save a step.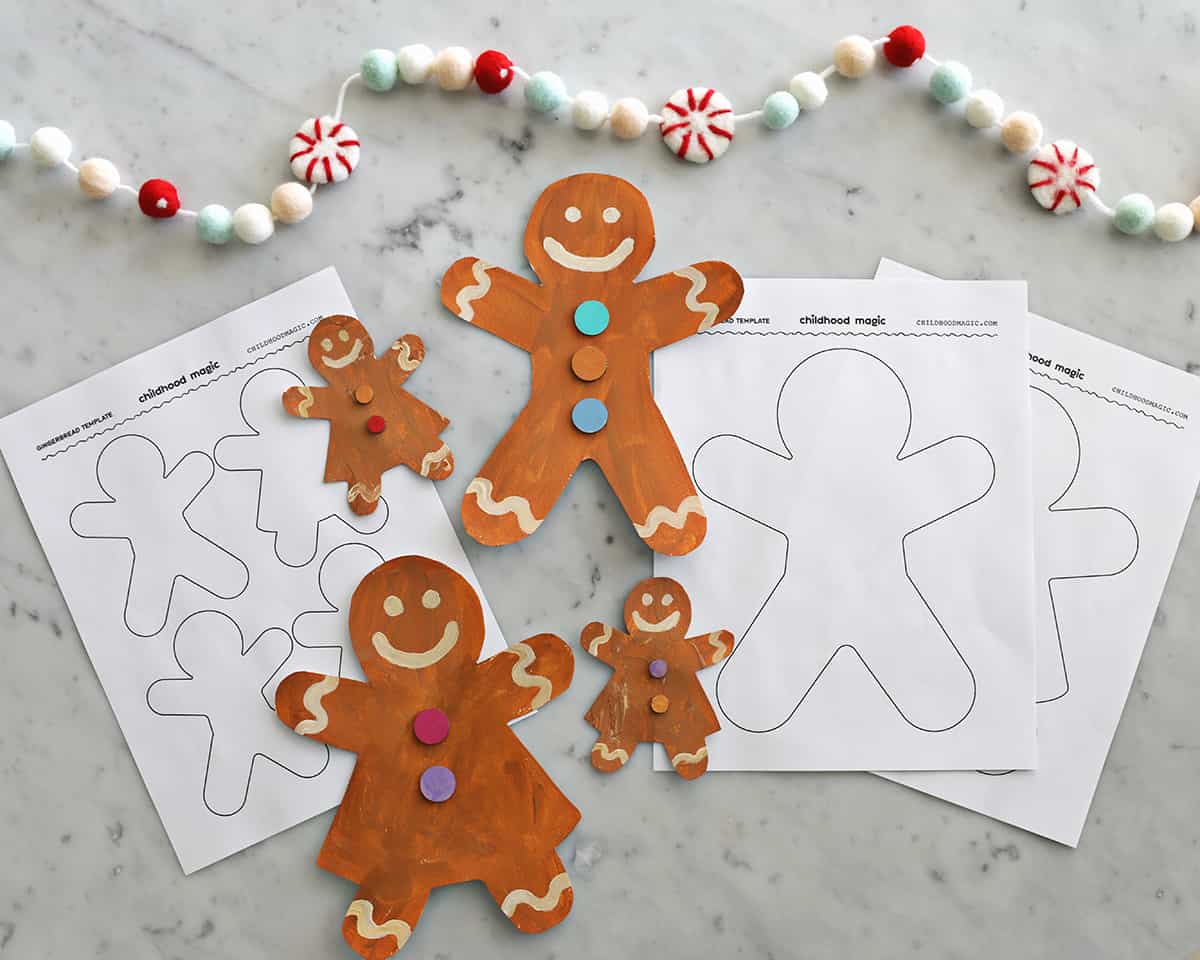 More Ideas to Try:
Use this template as a gingerbread man or family coloring page.
Print out and use the paper as a painting game or guide.
Use the small cutouts as name tags or to mark desks or cubbies.
Use a small gingerbread man or woman attached to an envelope to enclose a gift of appreciation for your child's teacher or bus driver.
Use the gingerbread man or woman cut out as a gift tag.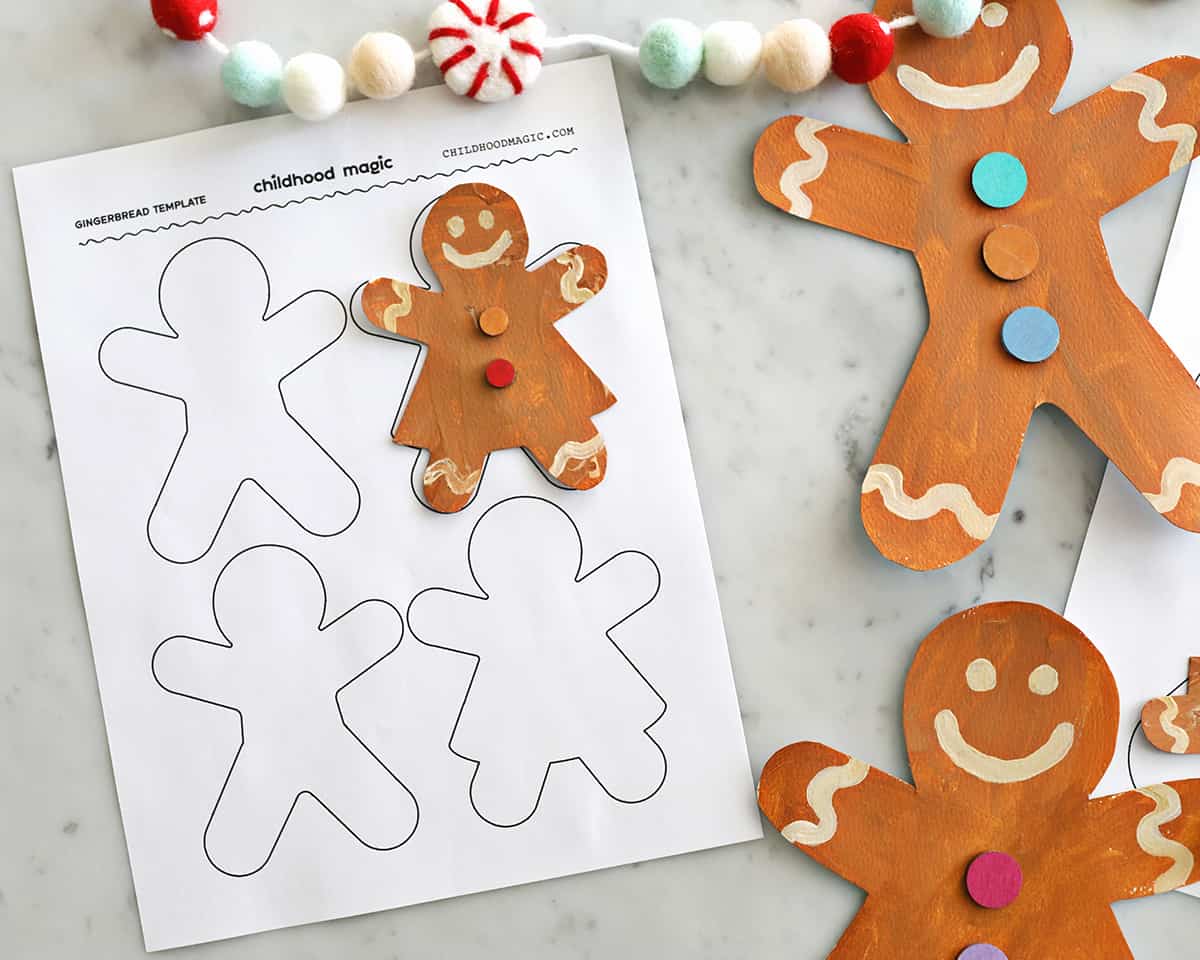 Gingerbread Man Template Set:
This downloadable PDF set includes 3 pages of templates with a small and large version of each.
Gingerbread Printable Template – 4 to a Page:
This downloadable PDF includes 2 gingerbread men and 2 gingerbread women in a smaller size all on one page.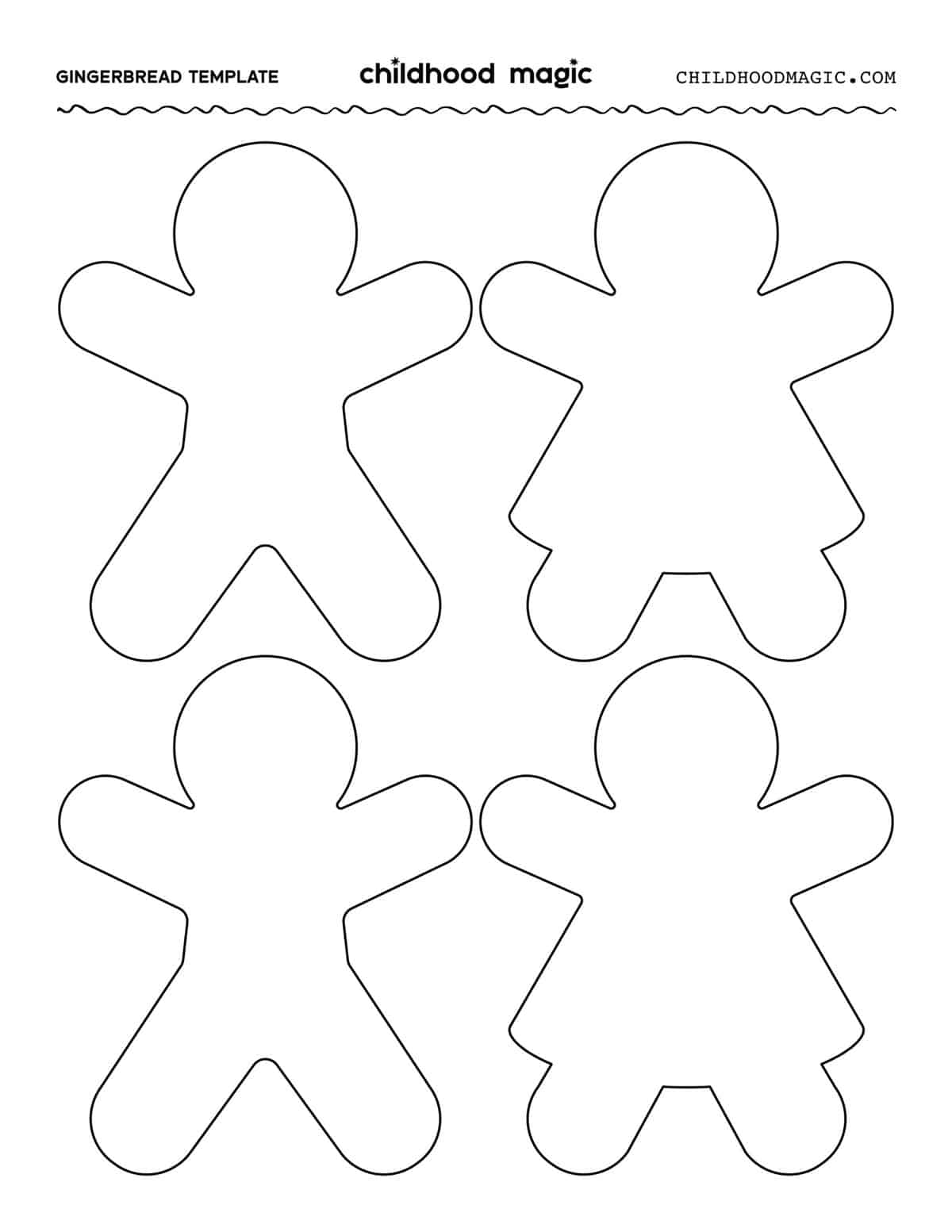 Gingerbread Man Template:
This downloadable PDF has one gingerbread man printable.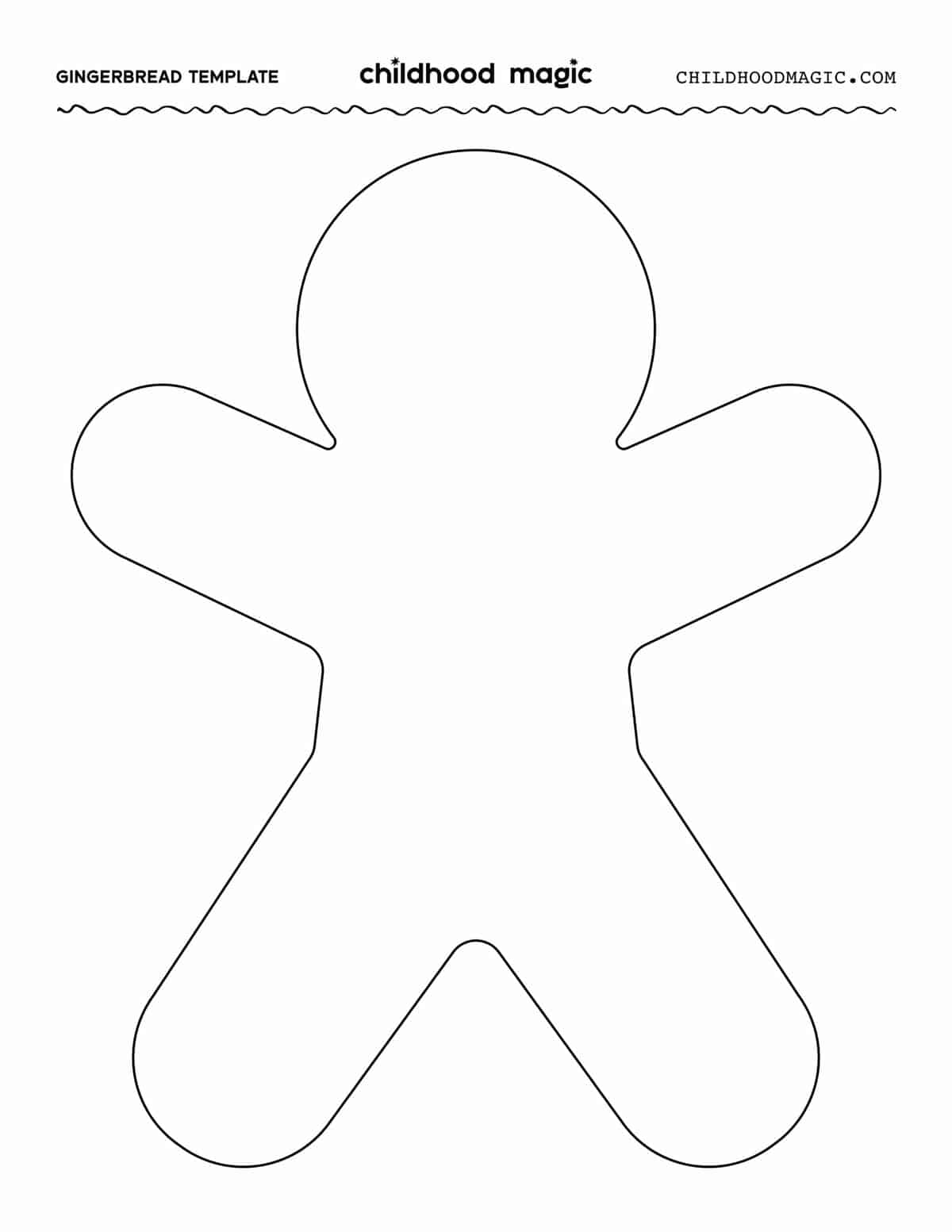 Gingerbread Woman Template:
This downloadable PDF has this gingerbread woman in a larger size on one page.