Getting kids out in nature is one of the best things you can do for them and outdoor scavenger hunts are a great way to get some fresh air while having a lot of fun! This free printable is the perfect activity for kids of all ages and encourages kids to love and notice all the great things nature has to offer.
Scavenger hunts are fun because it gives kids a goal to work towards (finding all the items) and you can even do a special prize for them after they find as many items as they can.
Looking for more nature crafts and printables?
This printable is for personal and educational use only. Feel free to use it at home or in your classroom. It is not intended for commercial use. If you use our printable, please link back to this page.
Why Kids Love Outdoor Scavenger Hunts
Kids love to have a challenge or a goal to meet so they are excited to check off as many boxes as they can.
You can go to a new park or location to do your scavenger hunt to make it a special outing (pack a pic-nic!).
Scavenger hunts help make "ordinary" outdoor objects exciting and gives you an opportunity to study them closer.
You can save some of your found items (like a leaf, rock, or acorn) and use them for crafts at home to extend the fun.
Supplies Needed For Outdoor Scavenger Hunt
Printer
Marker or pencil to check off your list
(Optional) Small bag to bring back non-living items for crafts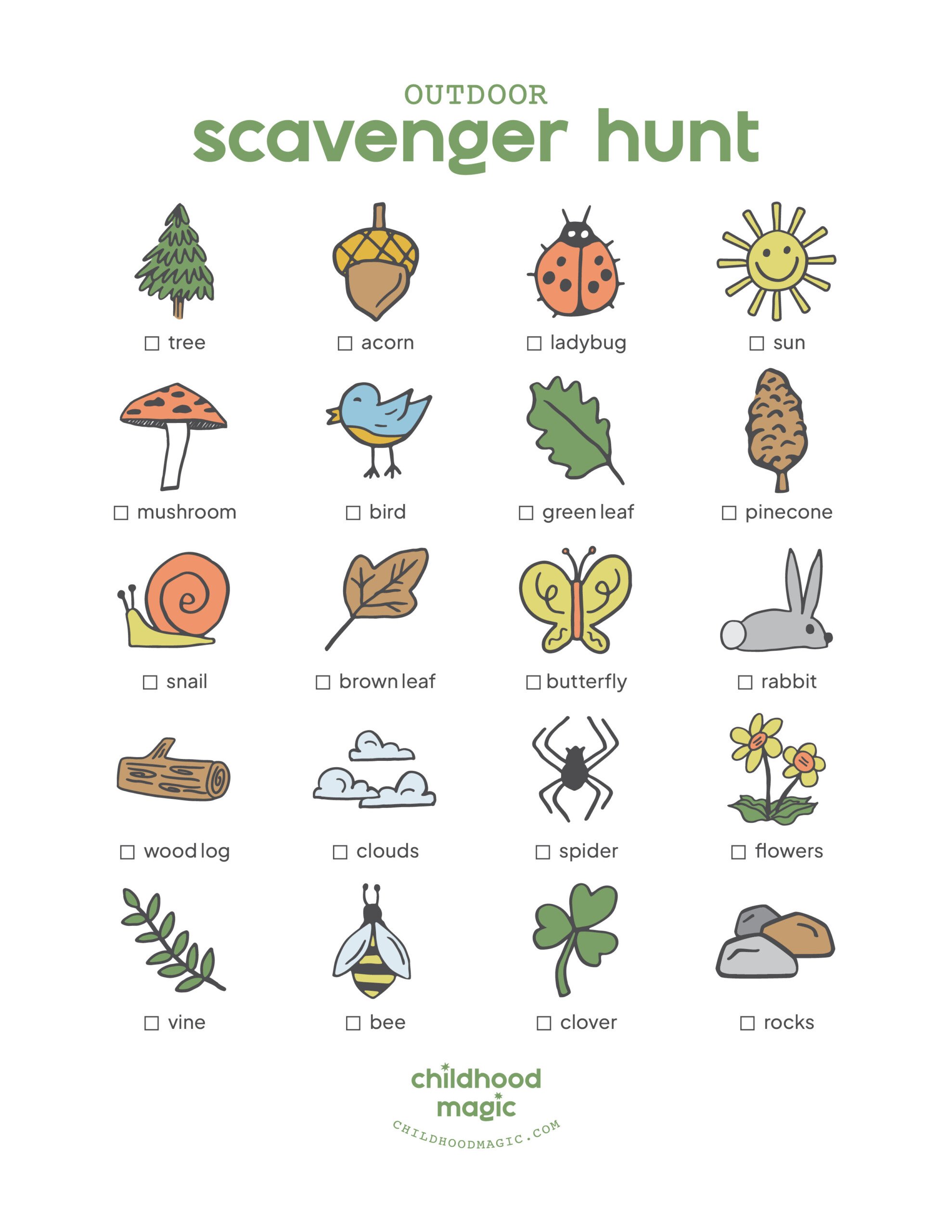 How to do an Outdoor Scavenger Hunt
Print off your scavenger hunt list. For multiple kids, you can print one for each child if you want them to do their own or they can work together as a team with one paper.
Pick your outdoor location: If you have a big yard or outdoor space nearby, you won't have to go very far, but you can also make a special outing to a park or friend's house that have more outdoor space to explore.
Check off your list: Kids love to check off items on a list, so let them be the ones to check them off as they find them! You can also have them take a photo of each item to give them another thing to do.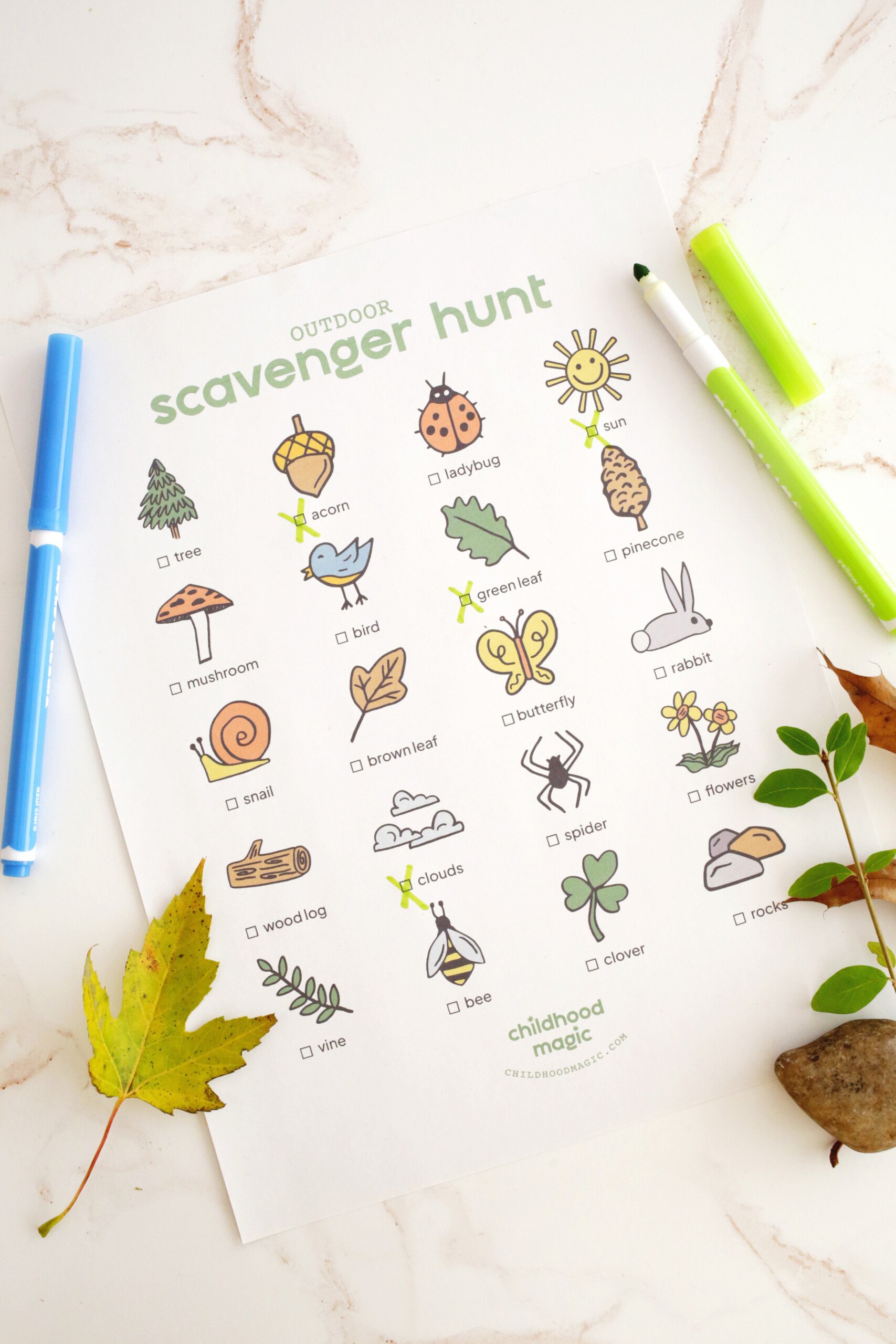 More Ideas to Try
Try using this list for a birthday party activity to get the kids running around outside!
Take along a little sketchbook and some crayons or markers and have them draw each item in the book as they find them to integrate some art time.
If you don't have a printer handy, use this list on your phone to do a digital list in a pinch.
Print out a few of these to keep in the car for when kids start to get bored at a park or friend's house.
Use our Acorn Template or Leaf Template to keep the nature fun going once you are done with your scavenger hunt!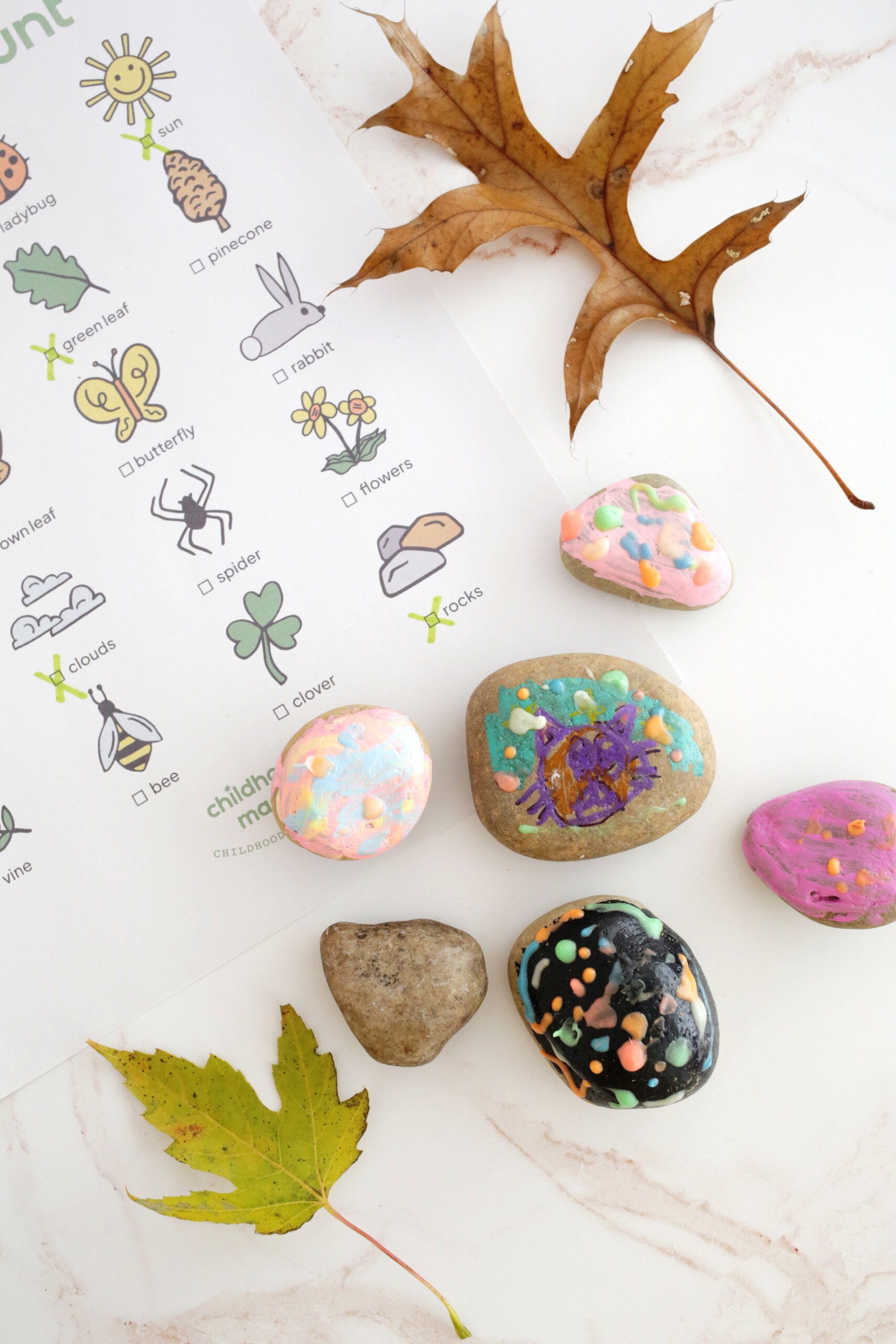 Looking for more free printables? Check out: