Creating this Easter-themed snack board is very easy and your children will love it! I will give you lots of ideas and alternatives so you can even make it with ingredients you already have on hand.
This is a healthy snack board with a variety of fruits and vegetables. My children squealed with joy when they saw this bunny board.
Related links: Easter Bingo, Easter Memory Game, Easter Tic-Tac-Toe, Easter Books + Activity Ideas.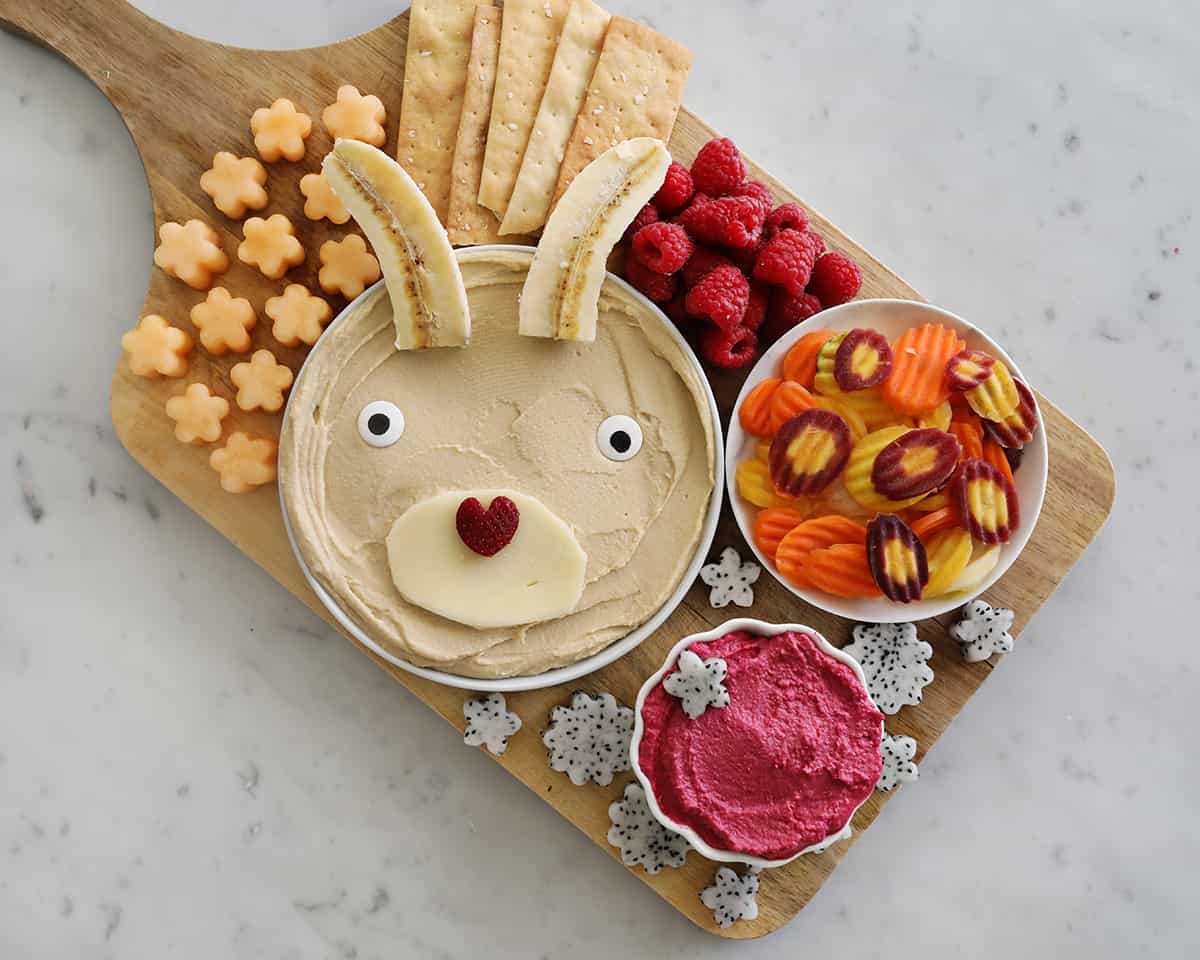 What goes on this snack board?
This snack board includes hummus, fruit, vegetables and crackers. I grabbed two types of hummus at the grocery store (you can make homemade hummus as well), raspberries, dragon fruit and cantaloupe.
The obvious veggie choice for an Easter bunny board is carrots. I also included some crackers. The bunnies ears are made with a half a banana. I always keep a stash of candy eyes for my kids recipes.
For the cantaloupe and dragonfruit that are cut into flowers, I used this fruit cutter set.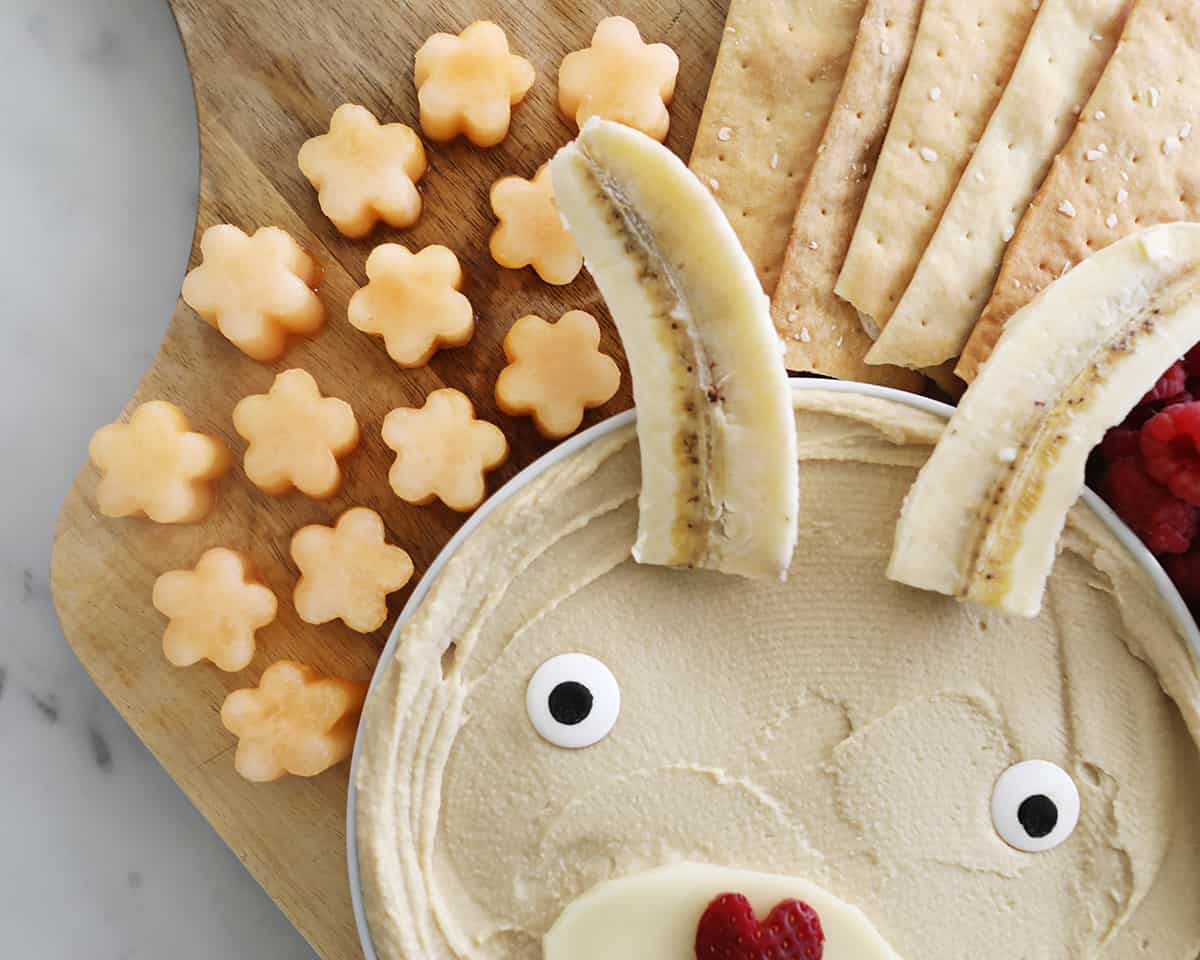 Why kids love grazing boards + charcuterie?
Snack boards are easy to enjoy with a variety of food to include something for everyone.
Charcuteries are easy to theme with shaped fruit cutters. I used them to cut cheese stars here.
Grazing boards are a low maintenance snack because once you set it out you know everyone has a snack already and you can relax.
Pro tip: If your kids are messy or have major food aversions, make a separate snack board that is just for them. I normally do this for big parties so our kids don't accidentally sneeze on it.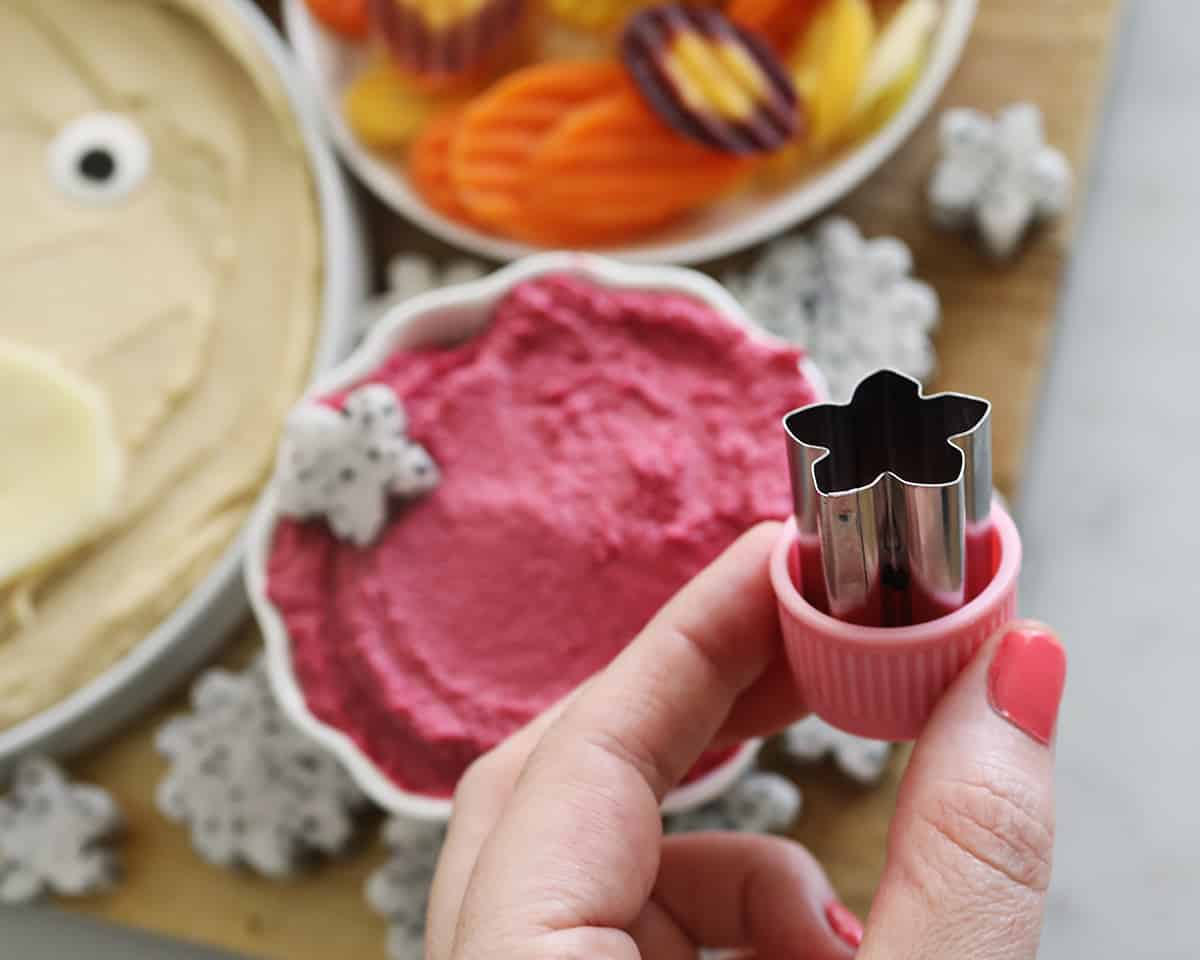 What you'll need to make it
Any type of dip. Hummus is an easy choice. If you want to make a sweet dip, I suggest mixing cream cheese with marshmallow cream and sprinkles. That makes a fun dip for animal crackers and cookies.
Fruit cutters to make flowers.
A variety of fruits, vegetables, and some crackers.
Tips for creating an Easter snack board
Use a low bowl or plate to dish the hummus to make the bunny. The sort of low bowls you serve pasta in are the best kind.
Always keep candy eyes on hand for funny kids recipes.
Feel free to swap fruits and veggies for what you already have in your fridge.
Looking for more Easter ideas?